Hello friends… it's time for Shabbilicious Sunday.
Each week in this series I share with you a visit to a home of one of our 'shabbilicious' friends. What could be better than to take a tour around their home, have a chat and get to know a little more about them.
Today we are off to Germany to meet Anke.
Anke lives in Schleswig-Holstein, which is in Northern Germany.
She lives in a darling little cottage with her husband, 3 cats, 3 dogs and 3 parrots…
And their world is filled with all kinds of cottage pretties!
Anke shares her beautiful home on her Instagram account _lelofee_
A lover of all things Tilda, GreenGate and Maileg, Anke describes her decorating style at Scandinavian with pastel hues…
Which just happen to be all the things we love too!
Anke is very creative and has filled her home with beautiful handmade items.
She worked as a florist for 16 years before opening her own dog grooming business.
Anke has two favourite pieces of furniture; this large white living room cupboard…
And her light blue kitchen table, which she inherited from her grandma and painted in her favourite blue.
Anke's tip for decorating in this gorgeous romantic cottage style is to start a room with a neutral base and then add the colour with matching pieces of decor.
Pastel pinks and blues feature throughout Anke's pretty cottage.
Even the outdoors is filled with cottage pretties at Anke's… and you'll often see her beautiful fur babies popping up in her images too.
You can follow Anke and see more of her pretty pastel home on her Instagram account at _lelofee_
Thank you so much Anke for allowing us to take a wander through your gorgeous, shabbilicious home.
If you enjoyed this edition of Shabbilicious Sunday,
you may like to check our the previous home tours on my
Happy Sunday my friends,
Hugs ~ Kerryanne
I'd love for you to connect with me at:
Follow on Bloglovin
or if you'd like my posts delivered directly to your Inbox
Subscribe to Shabby Art Boutique by Email
If you'd like a private pass to all things 'shabbilicious, sign up today for my fortnightly newsletter. It contains personal stories, sneak peeks, recommendations, discounts and freebies.
Plus, you will also get a free copy of my eBook, 5 Tips for creating a Shabbilicious Home.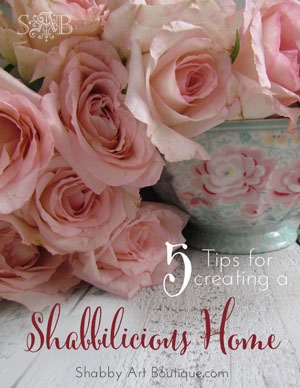 Sign up for my newsletter HERE and don't forget to confirm the sign up email.