Hello friends… it's time for Shabbilicious Sunday again.
Each week in this series I share with you a visit to a home of one of our 'shabbilicious' friends. What could be better than to take a tour around their home, have a chat and get to know a little more about them.
Today we are in the US to visit Anne at White Lace Cottage.
Anne is totally shabbilicious…
Her favourite colour is pink, she adores roses… and old chippy, worn pieces of furniture make her heart skip a beat!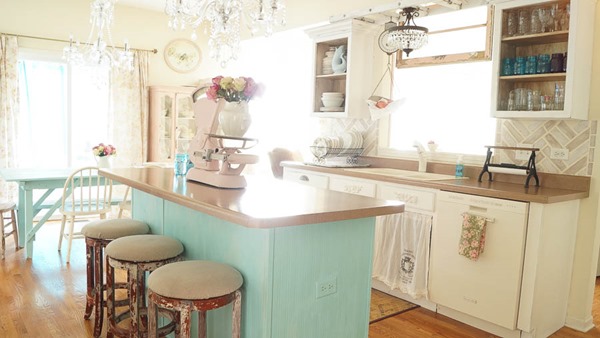 Let's start our tour in Anne's gorgeous kitchen…. the heart of the home!
It's an area of her home that has evolved and changed a few times in recent years.
Anne painted her kitchen cabinets and created the tile splashback with stencilled paint effects.
Her island bench has had it's own share of transformations… white, aqua, pink and each change has been totally beautiful.
Most recently, Anne updated her island bench with faux tin ceiling tiles… doesn't this look amazing! You can read all about it here.
Anne describes her decorating style as a little eclectic, with a shabby vintage vibe. 
She says "I love collecting pieces from the past and adding them to my home decor. I know that each one tells a story and I'd love to know more about the history".
Although Anne's style has evolved over the years, she has always tried to create a comfortable and casual living space.
She has added several chandeliers to her home and says that although they are very elegant, they work perfectly in a shabby chic home.
Anne adores imperfection.
If she can't find old, chippy pieces with original paint, she creates those finishes herself using different techniques.
Anne has even created a line of signature paint colours with Heirloom Traditions Paint and they are all so shabbiliciously gorgeous!!
Asked if she had a favourite piece of furniture, Anne said "I've been blessed to have found so many wonderful pieces over the years. We live near amazing resources for vintage pieces. Because of that I don't hold on to pieces for long. I do have an old wood bakery rack that I've enjoyed. It's moved into many rooms of my home and I always find a new use for it".
Anne offers these four fabulous tips for decorating:
1). Surround yourself with pieces you truly love.
2). Don't pay big bucks for vintage pieces. You'll eventually find what you want at the price you can afford. Instead spend money on a good quality sofa and chairs. Accessories can be found cheaply but good solid furniture is an investment that you will have for many years.
3). Don't go with any trends… instead do what makes you happy.
4). Paint can update anything even on the tightest of budgets. You can also create chippy patina and make it look authentic. I've shared many tutorials on how to do this. I'm also finishing up my book with more information on distressing techniques.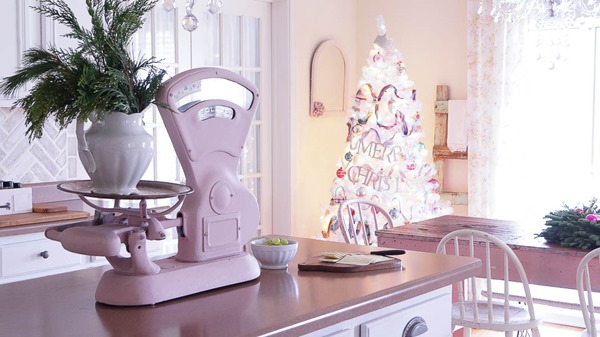 Anne's home is gloriously shabby all year through, but I especially love it dressed for Christmas. Make sure you visit White Lace Cottage to see if for yourself.
You can also connect with Anne on Facebook, Pinterest, Instagram, Twitter and Google+.
Thank you Anne for letting us take a wander around you gorgeous home and for sharing your decorating tips with us.
If you enjoyed this edition of Shabbilicious Sunday,
you may like to check our the previous home tours on my
Happy Sunday my friends,
Hugs ~ Kerryanne
I'd love for you to connect with me at:
Follow on Bloglovin
or if you'd like my posts delivered directly to your Inbox
Subscribe to Shabby Art Boutique by Email
If you'd like a private pass to all things 'shabbilicious, sign up today for my fortnightly newsletter. It contains personal stories, sneak peeks, recommendations, discounts and freebies.
Plus, you will also get a free copy of my eBook, 5 Tips for creating a Shabbilicious Home.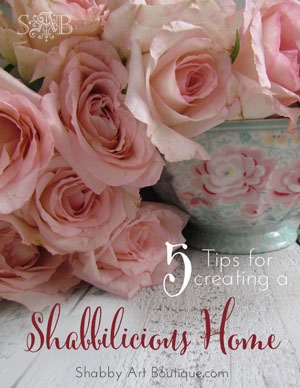 Sign up for my newsletter HERE and don't forget to confirm the sign up email.