For a long while now, I've been absolutely smitten with all things Scandinavian.
My love of GreenGate and Tilda has filled my blog posts for many years now and I know that many of you love it all too.
There's another gorgeous Scandi item I've been coveting… the Maileg Rabbit.
They are not readily available here in Australia and any items I could find from the beautiful Maileg collection where incredibly expensive…. so what's a Scandi loving girl to do?
[Pin for later]
Of course, I've resorted to making my own.
I've seen a few handmade look-a-like versions online, but patterns and/or tutorials are pretty minimal.
I made my own mini rabbits a few years back and I was happy with their similarity to the adorable Maileg rabbits, so I played around with the patterns a little more… adjusting the length of the arms and the shape of the snout until I felt they had the look I desired.
While these rabbits are not exactly the same as the Maileg ones…. or even close to perfect, I'm still thrilled with their simple Scandi look.
To help you with shopping this project, affiliate links are provided to the products I've used.
Here's how I made my sweet look-a-like rabbits:
Materials
Matching cotton thread

DMC cottons for eyes and nose – see note

Sewing machine and normal sewing supplies.
Note: I used DMC #776 for the nose and DMC #839 for the eyes and mouth.
Instructions
1. Trace pattern pieces onto card to make a pattern template, joining the two rabbit body parts, A to A and B to B to make one pattern piece.
2. Using pattern pieces, cut 2 body pieces, 4 legs, 4 arms and one inner ear (on the fold) from linen.
3. Pin the inner ear piece between the two ears of the main rabbit body pieces. as shown below.
Note: When stitching soft toys, I used a strong cotton and small stitch length. Ideally, if you have a triple straight stitch on your machine, use that as it reinforces the seam. Alternatively, you may wish to re-sew your seams twice or even three times to make them durable.
4. Stitch around the outside of the rabbit ears first, then stitch the rest of the rabbit body, leaving the bottom open.
5. Stitch around the legs and arms leaving the ends open for stuffing.
6. Clip seams where necessary and press seam allowances before you turn the pieces right side out. When all pieces are turned right side out, fold the fabric inward on the closures for arms and bottom of rabbit body. Press. This may seem silly, but make sure your rabbit arms are the same length when you press the closure in place.
7. Stuff all body parts with toy fibrefill.
Note: Remember to use small wads of stuffing to prevent bunching. We don't want our rabbits to look like they have cellulite!!
I start at the ears and move downwards, ensuring that I fill every little space as I go. My tool of choice for stuffing is an old wooden chopstick with a narrow point at one end and a larger flat end at the other. For the arms and legs, I like to make the stuffing quite firm at the end (hands and feet).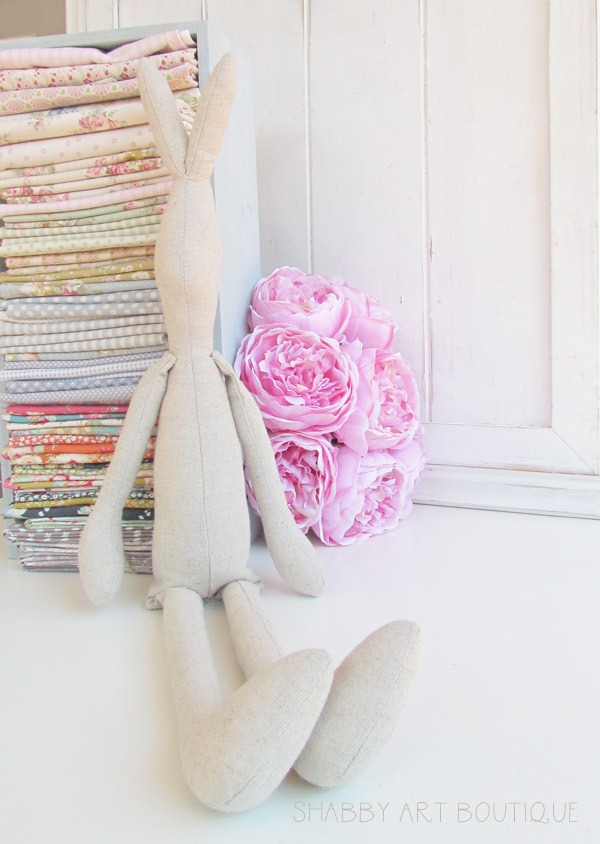 8. Pin your legs into the cavity of the body, ensuring that they are equal in length. I actually used my machine to stitch this seam closed, as you will notice that I used less stuffing at the top of the legs and at the base of the rabbit, so it would sit nicely. Alternatively, you may wish to hand sew this seam.
9. Position the arms in place and pin to secure. Hand sew arms to body.
10. These rabbits have a simple face; a nose stitched from DMC cotton (I used #776) and eyes and mouth stitched with brown cotton (I used DMC #839).
Optional: You may wish to blush cheeks with blush too.
All that's left to do now is dress our look-a-like rabbits.
Happy crafting
♥
Kerryanne
I'd love for you to connect with me at:
Follow on Bloglovin
or if you'd like my posts delivered directly to your Inbox
Subscribe to Shabby Art Boutique by Email
If you'd like a private pass to all things 'shabbilicious, sign up today for my fortnightly newsletter. It contains personal stories, sneak peeks, recommendations, discounts and freebies.