Do you choose to live life creatively?
I certainly do and I try to find ways to infuse a little bit of creativity into almost everything I do…. even in the simplest of tasks, from decorating cookies to adding throw cushions to a sofa…. and what about a little extra pizzazz when wrapping gifts!
I've shared a tutorial for making my 3 drawer gift box on my blog previously, but today I'm sharing another version of it because one of the common questions I receive from the Handmade Club members is "what can I make with the kit?"
This month I've shared 3 completely different projects to make from 'The Secret Diary of a Victorian Lady' March kit; the Victorian Ladies Writing Diary, a Victorian Ladies Loaded Pocket….. and now a beautiful Victorian Gift Box.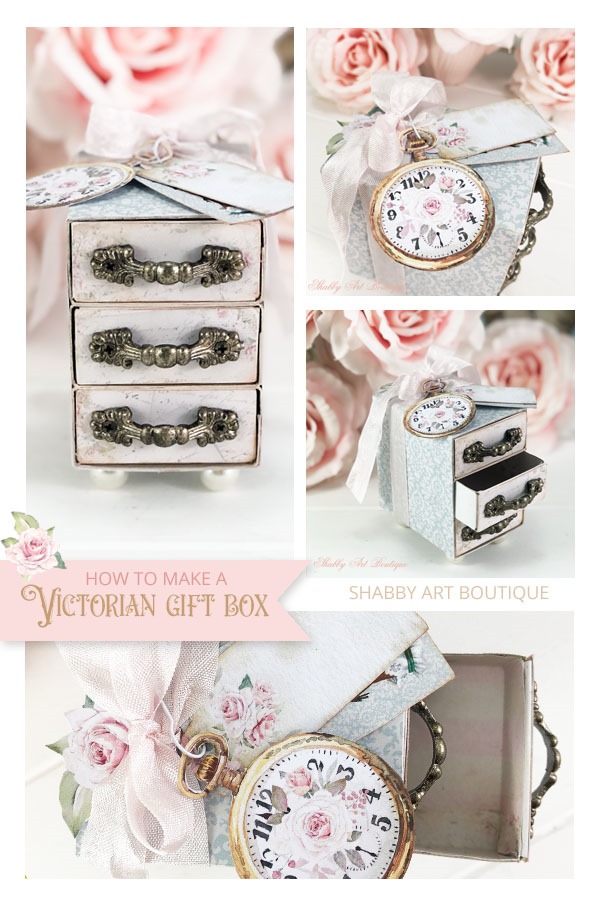 I endeavour to make my gift wrapping as beautiful and as intriguing as the gift inside and the bonus of this little set of drawers is it can be reused after opening the gift.
This sweet little gift box is perfect for gifting small items like jewellery, money, tealight candles and confectionery.
How to make a Victorian Gift Box
Finished size: 3 1/2" high x 2 1/4" wide x 3" deep (9 cm x 5.5 cm x 7.5 cm).
Skill level: Easy beginners project – 20 minutes or less.
Materials
Set of 3 kitchen sized matchboxes (bigger than standard matches) – each box measures 3" long x 2" wide x 1" high.
In Australia they are called Redheads and can be purchased as a 3 pack, but are called something different in USA.

Clear glue, paper trimmer/or craft knife/ or scissors.

Handles – I used these this time and these on another gift box

4 large beads for feet of gift box.
Instructions
1. Empty the matches out of the boxes and put aside to use later on.
2. Use clear glue to adhere all 3 boxes together to form the chest of drawers.
3. Start by cutting a 3" wide strip of paper/card long enough to wrap around the outside of the set of 3 boxes.
I used a 5" x 7" journal page, so needed to cut two strips to cover my chest of drawers. I also left a small excess, so the ends overlaped underneath when I glued the paper around the box.
I covered each drawer front with coordinating paper from the kit and inside the little drawers I used pretty paper, cut to fit and glued in place.
4. I used 4 x 12 mm glass beads to make the feet for my drawers. They were glued on with clear glue, but I did leave my box standing upside down overnight to allow the glue to set completely.
5. To make it easier to pull the drawers in and out, I recommend the use of tiny handles sold in scrapbooking and craft stores.
Tip: the handles I used on this set of drawers has tiny screws. I actually shortened the screws with my pliers, so they would not extend inside the drawer. Next I applied glue to the underside of the handle, positioned in place and then tightened the screw.
You might however have tiny metal craft knobs like I used HERE.
6. To finish the set of drawers, I added a length of pale pink seam binding and several embellishments from the March kit; the two tags and the floral fob watch were attached using a white bulb safety pin.
A note on distressing: I personally don't add much in the way of inking to create a vintage look. I usually add this in the design process for a pale distressed vintage look for all of my Victorian and vintage graphics… and that's enough for me, as I lean more towards a shabby style, rather that a vintage or grunge look. Of course, this is entirely optional and you may love to ink everything, so please adapt these instructions to suit the type of project you want to create.
What would you use these sweet little chest of drawers for?
If you happen to make a set of drawers, I'd love for you to share them with us.
This project was made form the March Handmade Club Kit
'The Secret Diary of a Victorian Lady'.
For more information on the Handmade Club, please click HERE.

If you haven't already joined our private Facebook Group,
please do and share your creative makes with us there.
Click the link to join Simply Shabbilicious.
Happy crafting my friends!
Hugs
♥
Kerryanne
I'd love for you to connect with me at: