The Handmade Club at Shabby Art Boutique offers bespoke, limited edition digital kits for crafters who enjoy using artwork that you won't see flooding the marketplace.
Each monthly kit features the original watercolour and acrylic art of Kerryanne English, combined with beautiful pieces from her extensive vintage ephemera and repaired Victorian art collection. The kits are archived after one month and never sold outside of the club.
The Handmade Club kits follow a different theme every month, but they always encompass the gorgeousness of the shabby, cottage and vintage genre. The digital elements are perfect for (but not limited to) journal making, scrapbooking, card making, mixed media and décor crafts. Included in the kit is a ZIP file of individual high resolution graphics for crafters to use in designing their own projects. Additionally there are files for papers, as well as ready to print projects and fussy cut printables. I also provide tutorials. Please know that these kits are not sold with a commercial license, so are intended for crafters personal use.
How the Handmade Club Works
The new month starts on the 15th of every month, when a new kit is released.
Members download the monthly kit from a private page.
Once downloaded to your own computer, the graphics and files are yours to keep.
The kit contains both ZIP and PDF files – so some computer knowledge and a reliable computer are required.
The kit files are created exclusively for club members and won't be available to purchase in their entirety elsewhere.
A preview of the new kit is sent to you a week before the new release.
How to Join the Handmade Club
Joining the Handmade Club is easy; there are no contracts or sign up fees.
As this is a club and these kits are not available for individual sale, there is a minimum 2 month subscription for all sign ups. If, after your initial 2 month period you wish to unsubscribe, you may do so at any time. See the 'How to unsubscribe' at the bottom of this page.
Payment is set up via PayPal to be automatically paid each month. Your PayPal email address is automatically set as your club email. Unfortunately this can't be changed, so please only subscribe if you have a valid PayPal email address. Your payment date each month will correspond with your sign up date e.g. if you sign up on the 18th, your payments will always be deducted on the 18th of each month.
Please be sure to add my email address to your email contacts, otherwise the club emails will go to your spam folder – [email protected]
Cost:
Once you subscribe to the Handmade Club, an automatic PayPal fee of AU$8.95 (this converts to approx. US $6.50) will be deducted from your PayPal account each month until you unsubscribe from the club.
To join, please click the pink 'subscribe' or 'join now' buttons below.
What Members will receive each month
On the 15th of each month (14th in the northern hemisphere) you will receive an email about the new kit. This email will also contain a link to the private download page, where you can download the kit to your own computer. The value of the monthly packages will be in excess of $20, and as much as $60, so that provides great value for club members…. this is in recognition of the commitment members make to the club.
Once you have subscribed to the Handmade Club, you will receive a welcome email (during business hours, Australian Eastern Standard Time). Please allow 24 hours for your welcome email to arrive, allowing for differences in time zones. I live in Australia.
All correspondence for The Handmade Club is via email at [email protected]
You will receive a preview of the kit one week prior to release of the new monthly kit.
Each month I will feature inspiring project tutorials on my blog for the current kit, plus I also include bonus tutorials in your club download.
For more information, see the Frequently Asked Questions below.

Sandy Steele – Oregon, United States
It is well worth the small fee each month for these kits! I have belonged to other digital kit clubs and have cancelled all others except Shabby Art Boutique's The Handmade Club. The digital images are stunning with each image carefully coordinated with other kits so you are not limited to using just that specific kit in a project. If you love soft colors of the shabby chic style and beautiful images that are clear and lend themselves to projects other than just journals you need to join this club! I have used them on banners, framed art, journals and scrapbooks and printed ephemera on fabric for sachets, quilt blocks and fabric pillow covers. There is no limit to using these kits with beautiful papers, ephemera and cutouts! My advice, join this club as soon as possible as it is well worth the small monthly payment and you will not regret joining this club! I have been in this club since it started and plan on being a member of it forever!
Gayle – USA
I absolutely love The Handmade Club kits! They are one of the best value digital club subscription kits out there, and it's all in the style I love. Kerryanne's kits are amazingly high quality, and suitable for everyone from the experienced digital scrapbooker/Photoshop/Photoshop Elements user all the way to someone who just wants to print and play. Because the color palettes are complementary, you can use items from one month with other months' kits. The tutorials Kerryanne has been including with the kits alone would sell for more than the cost of the kit in an Etsy shop. If you love the Shabby Art Boutique style, this club is for you!
See more member reviews further down the page.
What's on offer in the
Handmade Club for this month?
January 2022
The January kit will be available to subscribe to from the 15th January through to the 14th February (AEST).
This month I've taken my inspiration from the romanticism of the 1800's.
It was an era that gave us a plethora of romantic literature… and surely it cannot be denied that the Victorians possessed a flowery prose of expressing their ardent, undying and very proper love for one and other in letters, notes and calling cards.
I hope that my art has captured the spirit of this by-gone era and that you will be enchanted by January's Victorian Romance kit.
Victorian Romance
The kit is themed around vintage love letters, postcards, books and writing implements…. all the things you'd find in a Victorian ladies library or parlour.
In keeping with that era, the colour palette is a combination of neutrals, soft greens, blues and pink.
There are over 80 individual graphics including many pieces of ephemera; like cards, letters, postcards and notes.
Plus I've also included items that can be used for journal and card making.
All of the graphics are 300 dpi and have transparent backgrounds. These individual png graphics are quite large, so that you may resize them without losing any clarity for all of your paper crafting projects.
They png graphics are provided in a zip folder, and I also provide a 22 page, ready to print PDF fussy-cut file.
The Paper Collection
The paper collection for the Victorian Romance kit contains both decorative and patterned papers that can be used for a variety of craft projects.
They are available in three sizes: Letter, A4 and journal (5″ x 7″), and in a mix of portrait and landscape orientation.
The papers are provided in both a zip folder and ready to print PDF files.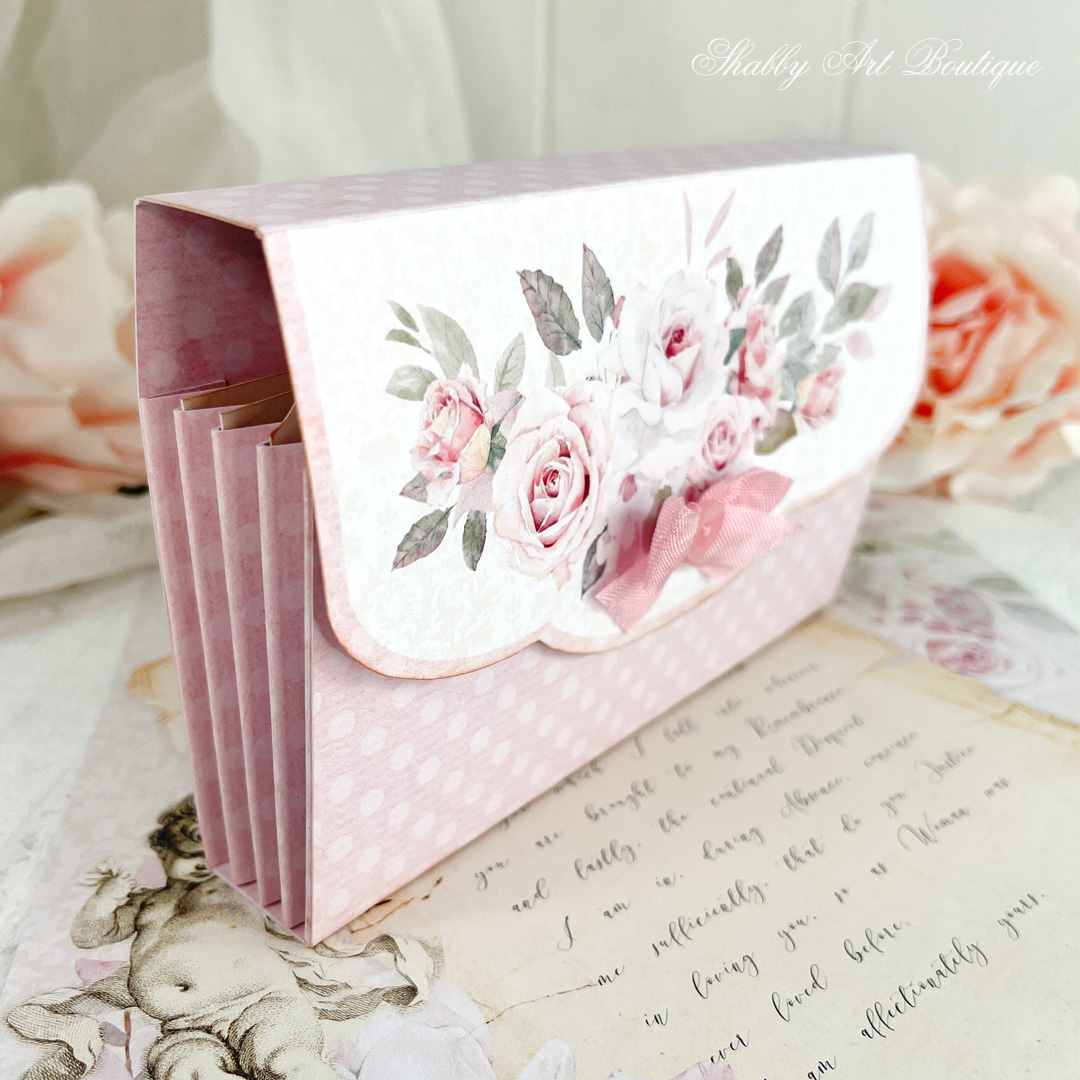 Bonus Projects
I've already been crafting with this kit and have two of my own projects to share with you as bonus printable files next week.
The Design Team and I will be sharing projects to inspire you over the coming weeks and we also look forward to seeing what you create and share in our Facebook group, Simply Shabbilicious.
Before you join….
[Please note the 2 month minimum] Click the subscribe button below to join.
Additional Information:
Please note, the graphic files are in ZIP files, so may not work on older model computers and basic computer knowledge is required. If you are not computer savvy or familiar with downloading files, this club may not be a good fit for you.
I'd love for you to share your finished projects in our friendly Facebook group, Simply Shabbilicious. This group is filled with delightful ladies from the Handmade Club who are helpful, encouraging and supportive. Please spend some time with us and tell your story through the things you make!
Sue – USA
The Handmade Club has the most beautiful digital paper kits I have ever seen. The artistry is magnificent and the colors are divine. I just love the shabby chic colors and other muted colors, and I can honestly say I have never seen anything like Kerryanne's designs anywhere. The high quality of the digitals prints out Beautifully. Just when I think a certain kit was my favorite, the next kit is even more beautiful and plentiful than the month before. The amount of designs in each kit drastically surpasses the cost of the kits, which I feel is very reasonable to begin with. In addition, Kerryanne often provides us with extra design surprises throughout the year, such as a set of gorgeous postcards, front and back. I have been more than happy joining this club and I would highly recommend it to anyone.
Liz
I highly recommend Kerryanne's 'Handmade Club' downloadable monthly kits. The kits are very versatile and can be applied in many different types of craft projects. The delivery of content by way of JPEG/PNG graphic files and PDF format also makes them very versatile and downloading the kits is so simple.
The gorgeous monthly themes are carefully thought out and there is always something to inspire the imagination with the ever present overriding theme of soft and shabby art.
The graphics are very high quality and print out beautifully and Kerryanne always ensures you receive maximum value in each kit by providing loads of content and bonus extras which is amazing considering the very low cost of the kits.
Kerryanne also provides tips and advice on how to use the kits and elements within them and shares so much on her website as well. You definitely will not be disappointed in these beautiful monthly kits.
Jo Turner – Adelaide, Australia
I love being a member of the Handmade Club as the papers and projects are just divine. Anyone who loves shabby chic and vintage should become a member and be enveloped with beautiful things.
Tanya G
The designs are absolutely beautiful and you receive way more than your money's worth. On top of that, she is beyond generous with her freebies and tutorials!
Melanie J. UK
I've been a subscriber to Kerryanne's Handmade Club for a few months and I've loved every single kit she's made.
Each month Kerryanne makes a brand new unique kit, full of shabbyliciousness (if that's not a word, it should be!), and each kit contains lots of papers, ephemera and die-cuts to make any number of paper craft items.
I've found Kerryanne to be diligent and extremely helpful when I had a problem, and she went above and beyond to help me fix the issue, which was greatly appreciated. I would highly recommend her monthly Handmade Club subscription to anyone interested in beautiful shabby and vintage digital kits, and if you're undecided then subscribe to her Members Free Mailing List where you can view some of her work in the free digitals she offers.
Kim Houston
The kits from the Shabby Art Boutique's Handmade Club are fabulous. They capture all of the feminine charm and beauty that draws me to the entire 'Shabby' design theme. The kits are very useful, some months they are centered around a certain project or holiday, other months are based more for journaling and ephemera for decorating.
I have not been disappointed with any of the kits I've received. Kerryanne even helped me with how to resized images and such. Don't hesitate about joining the Handmade Club. Worth the money and more every month!
Rosemary – USA
Kerryanne's designs are always so beautiful and unique. I always get excited when I see SAB in my email, as I know it holds some new exciting ideas. My creative juices start flowing with images of how and where I can use them. It's like having Christmas every month!
Ann – USA
I enjoy the handmade club from Shabby Art Boutique because it includes beautiful images and pretty soft shabby colors. There are always many elements and Kerryanne adds more in her selection that most other designers do. She has shown us how to use the kit in various ways. It's a bargain and a treat each month.
Debbie K. USA
I have been following this site for many years. This past year I joined the Handmade Club and I am so excited every month waiting to see the new release. The designs are so versatile. I use them to make banners, greeting cards, seasonal decor, party theme decorations, gifts, and so much more. There are limitless ways to mix and match or resize to fit whatever project you want to make. So worth the membership!
Roberta Comeau – New York, USA
Kerryanne is the most accomplished artist giving so much of herself in creating/sharing her work. I recently signed up to her "Handmade Club" and continue to enjoy her offerings waiting for the next design.
Pamela
Thank you for the gorgeous kits! Your time, care and coordination are evident in each image. I love creating with them! You seem to know just what to post to keep me excited for each new kit! And I appreciate the freebies too! Thank you again. Pamela
Cathy Edmondson
The monthly kits that KerryAnne does for us are above and beyond gorgeous! I always look forward to each new kit with great anticipation! Well worth what we pay each month!
Sandy – USA
Thank you, Kerryanne for all of the beautiful designs and tutorials. I love all of your choices and am so glad to be a part of your Newsletter and Handmade Club. Your generosity in these monthly projects is so appreciated and the help you give in a quick question by email. Your care of your clients and websites is impeccable!
Kate – Canada
As a recent member of The Handmade Club, I am thrilled with these kits. The February and March kits were wonderful. I love the individual elements and the ease of downloading the digital files. I've seen the preview for the April kit, and I can't wait for it to be released! This is an excellent source for good quality and reasonably priced images. Thanks Kerryanne!
Susan–senior citizen cheerfully living and paper crafting in Florida, USA
On a scale of one to ten, this membership is an eleven! The numerous graphics are always lovely! There is always paper, and various embellishments and tags. Often there are more unusual graphic depictions (e.g. pastel Bingo cards, tickets, shapes to cut). Every month is a total treat! There are many ways to use the graphics, and, depending on the consumer's time allocation and imagination, literally dozens of projects could be produced from each month's offerings. Often Kerryanne also sends email to members, providing ideas, tutorials, and photos with project ideas. If you enjoy paper crafts using the pastel "old fashioned shabby chic" look, you simply can't go wrong with this membership! I'd like to add that I had some problems downloading and installing through Dropbox; I emailed Kerryanne with questions and she replied to me at length, in detail, and graciously, twice! Many Handmade Club items can be used interchangeably through the months, and they can also be used with other Shabby Art Boutique graphics. I'm having such fun using Kerryanne's products, following her newsletter, and gleaning ideas from beautiful photos of her craft room! I am so pleased to have found them all!
Please be sure to add my email address, [email protected] to your email contacts otherwise the club emails will go to your spam folder.
Frequently Asked Questions
How much does it cost each month?
The cost is $8.95 Australian dollars, but many of the club members are in the US and the current currency conversion works out at about US$6 – $6.60 per month. Your payment date will depend on what date you joined the club e.g. if you joined on the 4th, your payment will be automatically deducted by PayPal on the 4th of each month.
I haven't received the Club email… what now?
If you haven't added my email address to your Contacts List then the email may have gone to your spam folder. Please check your spam folder, then contact me at [email protected]
Can I use the graphics to make things to sell?
The Handmade Club kits do not come with a commercial license, so they are intended for personal use. They cannot be shared either digitally or printed.
I always want to encourage creativity, so have no issue with members using the occasional graphic within a much larger project that they sell e.g. a tag or embellishment within a junk journal. It is not okay to simply print the kit items, create the project and then sell it. This is the same for any tutorials projects that I provide for the Handmade Club and my website, Shabby Art Boutique. They cannot be sold as digital items. My graphics are not to be used on any commercial items or uploaded for use by print on demand businesses like Society6 or in handcrafted items on-sold by another business. They are not authorised to be used on products sold on Wish.com, Alibabai.com and mass produced product markets. My graphics are automatically covered by the Australian Copyright law, which is recognised internationally and violating my terms and conditions could result in legal action being taken. I'm always happy to discuss these terms with you, should you have further questions.
Why are the files in Dropbox and not sent in an email?
The graphic kits are quite large and contain many files in both ZIP and PDF files. These files are too large to send to email programs, so I store them in a folder on my own private Dropbox account. You do not need a Dropbox account to download these files.
Each month on the 15th, all members receive access to a new folder and password. Tracking is used to monitor both the club emails and Dropbox account.
How will I know if I'll like the next kit?
In the first week of the month I send out a preview of the next kit due out on the 15th.
Can I make requests for themes?
You sure can… in fact, I'm always open to suggestions from our club members and if it is something that will suit the majority of members I try to facilitate that.
What if I'm a new member and would like to purchase older kits?
Twice a year I offer the club members the opportunity to purchase archived kits in a special one week offer. This is the only way to purchase archived kits and they are never sold outside of the club.
Can I re-join the Handmade Club at a later date?
Of course…. members come and go and I certainly have no problem with that, however, I don't allow members to come and go every other month as a way of buying only certain/or single kits. The value in the kits is in recognition of the commitment members make to the club. If a member leaves owing money or has skipped a payment (or withdrawn their card number), they cannot re-join the club.
How can I cancel my subscription to the Handmade Club?
It's easy to unsubscribe…. please see easy to follow instructions below.
Unfortunately, due to the very nature of digital downloads, I am unable to refund or accept returns.
How to Unsubscribe from the Club
After your initial 2 month period you may unsubscribe at any time.
All you need to do is cancel your automatic payments to PayPal…. they will do the rest.
Here's how to cancel your automatic payment subscription on the PayPal website:
Click

Settings

at the top of the page.
Click Payments.
Click Manage automatic payments.
Select the merchant's name or email address – Shabby Art Boutique
Click Cancel.
Click Cancel Automatic Payments.
Click Done.
Here's how to cancel your automatic payment subscription through the PayPal mobile app:
Tap the Settings icon in the top-right corner.
Tap Automatic Payments.
Tap the subscription you want to view.
Tap Remove PayPal as your payment method near the bottom of the screen.
Tap Remove to confirm the cancellation.
For any further questions regarding the Handmade Club, please contact Kerryanne at [email protected]