It was never actually in my plans to make Blossom a pair of sweet little shoes.
But I like those projects that take you by surprise… don't you?
So it happened that I was looking at gorgeous baby shoes online and then it struck me… what if I could make a shoe pattern that would fit Blossom's chunky rabbit foot.
I won't lie… it wasn't as simple as I first thought because Blossom has a different shaped foot to humans, with a fat heel and narrow toe, but after a few prototypes a pattern emerged.
I used the same principle for making baby Mary-Jane shoes in felt. Just the shape of the shoes is different.
How to Make Blossom's Mary-Jane Shoes
Materials:
– Small square of felt,
– Matching DMC embroidery cotton,
– Needle and scissors,
– Download Blossom's shoe pattern HERE.
Instructions:
Cut out pattern for shoes.
Using the pattern, cut out two uppers and two soles from felt.
Overlap the two ends of the upper by about 1/8" (4 mm). Stitch closed using 6 strands of DMC embroidery cotton in coordinating colour.
So now you should have a closed upper.
Attach the sole of the shoe to the upper using a small buttonhole stitch and the DMC embroidery cotton.
You could leave the shoes like this or embellish with felt flowers or buttons.
I decided to add silk ribbons to the shoes to match the ribbon on Blossom's dress and to make the shoes into cute Mary-Janes. I used 6" (15 cm) of silk ribbon for each side of the shoe… so 12" (30 cm) for each shoe.
They were attached with a tiny pink button on each side.
Blossom's new shoes are just a bit too cute…. I'm sure you will agree!!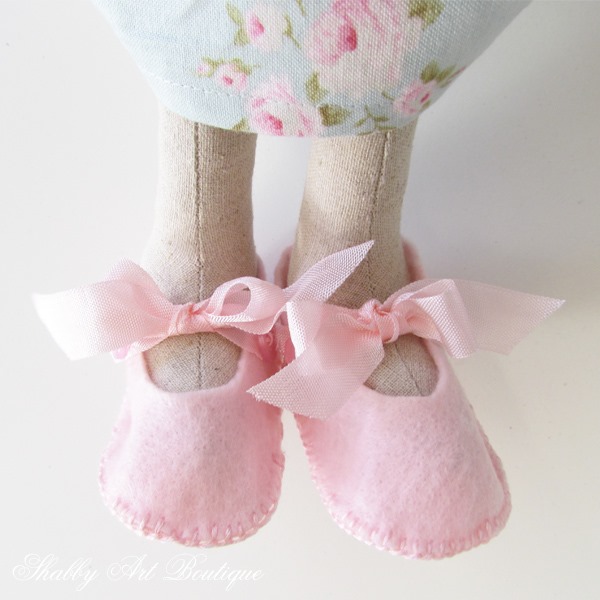 You can get the pattern and instructions for making Blossom, my Maileg look-a-like Rabbit HERE.
Blossom's dress pattern and instructions are also available HERE.
[Pin for later]
Happy crafting
♥
Kerryanne
I'd love for you to connect with me at:
Follow on Bloglovin
or if you'd like my posts delivered directly to your Inbox
Subscribe to Shabby Art Boutique by Email
If you'd like a private pass to all things 'shabbilicious, sign up today for my fortnightly newsletter. It contains personal stories, sneak peeks, recommendations, discounts and freebies.