Hello creative friends,
Today in the craft room I've created a whimsical project using this sweet little paper doll.
You may recognise her….. she's been hanging around in my craft room for quite a few years as a tiny wooden doll, but I recently gave her a bit of an update and included her in the July Retro Shabby kit for the Handmade Club.
She's affectionately known as Betty Buttons in my craft room, because she was designed by Betty Campbell in 1933… making her a very vintage, 83 years old.
Betty has had a few names over the years, but was most well known as a wooden doll called Diane and later as a paper doll called Polly.
But ever since she was made the keeper of the buttons in my craft room, we've called her Betty Buttons.
Today I printed her off in several sizes, intending to use her in a couple of paper projects and although this one wasn't planned… it just kind of happened…. and I love a little whimsy!
I think Betty Buttons deserved to have her own button collection…. what do you think?
So, today I made a simple box from cardboard measuring 6" wide x 2" high x 1" deep.
And I decorated it with pretty paper, collaged bits and bobs and a smidge of distress ink around the edges.
To hold Betty in place, I inserted a small length of bamboo skewer into the top of the box and secured with a dot of hot glue.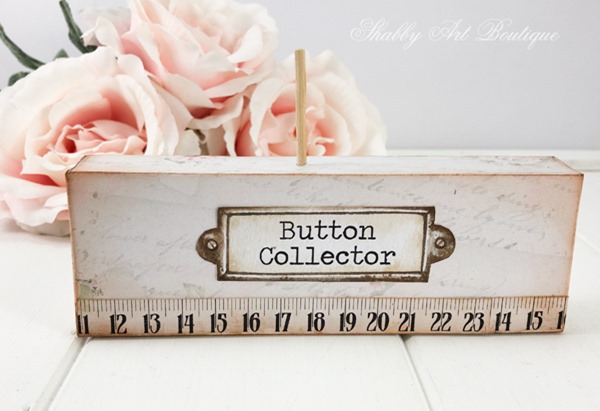 Next came some wheels made from large wooden spools and of course….
She wouldn't be the keeper of the buttons without her button collection.
Betty is dressed in a pretty hand gathered tulle skirt and holds her most treasured buttons as a button garland.
All that was left to do was to crown her curly hair with a girly seam binding bow.
Isn't she just the sweetest!
Although I hadn't intended this as a project to share, I have included the printable I made today to create this project in the files of the July Handmade Club.
It contains Betty Buttons in 3 sizes, as well as the decorative paper, the button collector name plate and a template for making the box.
Next I think I must make something adorable with the larger Betty Buttons.
To find out more about what's on offer in the
July Handmade Club, please visit this post.
I hope Betty Buttons made you smile today.
Happy crafting my friends!
Hugs
♥
Kerryanne
I'd love for you to connect with me at:
Get instant access to the free printables in our Member's Only
library by joining my email newsletter subscriber's list.
I send out two newsletters a month with updates on all things
'shabbilicious' at Shabby Art Boutique.
I invite you to join our fabulous and friendly
Facebook group – Simply Shabbilicious
where you'll enjoy our friendly banter and inspirational creativity.