Hi creative friends,
I am delighted to welcome two of our new Design Team members this week and share their debut projects.
Rosangela and Dianne have distinctive styles and innovative ideas that are sure to impress and inspire you.
Let's take a closer look at their stunning creations….
Rosangela Miqueletto
For her first project, Rosangela created a breathtaking greeting card that exudes shabby gorgeousness.
Using the August Craft Room kit, The Sweetest Tea Party, Rosangela expertly combined delicate floral patterns, muted pastels, and intricate lace accents to craft a card that transports the recipient to a serene afternoon tea setting.
The attention to detail is simply mesmerizing… from the torn papers that add a touch of shabby elegance to the carefully chosen embellishments and bling that tie the theme together flawlessly.
Rosangela's gorgeous shabby greeting card is a true testament to her ability to transform ordinary materials into extraordinary works of art.
We can't wait to see more of her stunning creations as she continues to explore various paper crafting techniques.
As you fall in love with Rosangela's gorgeous paper craft projects, make sure to show your support by checking out her social media profiles.
You can view Rosangela's gorgeous designs on Instagram, Facebook, Pinterest and YouTube.
Dianne Johnson
Dianne, another remarkable addition to our design team, has showcased her expertise in a truly innovative way with her very first project.
Her creation, a stunning storage box with a three-dimensional lid, seamlessly marries functionality with elegance… and who can resist this sweet 3D tea party!!
Storage box with 3 dimensional lid
Crafted with precision and an eye for detail, Dianne's storage box boasts a unique lid that captures attention from every angle.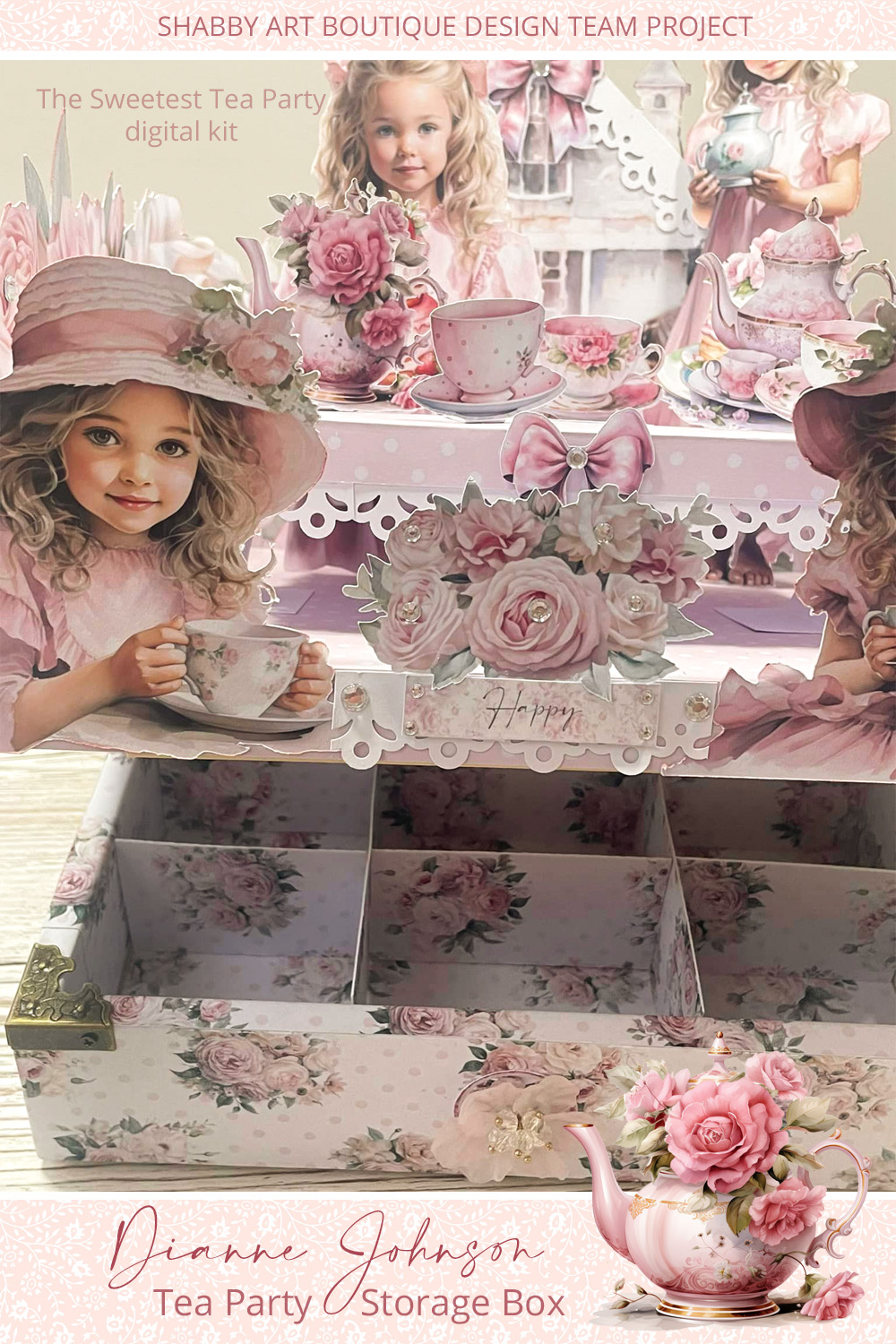 What sets Dianne's project apart is her ability to create a piece that not only holds sentimental value but also serves as a decorative statement piece.
It's a celebration of the beauty that can be achieved through paper crafting, pushing the boundaries of traditional design and inspiring others to experiment with form and function.
Tea Party Mini Folio
As part of the Craft Room membership this month, I shared a bonus printable 'Tea Time Mini Folio' project and invited the members to put their own spin on it.
I love all of the sweet little embellishments that Diane included on hers.
Stacked Envelopes Challenge
Dianne also took part in our membership challenge to create a stacked envelope project using The Sweetest Tea Party kit.
The envelopes were included in the kit in several sizes and it was amazing to see just how differently each person approached the challenge.
Dianne used a variety of laces, gathered trims and rhinestone stick-ons to embellish her beautiful envelope stack.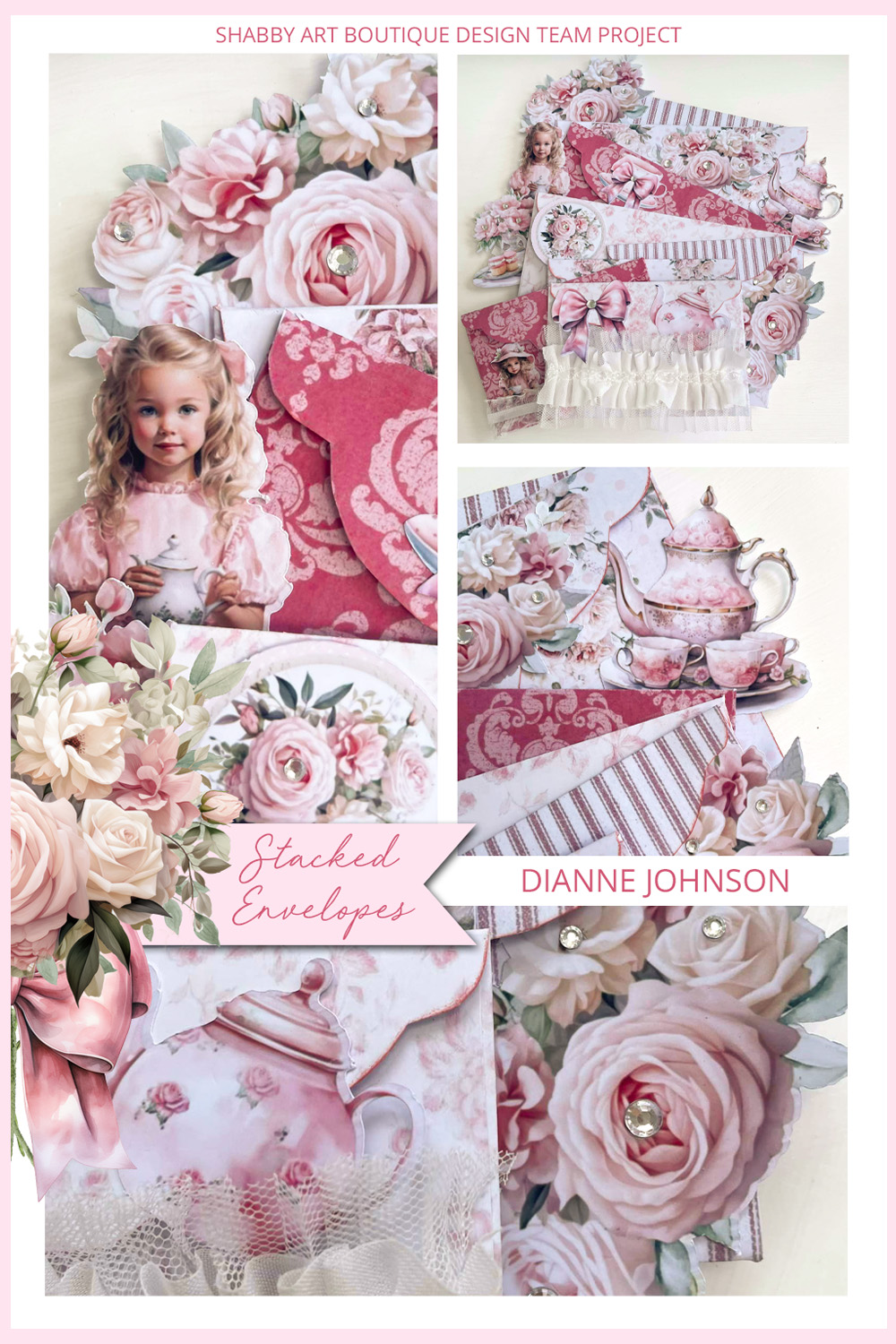 Thank you for inspiring us with your beautiful projects this week Dianne ♥
Craft Room members can connect with Dianne inside the Craft Room membership and on her Instagram account, Shabby Reflections.
Jennifer ~ Crafting Sweetness
This week Jennifer has been creating with the Craft Room exclusive kit, The Sweetest Tea Party.
Tall Skinny Journal
Prepare to be enchanted by Jennifer's exquisite latest masterpiece… a sweet shabby, tall and skinny journal.
Jennifer's penchant for detail and her love for the shabby style shine through in this creation, which showcases the beauty of the 'Sweetest Tea Party' digital kit.
Be sure to click the image below to watch Jennifer's flip though on her YouTube channel, Crafting Sweetness.
With delicate pastel hues, intricate lace accents, and distressed edges, Jennifer has breathed life into her journal, making it a visual treat.
Each turn of the page reveals a new layer of charm, and the slim, elongated design adds a unique touch to this already captivating piece.
PIN for later
To see more of Jennifer's inspiring projects, connect with her on her Crafting Sweetness YouTube channel and Instagram account.
Thank you Jennifer… as always, your project is captivating and inspiring ♥
Carolyn – Carolyn's Paper Therapy
Carolyn's creative journey this week has been nothing short of spectacular as she presents an array of stunning journal projects that showcase her versatility and boundless imagination.
Tea Party Stacked Envelope
We had a challenge in the Craft Room this month for members to create their own version of stacked envelopes.
Naturally, Carolyn took on this challenge and created a stunning set of stacked envelopes.
Click the image below to join Carolyn as she takes you through her video flip through of this beautiful project.
PIN for later
The Sweetest Tea Bag Holder
Carolyn used a kit from my Etsy store, Shabby Tea Bag Holder, as a template for making an updated version with the new kit, 'The Sweetest Tea Party'.
It is just the 'sweetest' little project!!
Click the image below to hear Carolyn explain how she made it.
PIN for later.
Petite Friendship Journal
This small journal was made from a file folder included in the Forever Friends digital kit.
Carolyn filled it with lots of pockets, tags, ephemera and wonderful friendship messages. Measuring just 3.5″ x 5″, this little cutie is perfect for a friendship gift!
Click the image below to see how much gorgeousness Carolyn managed to squeeze into her.
PIN for later.
Tea Party Wall Décor
Carolyn said that this project was completely out of her comfort zone, but she still had so much fun!
I love that Carolyn wasn't scared to extended herself and explore the option to use more 3 dimensional items in her paper crafting project. The possibilities really are endless when you are prepared to adapt your skills to various styles.
Click the image below to join Carolyn as she explains her process for creating this sweet wall décor.
PIN for later.
Shaker Tags & Friendship Journal Planning
Carolyn is planning two new journals using the Forever Friends digital kit on Etsy and in this latest video she takes you through her process of preparing them.
Carolyn also gives a quick tutorial on how she has made her lovely shaker tags she'll use to embellish her journals.
Click the image below to get Carolyn's latest project update.
As always, Carolyn's lovely projects showcase her creativity and love for crafting.
Thank you for inspiring us this week with your fabulous paper craft projects, Carolyn . ♥
You can connect with Carolyn on her YouTube channel, Carolyn's Paper Therapy.
The Craft Room Membership
The Craft Room doors open twice a year to take new members and if you'd like more information about the Craft Room or would like to be notified when the doors re-open, there is a 'waitlist' email button on the main Craft Room Membership page.
I hope you feel as inspired by the Design Team as I do this week!
Stay tuned for upcoming tutorials, tips, and inspiration from Rosangela, Dianne, and the rest of our talented design team.
Together, let's explore the endless possibilities that paper crafting has to offer!
Happy crafting!
Hugs
♥
Kerryanne
Let's be friends on….
Get instant access to the free printables in my Newsletter Printables
Library by joining my email newsletter subscriber's list.
I send out a weekly newsletters with updates on all things
'shabbilicious' at Shabby Art Boutique.
I invite you to join our fabulous and friendly
Facebook group – Simply Shabbilicious
where you'll enjoy our friendly banter and inspirational creativity.