Hi creative friends,
Our talented design team are constantly pushing the envelope when it comes to crafting, and Sandy of Septeria18 is no exception.
Her latest creations for the Teapot Fairies digital kit are nothing short of enchanting.
Today, we'll take a closer look at Sandy's sweet folio folder/journal, tag pockets, and a delightful booklet that she designed, along with her informative YouTube tutorials.
Sandy ~ Septeria18
The Teapot Fairies digital kit is a whimsical collection of digital elements, featuring teapot houses, fairies, and all things magical.
Sandy took this enchanting theme and ran with it, creating a set of stunning projects that are sure to inspire crafters of all levels.
Teapot Fairy Project Shares
One of the standout pieces in Sandy's collection is her folio folder/journal. It's not just a journal; it's a work of art.
Sandy's attention to detail shines through in every element of this project.
Click the YouTube video below to see all of these gorgeous Teapot Fairies projects.
The folio folder/journal is designed to hold your treasured memories, notes, or ephemera.
Sandy didn't stop at the folio folder/journal; she also created adorable tag pockets that coordinate seamlessly with the Teapot Fairies theme. These tag pockets are perfect for organizing your journaling cards, ephemera, or even small photos. They're not only functional but also a delightful addition to your crafting projects.
To complete the set, Sandy designed a cute booklet that perfectly complements the Teapot Fairies digital kit. This booklet is ideal for jotting down quick notes, to-do lists, or even as a miniature art journal.
Tutorial: Making the Folio Folder/Journal
Sandy goes above and beyond to share her creative process with fellow crafters.
She has created two informative YouTube tutorials that provide step-by-step guidance on using the Teapot Fairies digital kit and replicating her stunning projects.
In the first tutorial video, Sandy guides you through the process of creating the enchanting folio folder/journal, sharing her tips and tricks along the way.
Click the YouTube video below to watch… and be sure to subscribe to Sandy's channel.
Tutorial: How to add Pages and Embellishments to the Cover
In this tutorial, Sandy demonstrates how to customize your folio folder/journal by adding pages and embellishing the front cover with Teapot Fairies elements.
Don't miss this video, click the video below for the tutorial.
Sandy's creativity and talent shine brightly in her Teapot Fairies digital kit projects.
Her folio folder/journal, tag pockets, and cute booklet are a testament to her dedication to crafting and her ability to turn digital elements into gorgeous treasures.
With her three YouTube tutorials, she generously shares her knowledge and inspires crafters to embark on their own enchanting journeys with the Teapot Fairies digital kit.
So, why wait? Dive into the magical world of Teapot Fairies and let Sandy's creations spark your imagination!
How to connect with Sandy:
We all love Sandy's projects, so be sure to subscribe to her Septeria18 YouTube Channel so you don't miss any of her upcoming tutorials and follow Septeria18 on Instagram.
You'll find Sandy's gorgeous embellishments in her Septeria's Room Etsy Store.
Thanks for inspiring us with these beautiful projects, Sandy ♥
Teapot Fairies Digital Kit
Imagine a world of whimsy and wonder, where pastel colors dance like soft dreams.
Picture teapots and teacups transformed into enchanting homes for the sweetest childlike fairies!
You can dive into this world of enchantment with my new digital collection, Teapot Fairies.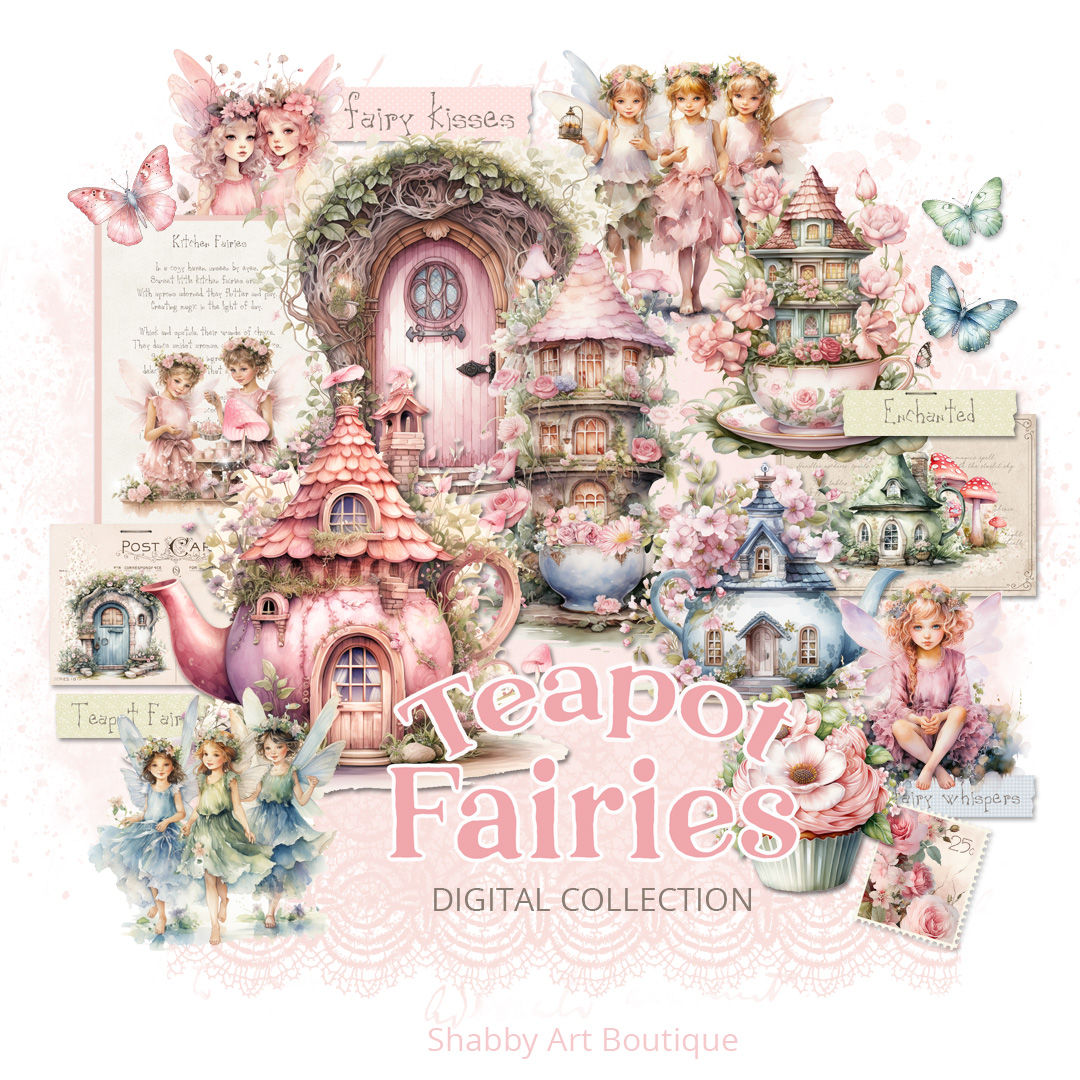 This collection is designed to whisk you away to a world where shabby pastel colors and childlike fairies come together in perfect harmony.
Click the image below to watch the Teapot Fairies video…. I'd be thrilled if you are able to subscribed to my YouTube Channel too.
How to buy Teapot Fairies
This kit is available now in my Etsy store.
Click to see on Etsy – Letter (USA & Canada) paper size
Click to see on Etsy – A4 paper size
Add-On Kit ~ Fairies of Colour
This kit is an additional kit of fairies of color for the Teapot Fairies Kit.
It contains 12 fairies and 6 elements (4 tags and 2 cards) to be used in conjunction with the main Teapot Fairies Kit.
The Fairies of Colour Add-On kit –> is available in my Etsy store HERE.
Click here –> for FREE printable Teapot Fairies Mini Sampler kit
Etsy Discount Codes
Don't forget to use my discount codes for my Etsy store.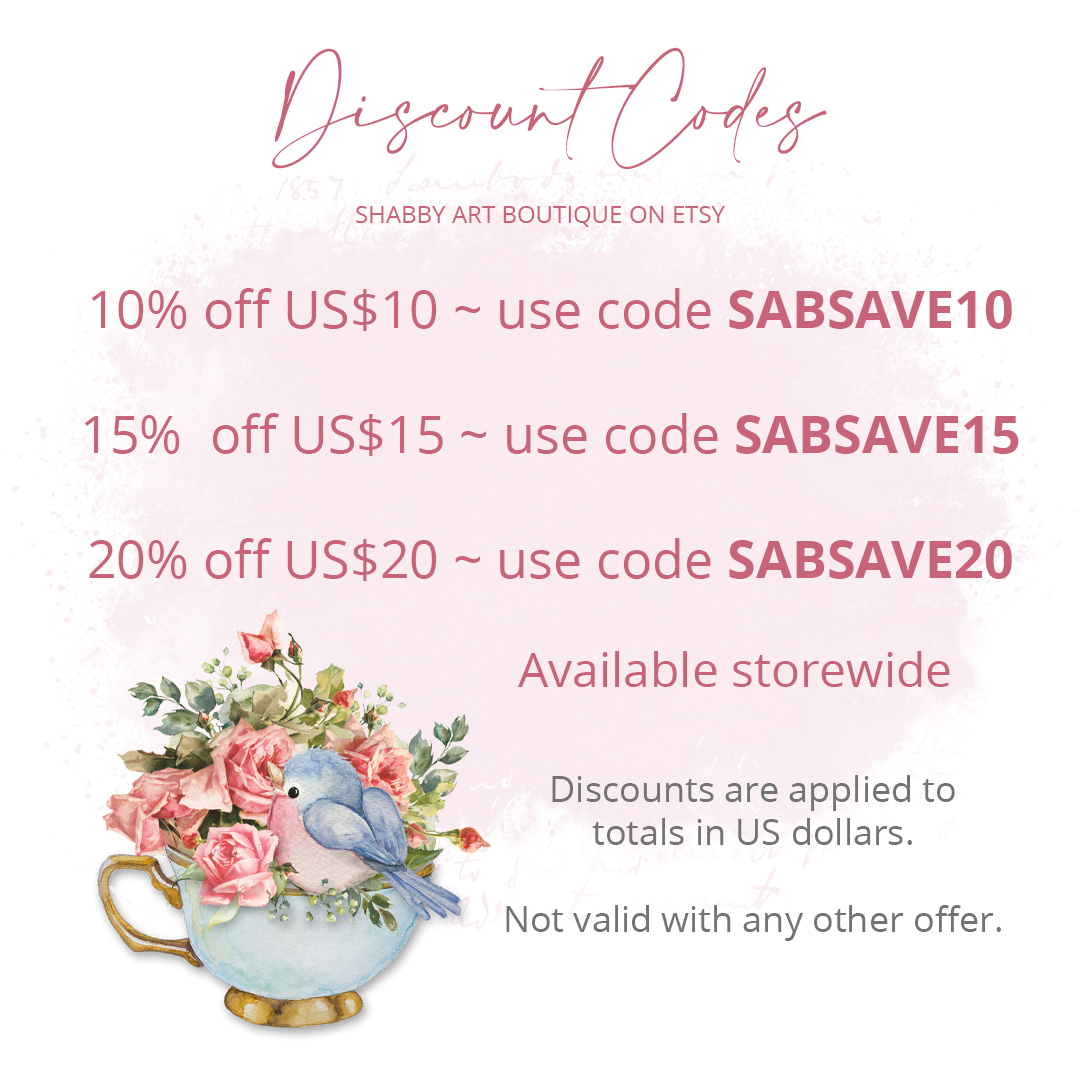 Happy crafting!
Hugs
♥
Kerryanne
Let's be friends on….
Get instant access to the free printables in my Newsletter Printables
Library by joining my email newsletter subscriber's list.
I send out a weekly newsletters with updates on all things
'shabbilicious' at Shabby Art Boutique.
I invite you to join our fabulous and friendly
Facebook group – Simply Shabbilicious
where you'll enjoy our friendly banter and inspirational creativity.