Hi creative friends,
This week, our talented design team members Rosangela, Carolyn, and Nicola showcased their unique talents using the exclusive Fox Hollow digital kit.
From beautifully layered collaged projects to autumn-inspired creations, these designers have brought a touch of enchantment to the Craft Room.
Let's take a closer look at their stunning creations!
Rosangela Miqueletto
Rosangela, with her penchant for layering and collaging, wowed us with not one but two fabulous projects this week.
First up is a delightful card and envelope set that exudes all the charm of autumn.
She masterfully combined various elements from the Fox Hollow kit to create a harmonious composition that is both intricate and captivating.
The card and envelope features sweet foxes, pumpkins, autumn florals and pretty backgrounds, creating a whimsical yet elegant design that would bring a smile to anyone's face.
In addition to the card set, Rosangela also worked her magic on a canvas with a unique twist… a tuck spot for a photo.
The canvas serves as both a decorative piece and a functional keepsake.
Her use of layered elements and earthy tones from the kit perfectly encapsulates the cozy feeling of autumn, making it an ideal home decor item for the upcoming season.
Thank you Rosangela for delighting us with your autumn projects ♥
You can view Rosangela's gorgeous designs on Instagram, Facebook, Pinterest and YouTube.
Carolyn ~ Carolyn's Paper Therapy
Using elements from the Fox Hollow digital kit for the Craft Room, Carolyn fashioned delicate layers of ephemera, laces, and ribbon onto glassine bags.
The toppers can be used as journal covers or as standalone embellishments for crafting…. and how fabulous are they as toppers for the glassine bags!
Carolyn's attention to detail and careful selection of elements make these toppers a true testament to her craft.
Click below to see the video of Carolyn's beautiful bag toppers.
Carolyn brings her unique perspective to the table with her two glassine bag journal toppers.
Using the Fox Hollow digital kit, she has transformed ordinary glassine bags into miniature works of art and her collaged and layered effects are so sweet!
Thank you for inspiring us this week with your beautiful projects, Carolyn ♥
You can connect with Carolyn on her YouTube channel, Carolyn's Paper Therapy.
Nicola ~ My Shabby Craft Corner
Embracing the cozy vibes of autumn, Nicola contributed a beautifully layered tag to this week's lineup.
Her creation captures the essence of the season, featuring warm hues, falling leaves, and woodland flowers.
Using the Fox Hollow digital kit as her muse, Nicola demonstrated her knack for blending colors and textures seamlessly.
The tag is a versatile piece that can be used as a gift tag, a journal embellishment, or even as a decorative element for a seasonal display.
Nicola's use of layering and her keen eye for design shine through in this charming creation.
Thank you Nicola for inspiring us this week with your fabulous shabby autumn projects ♥
You can connect with Nicola on her 'My Shabby Craft Corner' accounts: Instagram and YouTube
Be sure to subscribe to her YouTube channel, so you can keep up with all of her fun tutorials.
Join Nicola's Shabby Journals Craft & More Facebook group.
This week in the Craft Room, Rosangela, Carolyn, and Nicola have truly outdone themselves with their projects inspired by the Fox Hollow digital kit.
Each designer brought their unique style and expertise to the table, resulting in a diverse range of stunning creations.
Fox Hollow Digital Kit
This month in the Craft Room membership, our September kit is called Fox Hollow.
It's a multi themed kit filled with shabby rustic tones of autumn florals, toadstools and pumpkins… and the addition of a a sweet whimsical community of foxes.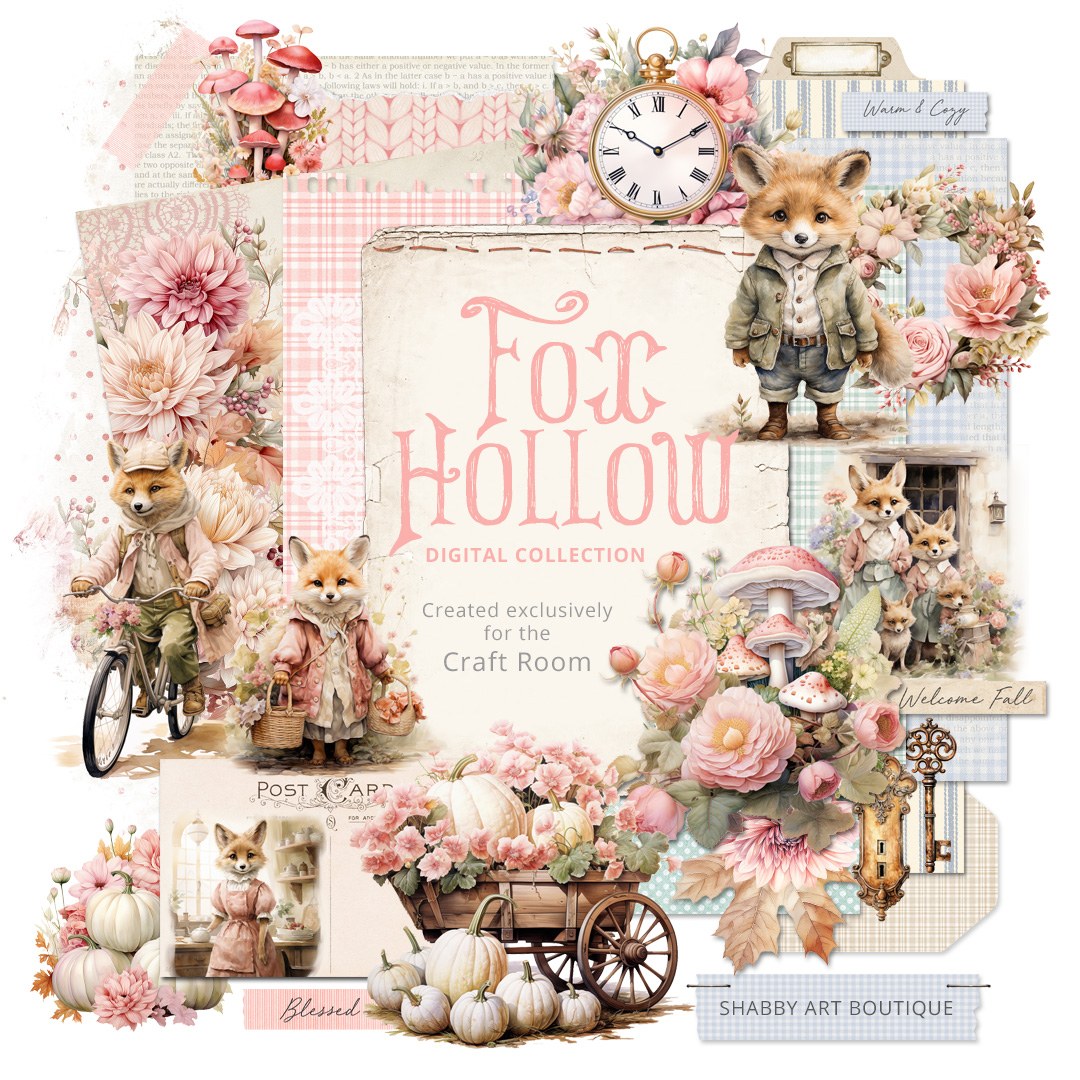 The Craft Room doors open twice a year to take new members and if you'd like more information about the Craft Room or would like to be notified when the doors re-open, there is a 'waitlist' email button on the main Craft Room Membership page.
Happy crafting,
♥
Kerryanne
Let's be friends on….
Get instant access to the free printables in my Newsletter Printables
Library by joining my email newsletter subscriber's list.
I send out a weekly newsletters with updates on all things
'shabbilicious' at Shabby Art Boutique.