Hi creative friends,
In a world where perfection often takes center stage, there's something utterly enchanting about embracing the beauty of imperfection.
This is precisely what drew me into the whimsical world of Tilda, a realm where charm thrives in the perfectly imperfect.
Today, I want to share with you a heart-warming journey into crafting fabric foxes for the Craft Room using the delightful pattern by Tone Finnanger of Tilda…. and you can make these foxes using the free pattern too.
Tilda is not just about crafting; it's about creating characters that are infused with an enchanting aura of simplicity.
Tilda's designs are known for their naivety, evoking a sense of nostalgia for simpler times, where the imperfections in life were not seen as flaws but as the essence of uniqueness.
My 'Foxie Ladies'
I have long admired the endearing characters that spring to life from Tilda's patterns. Their whimsical charm and childlike innocence were irresistible.
I made my family of foxes many years ago now and they have been a regular feature in my craft room.
Of course, I never can seem to follow a pattern exactly and always end up putting my own spin on it…. and so it is with my 'foxie ladies'.
Rather than leave them complete plain and naïve, I made a watery mix of brown paint and splashed it over their bodies. I was pretty pleased with that and then added some watery black to their feet and ears as well.
This week I updated the 'foxie ladies' wardrobe for Autumn with outfits made in wool tweed, linen and Tilda fabrics.
I've been following Tone Finnanger's Tilda adventures since her very early days when she started out in 1999.
I own all of her books… have made just about every design and for quite a few years I also sold her fabrics, paper crafts and embellishments in my boutique store.
A lot can change in 20+ years, so eventually the Tilda brand changed too.
They stopped designing paper craft collections, the fabric designs changed and it seems that the naïve and irresistible characters would slowly fade away too.
However, Tone has now shared some of her designs as free patterns on her website!!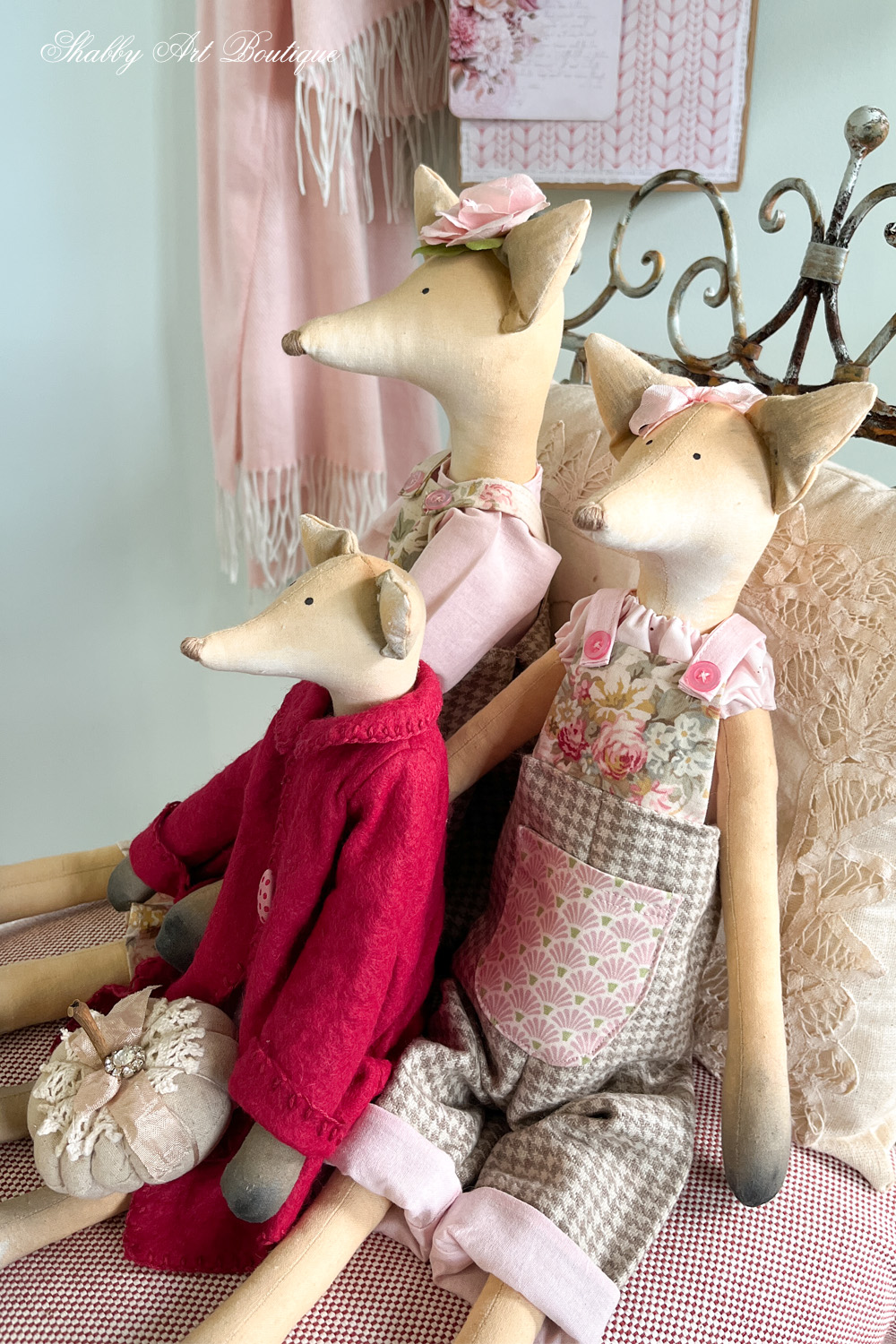 The original fox designs were in the Fairytale Wonderland book and came in 3 sizes.
Although Tilda are no longer printing the books and there are limited number of books in circulation, the Tilda website now have some of their gorgeous characters as free patters on the website.
Download the Tilda Fox Pattern
Click here –> to download the free fox pattern.
If you like the overalls I made for my medium size fox, they are from the cow pattern here.
Crafting fabric foxes from the Tilda pattern has been a heartwarming journey into the world of whimsy and imperfection.
These charming creatures are now back on their vintage chair, watching over the craft room.
They bring a touch of Tilda's enchantment to my space and serve as a beautiful reminder that imperfection is not something to be hidden or corrected but something to be celebrated.
So, whether you're an experienced crafter or a novice, consider diving into the world of Tilda and let your creativity bloom in the most delightfully imperfect ways.
Craft your own whimsical characters, embrace the quirks, and celebrate the charm of imperfection. After all, it's these imperfections that make life, and crafting, truly beautiful.
In the end, it's not just about the fabric foxes we create; it's about the love, joy, and enchantment we infuse into every stitch.
May your creations always be perfectly imperfect and whimsically wonderful.
Happy crafting,
♥
Kerryanne
Let's be friends on….
Get instant access to the free printables in my Newsletter Printables
Library by joining my email newsletter subscriber's list.
I send out a weekly newsletters with updates on all things
'shabbilicious' at Shabby Art Boutique.