Hi creative friends,
As the vibrant hues of summer start to mellow into the warm and earthy tones of autumn, our Design Team has been hard at work crafting a delightful array of projects that capture the essence of this beautiful season.
This week, we're excited to showcase the brilliant work of our talented designers, with a special focus on Nicola, Dianne, Carolyn, and Jennifer's creations.
From story scenes to wall plaques, teacup journal toppers to whimsical teapot fairies, there's something here to inspire every creative soul.
Fox Hollow Digital Kit
This month in the Craft Room membership, our September kit is called Fox Hollow.
It's a multi themed kit filled with shabby rustic tones of autumn florals, toadstools and pumpkins… and the addition of a a sweet whimsical community of foxes.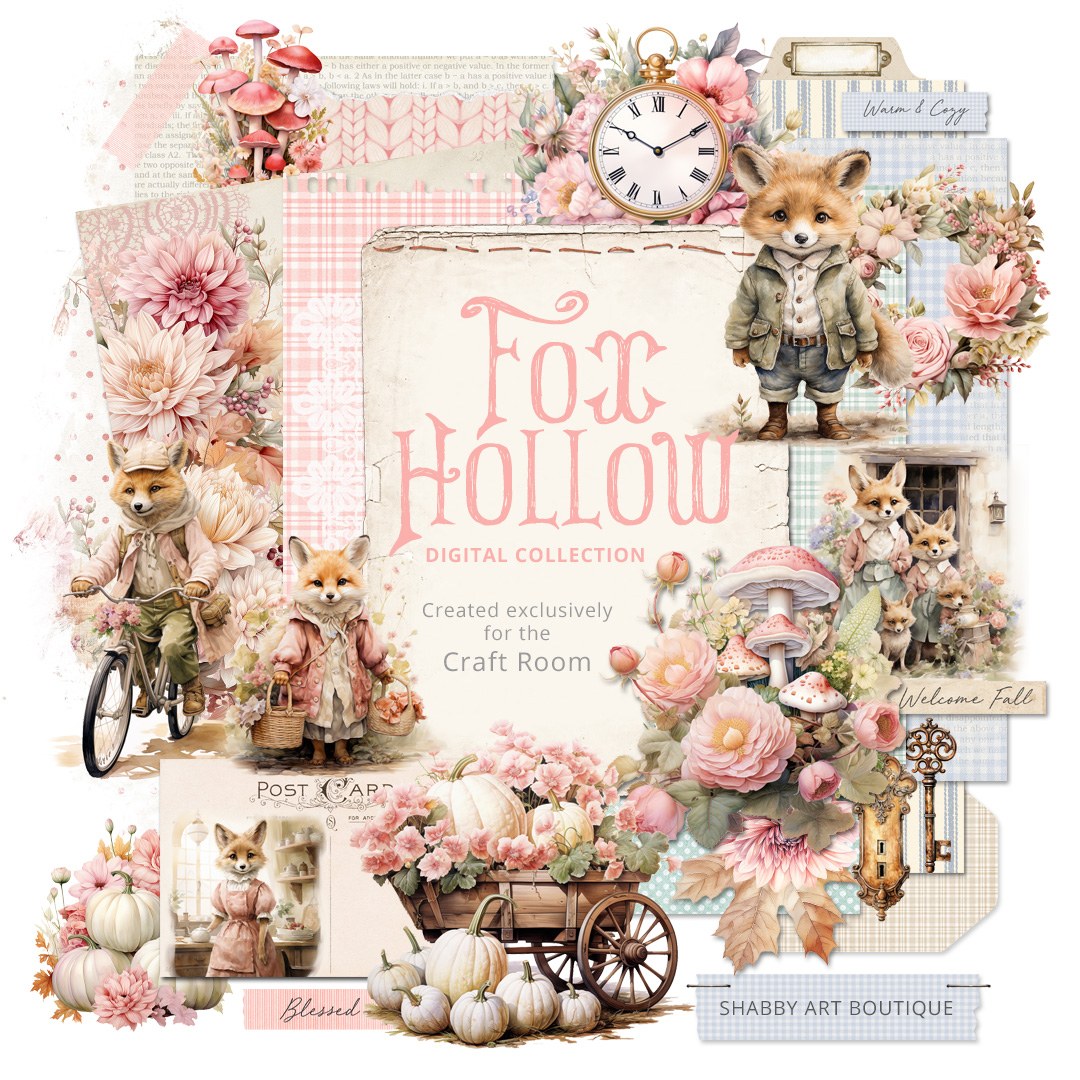 The Craft Room doors open twice a year to take new members and if you'd like more information about the Craft Room or would like to be notified when the doors re-open, there is a 'waitlist' email button on the main Craft Room Membership page.
Nicola ~ My Shabby Craft Corner
Woodland Story Scene
Nicola, the imaginative heart of our Design Team, embarked on a creative journey in her craft corner this week.
She shared a creative prompt for the Craft Room members to craft a story scene that perfectly encapsulated the autumn spirit using the Fox Hollow kit.
And boy, did she deliver!
She conjured a captivating scene, complete with her handmade paper clay wood stump and a family of the cutest foxes.
With meticulous attention to detail, Nicola's scene transports us to an enchanting woodland realm with toadstools and foliage. It's an autumn delight!!
Layered Pumpkin Frame
In addition to her story scene, Nicola also worked her magic on a layered pumpkin frame.
Taking up the challenge set by Dianne in the Craft Room, she combined layers of fussy cuts on kit paper to create a beautiful autumn frame that will instantly add a touch of autumn charm to any room.
Thank you Nicola for inspiring us this week with your fabulous shabby autumn projects ♥
You can connect with Nicola on her 'My Shabby Craft Corner' accounts: Instagram and YouTube
Be sure to subscribe to her YouTube channel, so you can keep up with all of her fun tutorials.
Join Nicola's Shabby Journals Craft & More Facebook group.
Dianne – Shabby Reflections
Fox Hollow Wall Plaque
Dianne wowed us this week with her layered Fox Hollow wall plaque.
Using a variety of fussy cuts from the Fox Hollow kit, Dianne masterfully created a cozy fox and autumn themed layered wall plaque with the clock element as the central feature.
The layers of leaves and flowers add depth and dimension, making it look like a scene that's ready to come alive.
Layered Pumpkin Frame
In the heart of our bustling craft room, creativity knows no bounds.
This week, our design team member, Dianne, set an enchanting challenge for our members: to craft a frame using paper and fussy cuts from a Shabby Art Boutique digital kit.
But what really stole the show was Dianne's own masterpiece… a breathtaking shabby frame adorned with a blue pumpkin and woodgrain paper from the Fox Hollow kit, and adorned with her beautiful handmade Florian flowers and embellishments.
Thank you for inspiring us with your beautiful projects this week Dianne ♥
Craft Room members can connect with Dianne inside the Craft Room membership.
And also on her Instagram account, Shabby Reflections and her new YouTube Channel, Shabby Reflections.
Carolyn ~ Carolyn's Paper Therapy
Fox Hollow Wall Hanging
Carolyn, known for her love of all things rustic and charming, unveiled a stunning Fox Hollow wall hanging that exudes the cozy vibes of autumn.
Crafted on a wooden plaque and adorned with fall foliage and foxes from the kit , it's a piece that brings the essence of the season indoors.
Carolyn also used burlap, lace, ruffles, ribbons and charms to create her fall wall hanging that is both rustic and shabby chic feminine.
Click the video below to see Carolyn's wall hanging in more detail.
Teacup Pocket Journal Toppers
But that's not all! Carolyn also showcased her talent for creating teacup journal toppers.
She created these last week with no specific plans for them. Then an opportunity came along for a decorated glassine bag filled with gifts to be included in a swap with other shabby chic crafters.
Her teacup pocket journal toppers made using the Sweetest Tea Party kit were the perfect size to enhance the glassine bags.
Click the video below to see how Carolyn created these gorgeous bags.
Thank you for inspiring us this week with your beautiful projects, Carolyn ♥
You can connect with Carolyn on her YouTube channel, Carolyn's Paper Therapy.
Jennifer – Crafting Sweetness
Teapot Fairies Journal
Jennifer took her passion to the next level with her Teapot Fairies Journal.
This project uses envelopes in various sizes and each page of this journal is a miniature masterpiece. Jennifer's attention to detail is simply breathtaking.
Her journal is a whimsical delight that captures the essence of magic and wonder that autumn often brings.
Click Jennifer's YouTube video below to see her magical flip through.
To see more of Jennifer's inspiring projects, connect with her on her Crafting Sweetness YouTube channel and Instagram account.
Thank you Jennifer… as always, your project is gorgeous ♥
Teacup Fairies Collection
Imagine a world of whimsy and wonder, where pastel colors dance like soft dreams.
Picture teapots and teacups transformed into enchanting homes for the sweetest childlike fairies!
This was the inspiration for my new kit, Teapot Fairies, which I released in my Etsy store last week.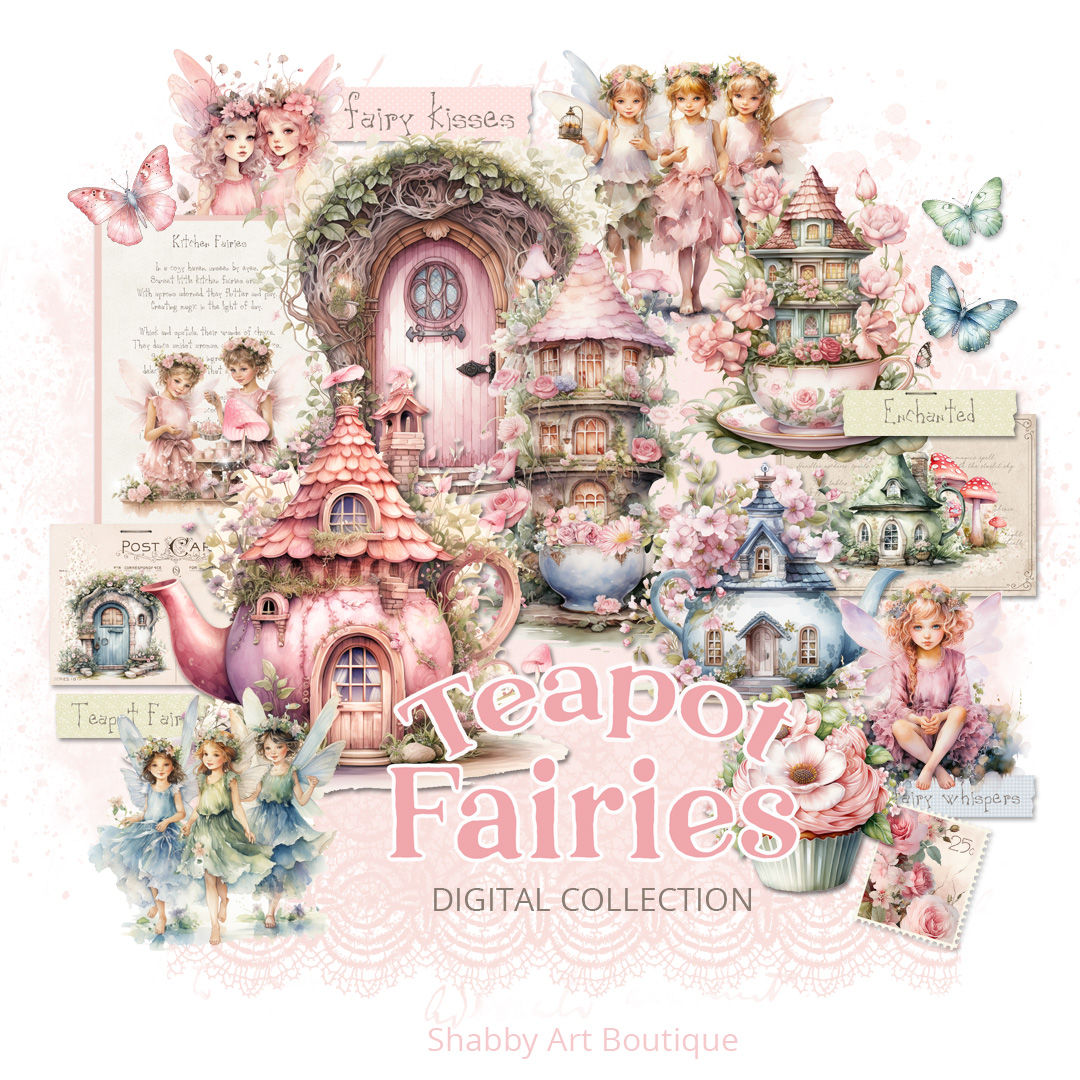 This kit is available now in my Etsy store.
Click to see on Etsy – Letter (USA & Canada) paper size
Click to see on Etsy – A4 paper size
Watch the video on YouTube.
Download the free Teapot Fairies Mini Sampler Kit.
NEW on Etsy – Fairies of Color Add-on Kit for Teapot Fairies
Click here –> to see the Fairies of Color Add-On Etsy Listing.
As we transition into the enchanting season of autumn, these projects from our Design Team provide the perfect inspiration for adding a touch of fall magic to your own creative endeavors.
Happy crafting,
♥
Kerryanne
Let's be friends on….
Get instant access to the free printables in my Newsletter Printables
Library by joining my email newsletter subscriber's list.
I send out a weekly newsletters with updates on all things
'shabbilicious' at Shabby Art Boutique.