Hello creative friends,
Have you seen my new September kit for the Handmade Club?
Sweet Autumn Days is a kit that makes my shabby heart sing….. with all those delicate blush pinks mixed with vintage neutrals, it makes for a very gentle transition from those last hazy days of summer into Autumn.
I've already had a play with the kit over the past couple of weeks and have created two projects that I was happy to share the print files with the club members.
3D Envelope Flower Card
I love creating these 3 dimensional cards for gift giving…. they are just that little bit more impressive than a card with their layers, dimension and textures.
There are endless possibilities…
I added in a sweet little hedgie on this one, but you could simply fill the card space with flowers.
I added a few sequins and beads for an extra texture…. but you could add ribbons, bows, a tag or sentiment banner.
These cards also fold flat, so can be put inside an envelope or small box.
The back of the envelope card even has a pretty blank space for you to write a message or sentiment.
I created a bonus printable file and a step-by-step tutorial for making this lovely bonus 3D card and have included it in the September kit.
Pretty Shabby Tags
Personally, I find tags one of the most versatile additions to paper crafting…. you can add them to a journal, mixed media project, use them for gift giving or in your decorating vignettes.
I created these tags using paper and elements from the Sweet Autumn Days kit.
They were so simple to decorate too!
Simply print and cut them out… add a little distressed ink to the edge… punch a hole at the top for the ribbon… and add that cute gathered crepe paper frill at the bottom.
You might even like to add some sequins, glitter, lace etc.
Don't you just adore how romantic and shabby they look!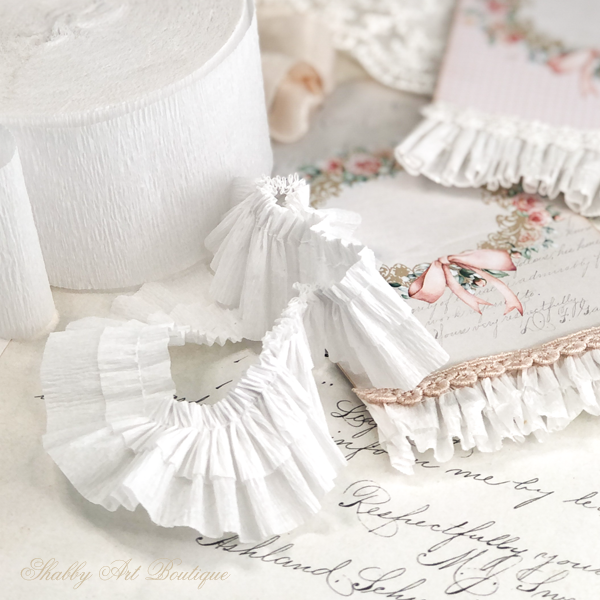 Have you ever made gathered crepe paper edging before?
Trust me, it is super quick and easy to do.
Instructions:
Take a roll of crepe paper ribbon that is 1 1/2″ wide, fold over one third.
Feed it through your sewing machine on a long stitch.
Knot one end and then grab one of the strands of cotton at the other end and gently start gathering.
You may even like to add a little glitter to the lower edge for that extra bit of bling.
That's all there is to it!
Both of these bonus printable files are included in the the Handmade Club September, Sweet Autumn Days kit.
How to join the Handmade Club
For all the information about the Handmade Club and what's on offer in tis kit, please visit the Handmade Club page.
Hugs
♥
Kerryanne
Let's be friends on….
Get instant access to the free printables in my Newsletter Printables
Library by joining my email newsletter subscriber's list.
I send out a weekly newsletters with updates on all things
'shabbilicious' at Shabby Art Boutique.
I invite you to join our fabulous and friendly
Facebook group – Simply Shabbilicious
where you'll enjoy our friendly banter and inspirational creativity