Christmas is a season filled with fond memories…. from family traditions to picking a tree, singing carols, visiting family and even the familiar aroma of baking Christmas cookies.
I believe it is these wonderful childhood memories that keeps the Christmas spirit in our hearts for evermore.
I know that I'm personally filled with wonderment and excitement as I unpack our boxes of precious Christmas supplies in November. Those boxes are filled with lots of handmade items…. you can't go past the egg carton bells made by a 4 year old or the hand print reindeer from the first year at school. I'm sure most families have their own version of these festive kids handcrafts. Given my career in the arts, we also have many boxes filled with handmade Christmas decorations spanning 30 years, so there is always a homemade aspect to Christmas in our home.
Today I'm joining my bHome friends for the start of our annual bHome for the Holidays tour. Over the next 3 days they will be sharing their beautiful homes, lots of Christmas inspiration and holiday ideas…. plus there's a fabulous GIVEAWAY at the end of this post.
This year we are in a new home for Christmas. It's a completely blank canvas and it's kind of exciting working out where I want to place all of our favourite Christmas decorations. Our home isn't fancy or filled with high end furnishings… it's just kind of homely (like me) and that suits me perfectly.
I got an early start, unpacking the Christmas boxes in November. Initially I set up just the trees, garlands and wreaths. No decorations, just bare greens with lights. After about a week I decided that I quite liked the simplicity and kept one room, my sitting room very simple. This room sits between our kitchen/ breakfast nook and the main living areas. Mostly, I am the only one that uses this room, so it's very 'girly'.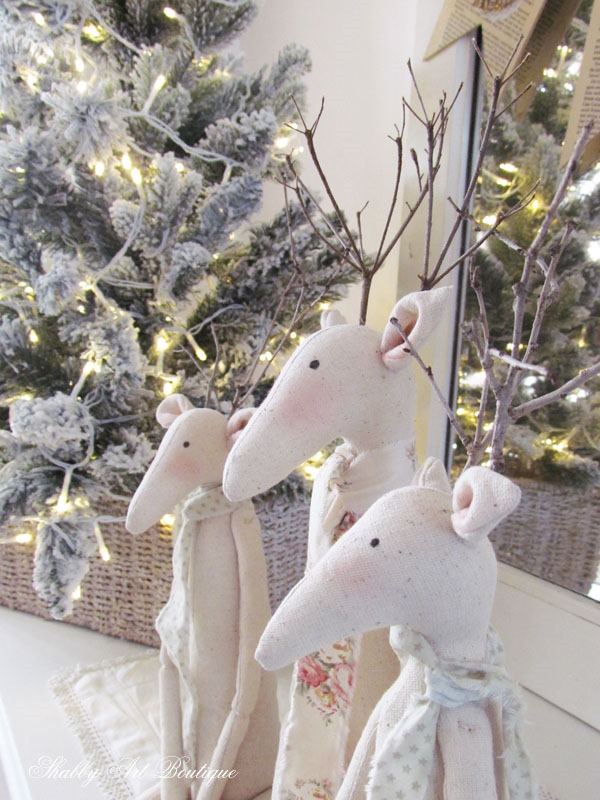 Here we are nearly a month later and the simple neutral look wore off as handmade items gradually made their way into this space.
These throw pillows from my Society 6 store set the colour palette in cherry red and pink.
There's a definite 'Tilda' vibe happening here now with whimsical characters like reindeers and foxes…. plus some look-a-like Maileg rabbits and GreenGate thrown into the mix.
I have a tutorial for making the Look-A-Like 'Maileg' Rabbits HERE.
Although it is summer here in Australia, I always enjoy a snowy winter theme in my Christmas decor. The trees, garlands and wreaths are all flocked and all my whimsical characters are sporting winter jackets and scarves.
You can read more about my Foxie Ladies HERE.
I'm loving Miss Foxies new cherry red jacket with polka dot button!
I also designed pink and cherry red wrapping paper and homemade tags for this Christmas…. I'll be sharing them with you as a free printable next week.
This is my quiet place to sit and read or sip a tea. If you came to visit, we'd sit here amongst all the twinkling lights and Tilda prettties.
I'm currently making a white cover for my navy wing chair… if you look closely, you may spot Milly our toy poodle sitting on this chair.
I shared my Winter Skating Angel with you on Monday, plus news of my Tilda GIVEAWAY…. make sure you pop over and enter HERE.
I hope you enjoyed taking a peek at how I've been putting homemade back into the holidays.
I'll be sharing more of my Christmas decorating over the coming weeks.
Stay with me now for the bHome for the Holidays Tour & Giveaway.
[PIN for later]
The lovely Lidy Baars of French Garden House is offering this amazing Giveaway in conjunction with the bHome for the Holidays tour.
It is so easy to enter…
Visit FrenchGardenHouse.com and tell us what antique has captured your heart in a comment.
You will get extra entries for following @FrenchGardenHouse on Instagram and Facebook too. Just let us know that you did.
The Giveaway is open to readers in the USA and Canada.
Winner randomly chosen on 12/7 and notified by email.
bHome for the Holidays Tour
Today is Day 1 of bHome for the Holidays, so please join me
as we visit these fabulous bHome bloggers.
Day 1
Day 2
Day 3
Merry Christmas
♥
Kerryanne
I'd love for you to connect with me at:
Follow on Bloglovin
or if you'd like my posts delivered directly to your Inbox
Subscribe to Shabby Art Boutique by Email
If you'd like a private pass to all things 'shabbilicious, sign up today for my fortnightly newsletter.
It contains personal stories, sneak peeks, recommendations, discounts and freebies.