Hello friends,
Over the weekend I made this sweet little Tilda Skating Angel doll…. and I'm besotted with her cuteness.
She's actually a combination of two Tilda dolls; Skating Angel and Chalet Girls.
The doll is the same pattern for both designs, but I incorporated the little knitted sweater from the Chalet Girls and the ear muffs and skates from the Skating Angel to make this Winter Angel.
Now that Tilda are no longer producing their gorgeous paper collections and embellishments, the items that I still have in my craft box are extra precious.
For this doll I used a beautiful embroidered button from the Sweet Christmas collection on her sweater and a pair of Tilda angel wings.
Those metal skates were my very last set, but I'm pretty sure I could make something similar myself.
I think in 2018 I'm going to have to source new supplies that have the same whimsical look of the now retired Tilda collections.
The pattern for this doll is out of the Tilda's Winter Delights book. It's a book I use over and over again (like most of my Tilda books). You can see all the Tilda books I use, listed on my page 'Shop My Bookshelf'.
So today, I thought I'd gift one of these Tilda's Winter Delights books and a few other Tilda pieces to one of my readers.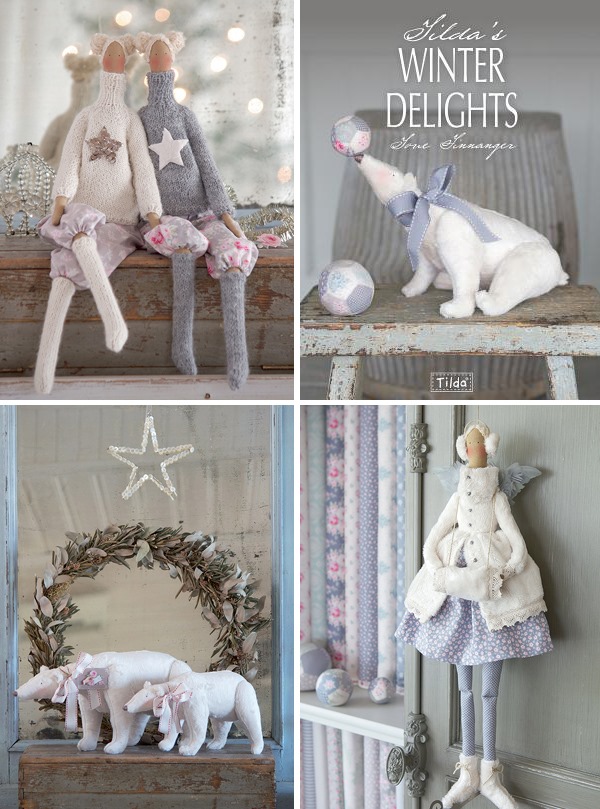 Tilda Book Giveaway
It's Christmas, so let's make this super easy…. if you'd like to be in the draw to win this Tilda gift package, simply leave a comment in the 'Comment's' section below. Please make sure you have an email address listed. I'll draw a winner next Wednesday 6th December, 2017.
I'd be extra pleased if you also pinned the image below.
I hope you are also enjoying creating for the holidays.
Hugs
♥
Kerryanne
I'd love for you to connect with me at:
Follow on Bloglovin
or if you'd like my posts delivered directly to your Inbox
Subscribe to Shabby Art Boutique by Email
If you'd like a private pass to all things 'shabbilicious, sign up today for my fortnightly newsletter.
It contains personal stories, sneak peeks, recommendations, discounts and freebies.