What would Christmas be without adorable Christmas Pixies?
The folklore of pixies dates back to some time in the 1800's, but more recently, Danish artist Dorthe Mailil has created her line of whimsical pixies dressed in red and grey for her toy brand Maileg.
Although Maileg designs are sold in many countries around the world now, it is still difficult to get them here in Australia, so I've been lusting after them for years.
If I can't have the real thing, then I'm happy to have a similar version inspired by the Maileg Pixies.
These little cuties stand about 50 cm tall (approx 20") and have the tell tale Pixie features; red hats and boots, striped bodies and of course, those adorable sticky-out ears!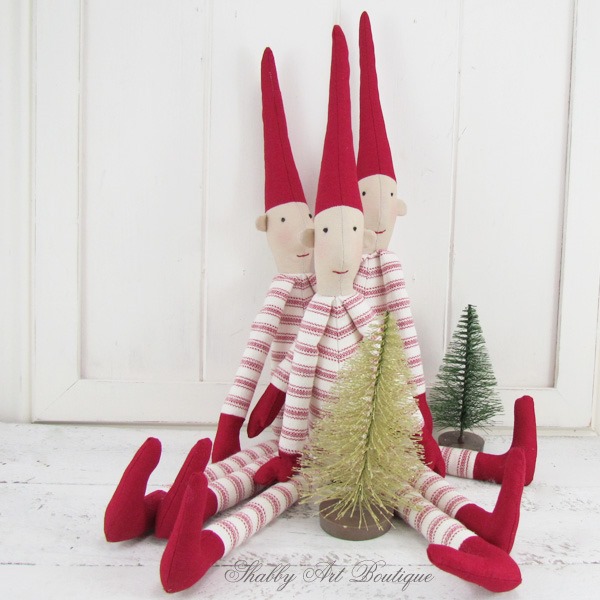 I created a pattern packet for how I made my Christmas Pixies that you are welcome to download.
Half the fun is making clothes for the Pixies…. did you make clothes for your dolls when you were young?
Added Nov '20: I'm adding some clothing patterns for the pixies in December '20.
I used some Scandi inspired fabrics in red and grey for my Christmas Pixie's clothing… and I think I might add some hair, or at least a couple of braids on my girl Pixie.
Who needs 'Elf on a Shelf' when you can have a trio of mischievous Christmas Pixies in the house!!
I expect you'll be seeing a lot more of my Christmas Pixies during the festive season.
Here's a post I added later for quick and easy Pixie clothing.
For more fun Christmas tutorials and DIY's, visit my Tutorials page.
Happy crafting my friends!
Hugs
♥
Kerryanne
Let's be friends on….
Get instant access to the free printables in my
Newsletter Printables Library
by joining my email newsletter subscriber's list.
I send out a weekly newsletters with updates on all things
'shabbilicious' at Shabby Art Boutique.
I invite you to join our fabulous and friendly
Facebook group – Simply Shabbilicious
where you'll enjoy our friendly banter and inspirational creativity.