Hello creative friends,
My love of Scandinavian pixies goes back quite a few years…. I think mostly it is their simplicity and naïve style that appeals to me.
Frustrated with not being able to buy any here in Australia, I set about making my own set of pixies back in 2018. I then shared the sewing pattern and tutorial with my readers.
Even though they are not exactly like the Maileg pixies, they have all of the quintessential pixie requirements….red hats and boots, striped bodies and of course, those adorable sticky-out ears!
When I shared the tutorial for making the pixies, it was only for making the actual pixies and didn't include a pattern for clothes.
Having made lots of other dolls and softies over the years, I kinda just winged it with the clothes and figured that others would probably do the same. I didn't count on lots of beginner sewers giving this pixie pattern a try, so I've had many requests for a pattern for clothes every since.
So… today I'm adding a basic pattern for clothes!
But before we do that….. if you haven't made any pixies yet, then you'll need to pop over to this post first – How to Make Christmas Pixies
Basic Clothes Pattern for Christmas Pixies
I'm going to assume that anyone who already sews would probably design their own clothes, so this pattern is for beginner sewers.
It's a very basic dress and pants pattern with several seams that are gathered. This allows for some variation, as the pixies may vary in size due to that sewers experience and the amount of stuffing used.
Materials
Printable pattern from Shabby Art Boutique – see below

I used 2 fat quarters of patchwork fabric (with lots left over)

Sewing machine and normal sewing supplies

Coordinating embroidery cotton for gathering the dress.
Download the single page PDF
Click here for A4 size clothes pattern for Christmas Pixies
Click here for letter size clothes pattern for Christmas Pixies
Instructions
Making the dress:
1.Make a template of the dress pattern. Fold you dress fabric in half with right sides facing and trace the dress pattern on to the top layer of the fabric.
2. Next, sew directly on the traced pattern, leaving an opening at the neck, arms and hemline.
3.Cut out the dress shape, leaving extra allowance at the openings for folding fabric in. Clip curves under arms and around neck.
4. Press the dress and make a hem. Fold in arm and neck allowance and press with iron.
5. Turn right side out and using all 6 strands of embroidery floss, stitch a running stitch around the hemline to secure.
6. Put the dress on the pixie and stitch a running stitch around the neckline and then pull to gather excess fabric in. Repeat this step for both sleeves. I actually just used normal sewing cotton for the sleeves.
Making the pants:
1. The pants pattern is placed on the fabric fold. Cut out two pant legs adding a seam allowance.
2. Unfold the fabric cut-out and place the pant legs together with right sides facing.
3. Stitch together as shown above, from the top down to the outer point. Turn right side out and then sew the inner leg.
4. Turn up hemline and press with iron. You can either use hemming tape to secure the hem or use a running stitch (as I did).
5. Put the pants on the pixie and using a running stitch, gather the top of the pants and secure.
Note: these are very basic shapes that are quite forgiving, so don't stress too much about your stitching.
Once you are comfortable with making these basic elements, you might like to add some variations…. like adding embellishments, lace, turned up hems with decorative stitches etc.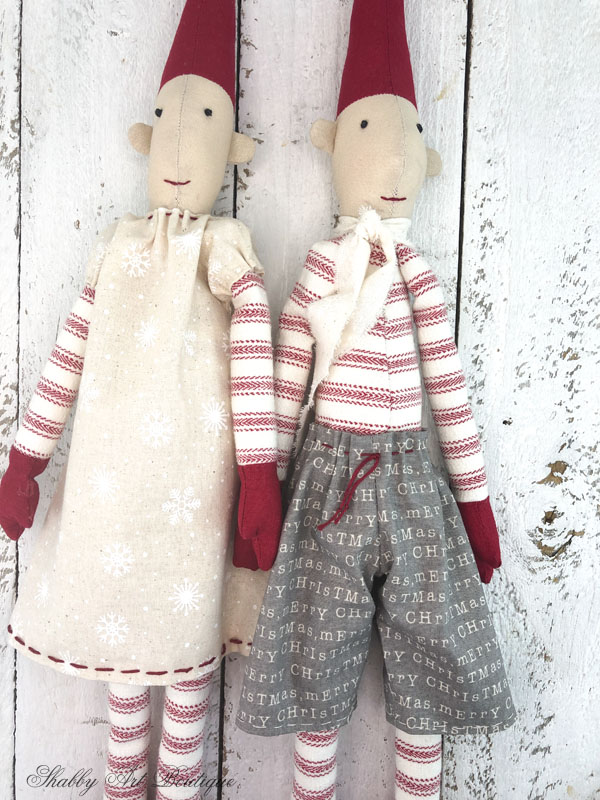 I hope you have lots of fun making Christmas Pixies….
they really do add a little mischief to Christmas!!
Pin this for later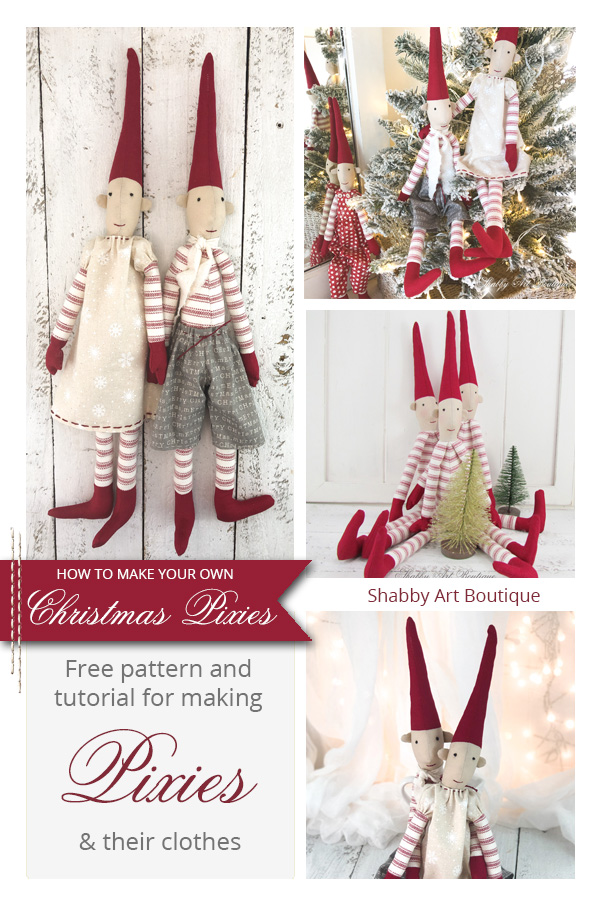 Hugs
♥
Kerryanne
Let's be friends on….
Get instant access to the free printables in my Newsletter Printables
Library by joining my email newsletter subscriber's list.
I send out a weekly newsletters with updates on all things
'shabbilicious' at Shabby Art Boutique.
I invite you to join our fabulous and friendly
Facebook group – Simply Shabbilicious
where you'll enjoy our friendly banter and inspirational creativity.