Ahh summertime…
Balmy, long, carefree days…. trips to the beach and the salty sea air, dips in the pool, vacations, picking strawberries and eating ice cream.
If I had to pick one thing that evokes the true essence of summer…. it would be ICE CREAM!
Mmmm, deliciously rich, creamy and sweet.
Whether it's a treat on a hot day or an everyday delight, ice cream is something that we all love to indulge in.
Ice cream carts became a popular attraction when the Victorians embraced a new era of seaside holidaying in the late 19th century …. and that is why I decided to include ice cream as a theme in my Victorian June kit, Seaside Adventures for the Handmade Club.
Each month I endeavour to inspire the members of the Handmade Club with different ideas for getting creative with the new kit.
This month we've had a Victorian themed journal, Victorian ornaments with a crochet border and today I'm sharing an ice cream themed bunting.
Ice Cream Bunting
While the ice cream elements in the kit may be vintage themed, I've given them a modern twist by creating a pretty ice cream bunting project.
All of the individual graphics for this project are in the elements folder of the kit, however, as I have created a printable file to make this project for myself, I also added it today to the kit files for members to simply download and print. So if you already belong to the club, please be sure to download this bonus extra.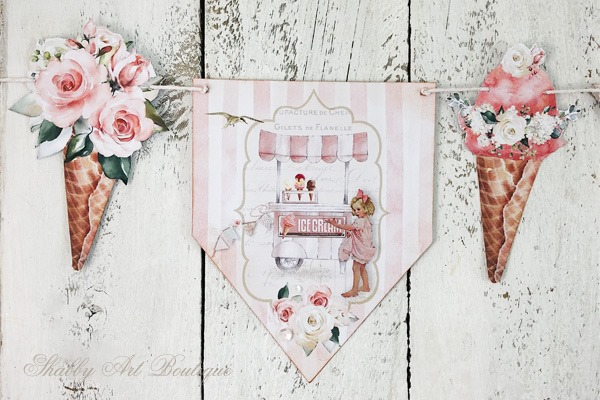 The bunting project that is shown here measures 120 cm wide (4 ' wide) and therefore quite difficult to photograph, so I'm showing it in sections.
This is just one example of what you could do with this project…. you could make if smaller by using fewer elements, or even wider by repeating some of them.
I grouped several elements together for a layered look on four of the pennants and also added a few extra embellishments like pastel sequins and glass glitter.
To hang it up, I used my eyelet hole punch to create small holes on each side of the pennants and then threaded them onto pink bakers twine.
This project is from the June kit of the Handmade Club and available to download until 15th July.
If you would like more information about the club, please visit my Handmade Club page.
Happy crafting friends!
Hugs
♥
Kerryanne
I'd love for you to connect with me at:
Get instant access to the free printables in our Member's Only
library by joining my email newsletter subscriber's list.
I send out two newsletters a month with updates on all things
'shabbilicious' at Shabby Art Boutique.
I invite you to join our fabulous and friendly
Facebook group – Simply Shabbilicious
where you'll enjoy our friendly banter and inspirational creativity.