When I released my June kit for the Handmade Club last week, there was a lot of interest in the Victorian Ornament I included in my journal.
I added a simple crocheted shell border to the printable ornament and it was so perfect for the Victorian theme.
With so many people asking about the crocheted border, I decided to share how I created it today and also offer a free printable for three Victorian Ornaments.
I feel that I need to preface this post with an admission that I'm certainly no expert when it comes to crochet…. I just dabble a bit for crafting, but I'm happy to share how I made mine.
Victorian Ornaments with Crochet Border
Materials
Victorian Ornaments printable (see below)
Matte photo paper cardstock – I use 250 gms in Australia, but it may be something different where you are.
Glue stick
Scissors
Crocket hook – I used a 1.75 mm
Large Crewel Needle
Crochet cotton or wool (I used both. The wool was 4 ply)
Download the printable
I've added the Victorian ornament printable to my newsletter subscribers Member's Printables page.
Don't forget, the password is on the latest newsletter email and will also be in the email going out today.
If you are not yet a Shabby Art Boutique newsletter subscriber, that's okay…. you can subscribe to my newsletter here to gain access to the free printables.
I send out a newsletter two to three times a month. Your subscription comes with FREE unlimited access to the Member's Printable Library.
Instructions for making the Victorian Ornament
1. Print out the one page printable on matte photo paper. I used a thick paper (like card stock). Cut out the 3 strips.
2. Fold each strip in half and apply glue to the inside using the glue stick and press the two halves together firmly.
You may wonder why there are two layers for the circle; firstly, the second layer makes the ornament thicker and it also doubles as a place to journal or add a sentiment, if using this card as a tag for a gift.
3. Before I cut the circle out, I add the holes for the first row of stitching. You will notice that I have placed evenly spaced dots around the outside of the circle as a guide for the hole placement. Now some people would probably 'wing' this next step and that's okay, but I prefer to add the holes prior to commencing the first row of the border. There needs to be an even number of holes and I add them by using the dots as a guide and pushing the needle (without cotton) through the card about 3 – 5 mm inside the perimeter of the card.
4. Once the holes are created, you can now cut out the circle with scissors. To start the border, I first add a row of blanket stitch around the circle using my crewel needle and a length of cotton approximately 80 cm long. This lady has a really easy to follow blanket stitch video on You Tube.
5. Once you have your blanket stitch in place, it's time to start stitching the border – beginners see below.
If you know how to crochet , the shell stitch is simply a single crochet into one stitch and five double crochet into the next. This process is continues around the whole circle and finished with a slip stitch at the end.
Creating the shell border
Techniques:
Single Crochet (SC)
Step 1: Insert hook into work (second chain from the hook on the starting chain), cotton over hook, and draw cotton through work only.
Step 2: Cotton over hook again and draw cotton through both loops on the hook—one single crochet made.
Step 3: Insert hook into next stitch.
Double Crochet (DC)
Step 1: Cotton over hook and insert hook into work. Cotton over hook and draw through work only—three loops are on the hook.
Step 2: Cotton over hook and draw through the first two loops only.
Step 3: Cotton over hook and draw through last two loops on the hook—one double crochet made.
Let's crochet!
Into the first blanket stitch, create a single crochet, by inserting hook into first hole, cotton is in back, so pull cotton through to the front, then single crochet.

Next hole complete 5 double crochet (this will form the shell).

Anchor this shell by making a single crochet into the next hole.

Continue the process by creating a shell with 5 double crochet's into the fourth hole.

Repeat the single crochet followed by 5 double crochets in every hole until you reach the start point and end with a slip stitch in the final stitch.
A single row of crochet shells like this makes for a lovely trim on tags, journal pockets, paper etc.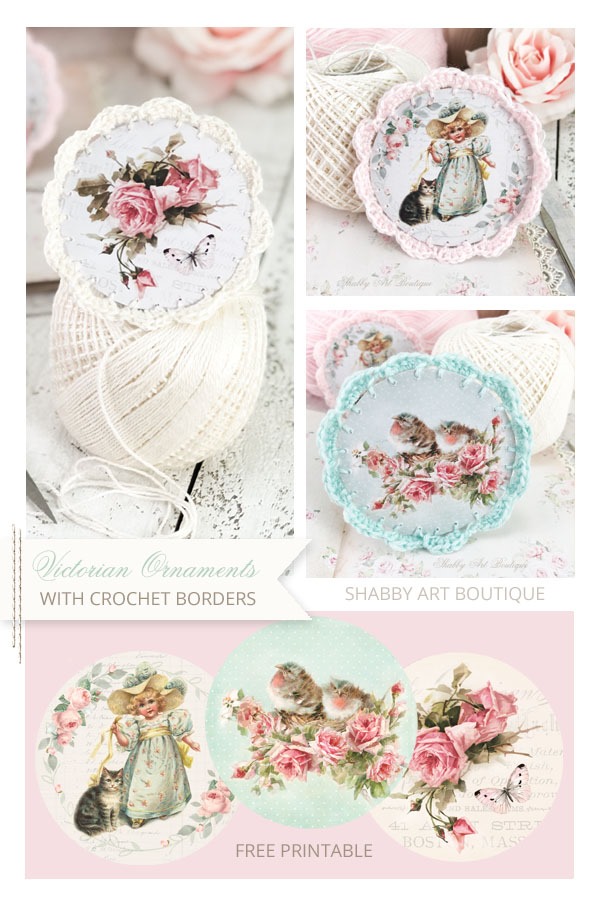 I hope you enjoy making the Victorian Ornaments as much as I did.
Happy crafting my friends!
Hugs
♥
Kerryanne
I'd love for you to connect with me at:
Get instant access to the free printables in our Member's Only
library by joining my email newsletter subscriber's list.
I send out two newsletters a month with updates on all things
'shabbilicious' at Shabby Art Boutique.
I invite you to join our fabulous and friendly
Facebook group – Simply Shabbilicious
where you'll enjoy our friendly banter and inspirational creativity.