As beautiful and popular as journals are, they are not the only thing that can be made from my monthly Handmade Club kits.
A question I often get asked is "what can you use the graphics for"… and really the answer is anything that you are inspired to create.
Everything in the kit coordinates and fits a specific theme for the month, so you know that you can mix and match any of the items in the kit. The graphics are usually quite large, so that crafters can resize them to suit whatever they are creating.
Mix in a set of pretty papers and there are now lots of options for creating. To help inspire members, I also throw in a few ready to print PDF files each month too!
This month's kit, The Secret Diary of a Victorian Lady included a printable project for this beautiful Victorian ladies loaded pocket.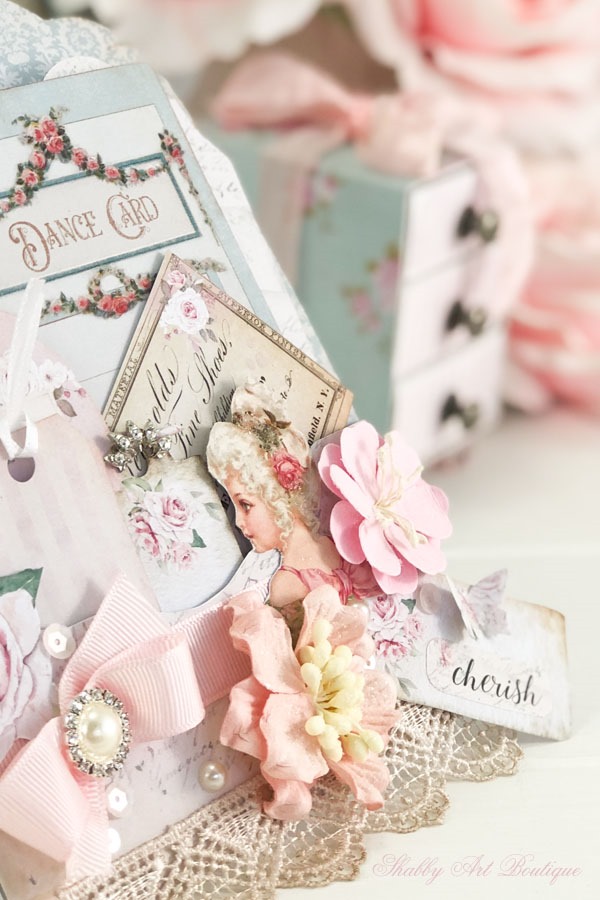 So, what is a loaded pocket?
It's a pocket tag or sometimes an envelope that is filled with cards, tags and any other item you might want to pop in there.
Of course you well know, a Victorian ladies loaded pocket is going to be filled with all kinds of 'shabbilicious' vintage gorgeousness!
[PIN project]
In creating this loaded pocket project, I wanted to show you that by using the elements from the kit in a different way, you can create all kinds of creative projects.
This loaded pocket could be used on its own or to enhance a journal page. I'd like to see it attached to a handmade card for a special friend and filled with personalized journal cards for the recipient…. wouldn't that be unique!
How To Make A Victorian Loaded Pocket
Finished size: 5" x 8" (12.5 cm x 20 cm).
Skill level: Easy beginners project
Materials
Printable Loaded Pocket PDF from the March kit of the

Handmade Club

Paper trimmer (or craft knife and metal ruler), scissors

Adhesives: clear glue and white glue like PVA or Elmers

Embellishments from your stash: could be things like lace, ribbon, flowers, buttons, rhinestone buttons sequins etc.
Instructions
1. Print the PDF file (2 pages) on 250 gram matte photo paper. Cut out all of the elements and gather a few extras to embellish your pocket front.
A note on inking: I prefer my projects to lean more to the shabby side than grungy vintage, so I rarely ink my edges and if I do, it is only ever very sparingly. I mostly add some distressing and inked edges on my actual graphics, but if you prefer dark vintage edges, then you'll need to ink them up before assembling your project.
2. Score around the pocket tabs and fold them in. If you have a paper bone folder it will give you nice crisp edges. Apply a bead of clear glue along edges of the tabs and adhere the pocket to the backing card. You'll notice that I had decided to use a piece of pink ribbon on the front of my pocket, so I adhered that to the pocket front before I placed it on the backing card.
3. Decorate the front of your pocket. I used some of the items from the printable and added in a couple of paper flowers, a bow and a pretty rhinestone button. As this pocket has a Victorian Dance Card in it, I expanded on that theme of a Victorian dance or ball and added a piece of exquisite lace to the bottom of the pocket and enhanced everything with sprinkles of glass glitter and sparkly sequins.
4. The sweet rose and bow at the top of the card is actually a decorated paper clip. I simply used the rose graphic included in the printable and added a strip of white tulle and a pink seam binding bow…. they were then glued to the top of a paper clip.
5. & 6. The printable contains a selection of cards for use in the pocket. You can of course add more items of your choosing. I further enhanced my tags by punching holes and adding ribbon, adding a few sequins and glass glitter. I even found a sparkly piece of a broken rhinestone button that fit perfectly on top of one of my tags.
This project is super quick and easy, so the most important thing is to make sure you have fun with it!!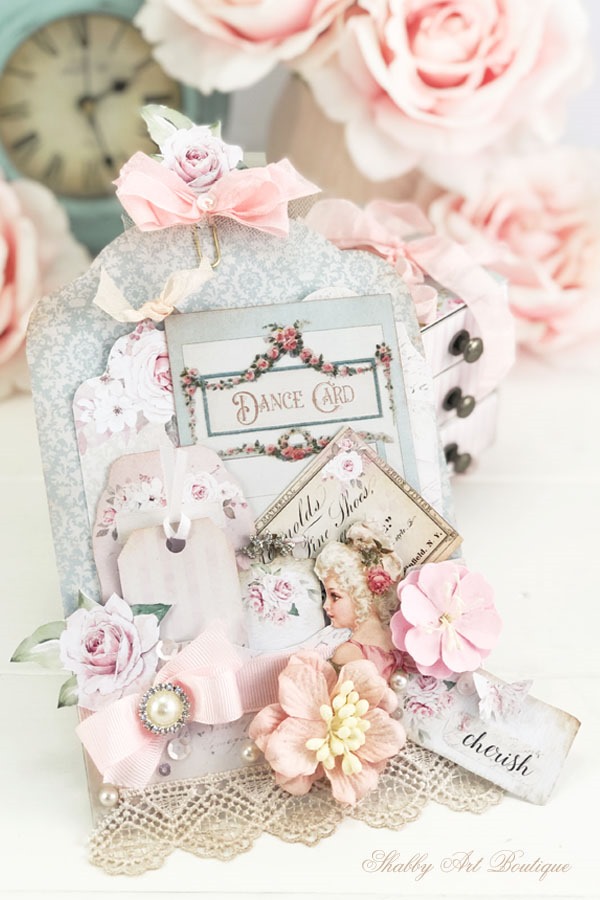 While this project is from a kit, the same process can be used to create your own loaded pocket using graphics or scrapbooking papers of your choice.
If by chance you would like to know more about this kit or the project below, click here to see more of The Secret Diary of a Victorian Lady.
If you haven't already joined our private Facebook Group,
please do and share your creative makes with us there.
Click the link to join Simply Shabbilicious.
Happy crafting my friends!
Hugs
♥
Kerryanne
I'd love for you to connect with me at:
Get instant access to the free printables in our Member's Only
library by joining my email newsletter subscriber's list.
I send out two newsletters a month with updates on all things
'shabbilicious' at Shabby Art Boutique.