I love all shades of whites and neutrals.
Even though I flirt with pastels and the whole spectrum of shabby, vintage colours, I always feel at home when I play with neutrals.
I've been asked many times where I get all my vintage materials from, so I'll let you in on a little secret….
Sometimes I have to make my vintage, shabby wares from new things!
[Pin for later]
It's true!
While I love crisp whites… they don't carry off the vintage look, so sometimes I have to give them a helping hand to achieve that time worn, shabbilicious appeal.
Over the years I've tried most dying techniques; tea, parisienne essence and coffee… and I have to say that I prefer coffee.
All three are great dyes, but they do vary in the final colour you achieve. Coffee looks to me more like the natural colour of aging you get with both fabrics and papers.
Above is my collection of things I intended to dye this week – book paper, calico, wool felt, paper flowers, cotton tape, fabric and paper doilies, lace, ribbon and a small selection of wood items like cotton spools and mini pegs.
All of these things are for my Christmas projects.
I usually dye quite a few things at once, but this technique is so quick and easy I have been known to make up a batch of coffee dye just for one or two items.
How to use coffee as a dye
I'm sure there are many different ways to dye with coffee, this is just the way I do it and what I've found works for me.
I make up a strong coffee brew. This one had 10 teaspoons of coffee to about 3 cups of boiling water. Stir to dissolve coffee grounds and leave to cool.
Depending on what I'm dyeing, I use a large bowl for fabrics, laces etc or an oblong lasagna dish for book papers.
I pre rinse all fabrics to remove any sizing and I also add my fabric items to the mix while they are still wet.
Immerse a selection of items into the cold coffee mix. Stir occasionally to ensure all items are completely covered by the liquid.
Dyeing times vary, depending on what you are dyeing, but 30 minutes seems to be my favourite time for most things. You may want to experiment with this to see what works best for the project materials you require.
When I'm satisfied with the colour, I take any fabric items out and rinse under cool running water. You will lose a little colour in this step, plus the item will dry lighter.
Tip: items look darker when they are first removed from the liquid, so aim for a slightly darker colour than you require when finished. You can repeat the process if you decide the item is not dark enough after drying.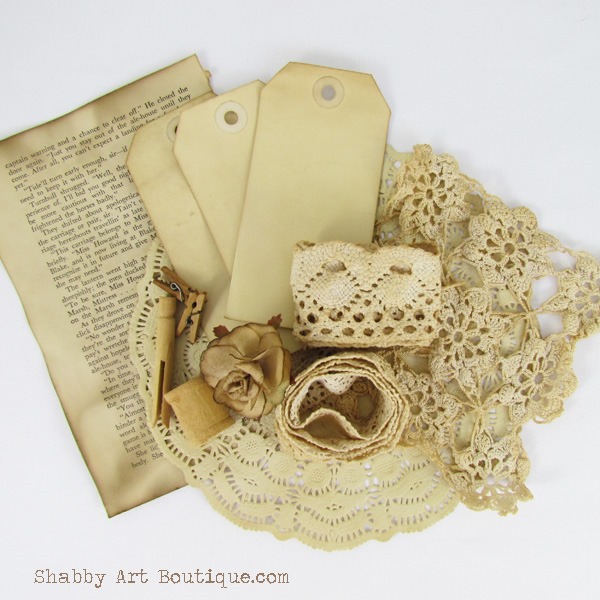 Paper's don't generally need as long as fabric. If you have a delicate paper item, you can also use a foam brush to paint on dye rather than immersing in the coffee dye.
I like to dry my dyed items naturally, but many people do dry them in the oven.
For seam binding ribbon, I roll it up in a ball, twisting the ribbon in a messy ball and securing with several rubber bands. Immerse in coffee dye. When it dries the colour will vary, which gives it a great vintage look!
Tip: Coffee dyeing is also perfect for any vintage fabric doilies that you can't remove stains from. The dye covers them up.
So now you know the secret contained in my box of vintage craft supplies!
Do you use any food items for dyeing?
Happy crafting,
Kerryanne
I'd love for you to connect with me at:
Follow on Bloglovin
or if you'd like my posts delivered directly to your Inbox