Hi creative friends,
With the holiday season over and a new year underway, are you back to your regular crafting schedule?
I always have a bit of a creative boost after my break over the Christmas/New Year period. I think the change of pace and enjoying family time allows my mind to switch off completely and for my creativity to simply take a breather.
I didn't need long….. I'm always itching to get back into the craft room after about a week, but the break certainly gave me a chance to re-charge and think about my direction for 2022.
I've mapped out my club themes for the year ahead and already working on them…. but we still have a week left of the December 2021 Granny's Buttons kit.
The Design Team girls have also enjoyed a break over the holidays and I didn't expect any further projects for this kit, but the girls are straight back into it, so here's what they have been making this week….
Laurette – Vintage Paper Girl
Laurette share her final reveal on her multi fold pocket folio…. hasn't this been such a fun project to watch over the past few weeks!
Click here to watch part 1 and then click here to watch part 2.
Final reveal video… click below to watch on YouTube.
PIN for later
We've thoroughly enjoyed watching your crafting process Laurette…. thank you ♥
You can connect with Laurette on her YouTube channel and on Instagram.
Jennifer – Crafting Sweetness
Jennifer needed a note card for a gift, so used the button cards and buttons from the kit, combined with a patterned paper to create these four different note cards.
This is a quick and easy way to make note cards and they look really sweet.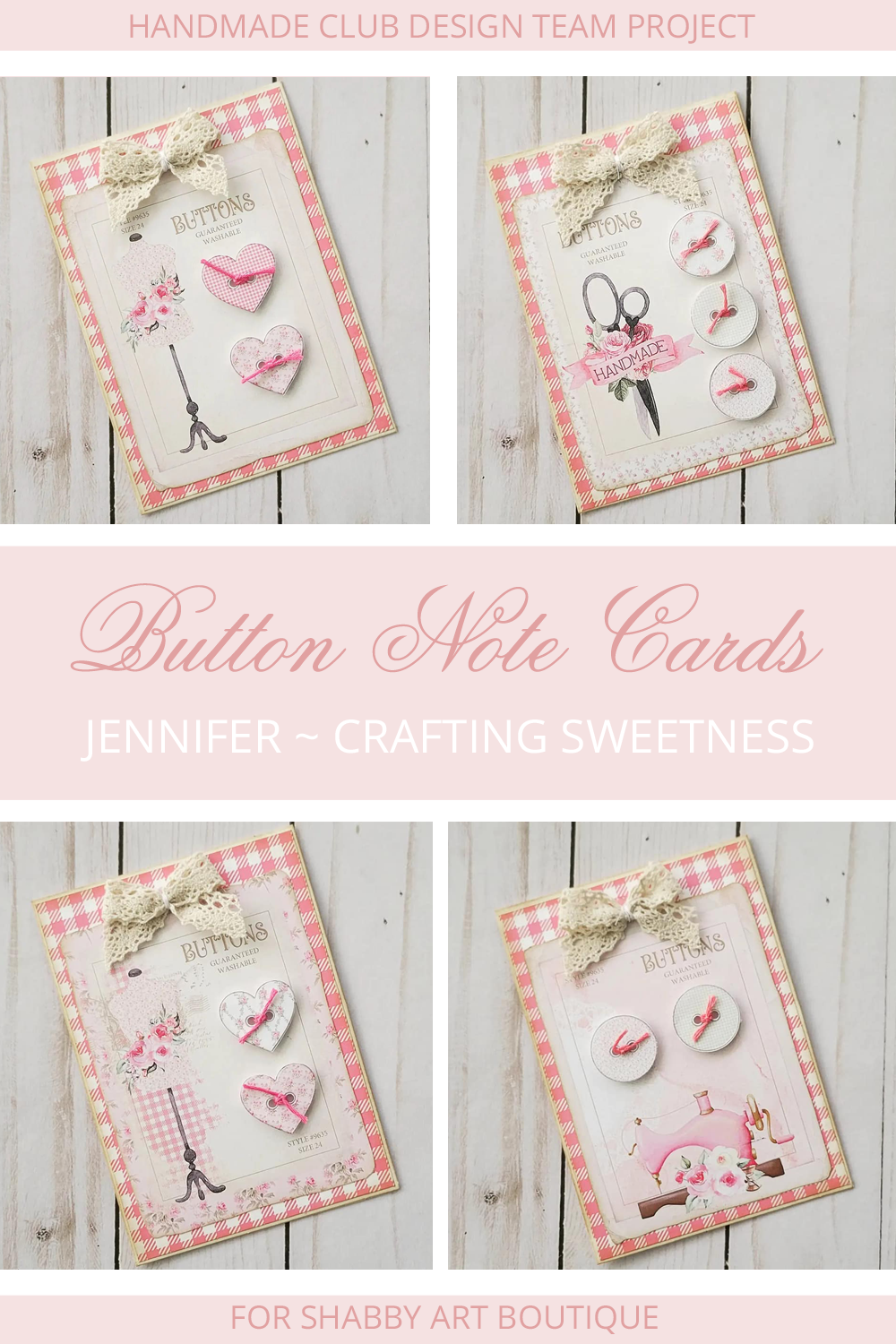 You can connect with Jennifer on her YouTube channel, Crafting Sweetness and on Instagram.
Thanks so much Jennifer ♥
Linda ~ Chuckles n Charm
This week Linda made this very sweet Granny's Buttons loaded pocket… and we love it ♥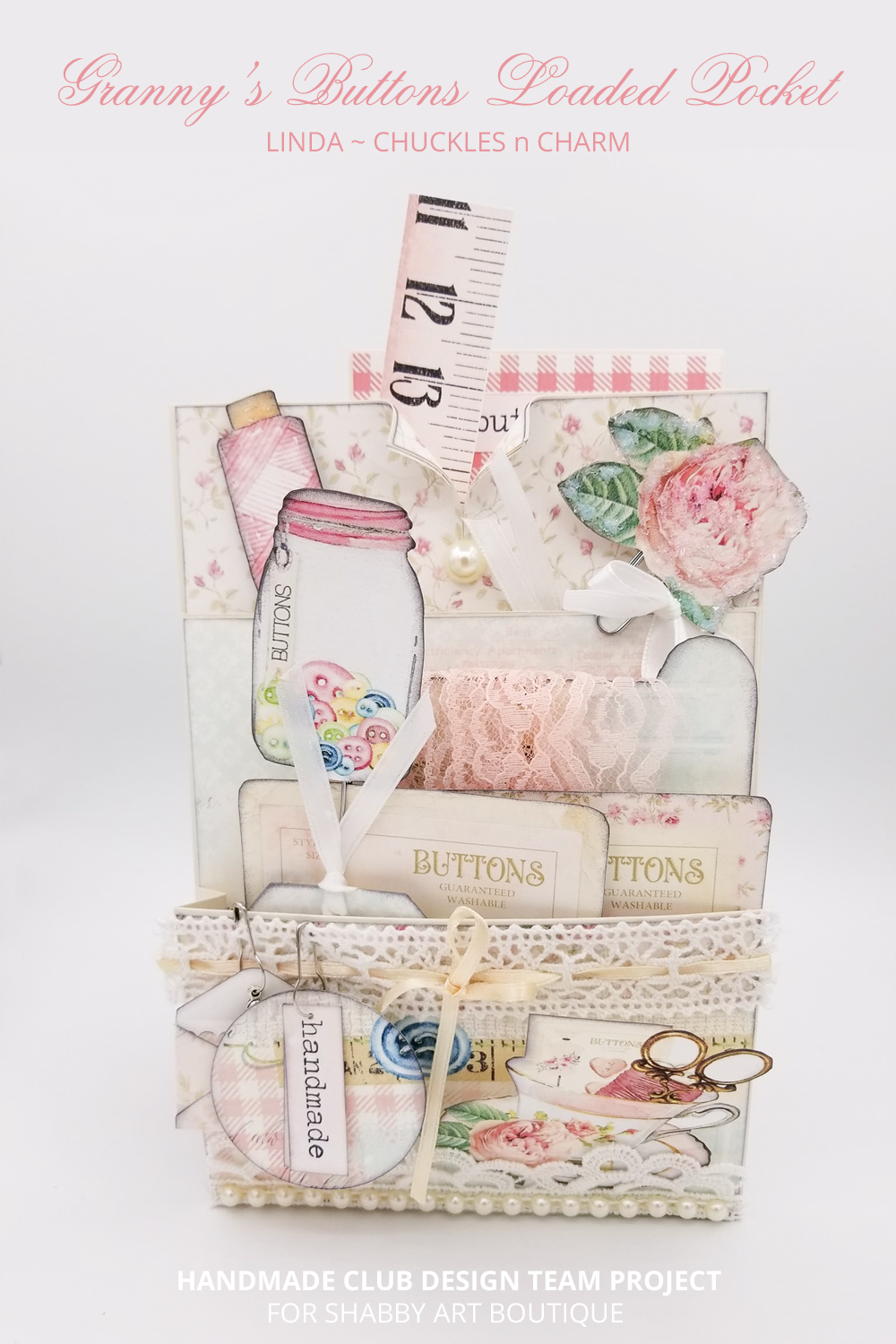 The members of our Facebook group Simply Shabbilicious are eager for Linda to share a tutorial, so we might even see a loaded pocket tutorial soon too!
To see more of what Linda makes, you can connect with her on her new YouTube channel, Chuckles n Charm and on Facebook.
Thanks Linda ♥
Nicola ~ My Shabby Craft Corner
Did you see my Granny's Buttons Lace Book bonus project this week?
Nicola made her own fabulous version of it and did a 'craft along with me' video on YouTube.
Thanks for sharing your process Nicola ♥
You can connect with Nicola on her YouTube channel, My Shabby Craft Corner and on Instagram.
Granny's Buttons
A kit for crafters…. it has all the beautiful things every crafter needs for their crafting space: button cards, lace keepers, ribbon boards, ribbon spool toppers and crafting graphics.
It's the last days of this kit, so to find out more about how the club operates or how to purchase this kit, please visit the Handmade Club page.
Happy crafting!
Hugs
♥
Kerryanne
Let's be friends on….
Get instant access to the free printables in my Newsletter Printables
Library by joining my email newsletter subscriber's list.
I send out a weekly newsletters with updates on all things
'shabbilicious' at Shabby Art Boutique.
I invite you to join our fabulous and friendly
Facebook group – Simply Shabbilicious
where you'll enjoy our friendly banter and inspirational creativity