Hello 'shabbilicious' friends!
I'm so glad you are here…. I don't think I tell you that often enough, but I really do appreciate all of you.
Do you feel the change in the air… the seasons are changing everywhere.
Maybe you are seeing the first signs of autumn or fall…. or perhaps spring is blooming if you are down under in the southern hemisphere.
But… what if you got to enjoy fall and spring at the same time.
Oh I know, that's crazy, right!!
Well, here at Shabby Art Boutique I'm delighting in both seasons at the same time.
Upstairs the windows are thrown open to take in the warm spring air and the views of flowering blossom trees everywhere…..
While downstairs in the craft room, a little magic happens.
Autumn has come to settle over my 'happy place' with a soft symphony of muted colours, fallen leaves, pumpkins, foxie ladies… and of course, pumpkin spice candles.
While it might sound a little crazy, it's just the zany world of blogging.
I'm creating content for the majority of my readers and they predominantly live in the northern hemisphere…. Europe, USA and Canada.
So…. autumn for me comes later in the year when I live it vicariously through my online friends… and to be honest, I quite enjoy it too!
That's because where I live in the northern part of Australia, it is subtropical and the seasonal changes for autumn are quite subtle…. it's warm instead of hot!
While autumn is officially from March until May, it slips by without much fanfare here.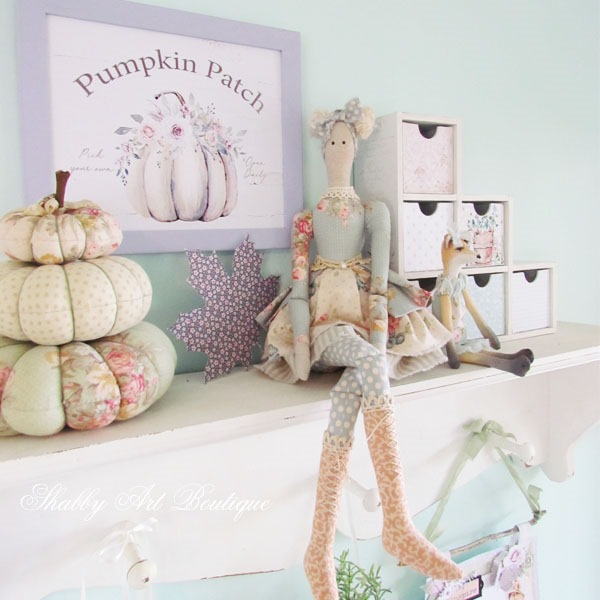 But roll on to September and social media is filled with gorgeous fall images… pumpkins, pumpkins and more pumpkins.
My favourite blogs are sharing their beautiful seasonal decor and everything starts to get all cosy and homely.
It's right about then that I too am bitten by the fall bug.
So, I'm sure it doesn't hurt to have a magical room where the season changes to accommodate the mood.
Where one can make pretty shabby, fabric leaves and pumpkins, fall banners and charismatic foxie ladies.
No matter what the season, when I walk through the door… I've entered my 'happy place' and it feels perfect.
Anyone else feel like a pumpkin spice latte?
If you are feeling crafty, check out my fall tutorials HERE.
Happy crafting my friends!!
Hugs
♥
Kerryanne
I'd love for you to connect with me at:
Get instant access to the free printables in our Member's Only
library by joining my email newsletter subscriber's list.
I send out two newsletters a month with updates on all things
'shabbilicious' at Shabby Art Boutique.
Follow on Bloglovin or join our Facebook group Simply Shabbilicious.