Sometimes you just stumble upon a project and you know it has to go on your 'Must – Do' list.
I've seen variations of fabric peonies and roses popping up on Pinterest for awhile now… they resonated with me for several reasons.
Firstly, I've made fabric flowers before using the searing with the candle technique and know how quick and easy they are to make.
But… the main reason I'm so excited by these flowers is my yearning for Peonies. You see, I live in a sub-tropical climate where Peonies won't grow. It's simply too hot for them. I've never, ever seen a real one or smelt one, but I see them everywhere in blogland… and they look so lovely.
Oh, you know how it is when you can't have something…. it suddenly seems even more appealing. That is how Peonies are for me.
So I discovered these various patterns for making Peonies and began to made a few.
Then a few more… and next I altered the pattern and made them in all different sizes.
It became a growing addiction….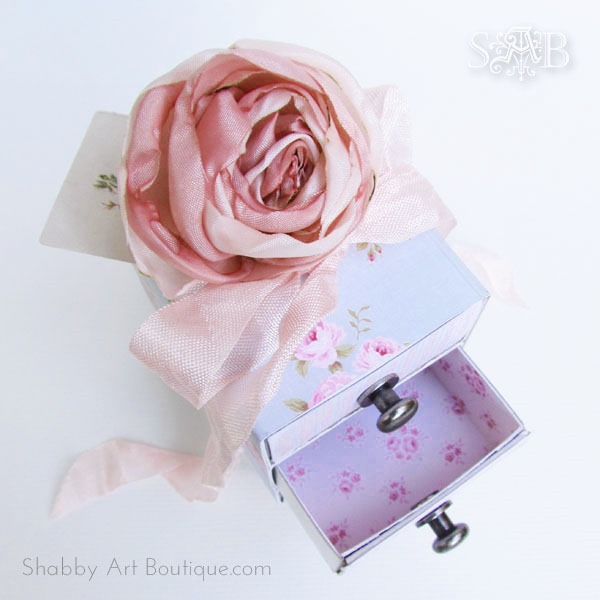 I'll tell you another reason why I enjoyed making them so much…
This is one of the most relaxing crafts I've ever done. There's something about gazing into the glow of a candle as you sear the edges of each petal.
I felt immensely disappointed when I got to the end of the 24 petals required for each bloom.
Thus, the cycle began again.
How to make fabric Peonies
Materials:
Silk or satin fabrics that will sear well. (I used silk lining in 2 similar tones),
Pattern template (right click image below and save to your own computer),
Scissors and pins,
Cotton and needle,
Candle.
Instructions:
1. You will require at least 24 petals – 6 of each size (I sometimes used more). Open the template graphic in a word program. Enlarge to appropriate size – I made 3 different sizes. Trace the templates and cut out. Pin template to 3 layers of fabric and cut out petals.
2. Hold the petal about 3 inches above the candle flame and carefully sear the edges. On some of the petals I melted just the very edge and there was minimal curl, but on others I allowed more curling to add bulk and shape to my Peony.
Whilst this step is incredibly relaxing, do take care not to allow the petal to get too close to the flame. I had one that flared up and caught fire, although the petal never came into contact with the flame. Gave me a heart start, I can tell you!!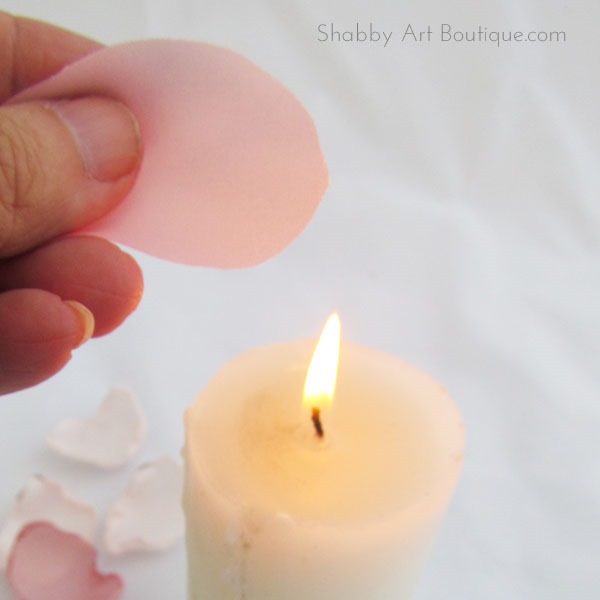 3. Roll up one of the smallest petals to form the centre of the bloom and use a couple of quick slip stitches to hold its shape.
4. Wrap the next petal around the first one and stitch the base as you go. Keep working in the same direction, slipping each new petal under the last before stitching in place at the base. Alternate petal colours if using 2 or more colours.
5. Continue adding petals, allowing them to rise above the centre as you work your way outwards. When finished, tease out the petals to add fullness to your bloom.
Finally, all you have to do now is decide how you'll use your gorgeous Peonies.
So far I've added them to gift boxes, filled a bowl with them and added some to vintage vignettes.
Happy crafting my friends!
Hugs
♥
Kerryanne
Let's be friends on….
Get instant access to the free printables in my Newsletter Printables
Library by joining my email newsletter subscriber's list.
I send out a weekly newsletters with updates on all things
'shabbilicious' at Shabby Art Boutique.
I invite you to join our fabulous and friendly
Facebook group – Simply Shabbilicious
where you'll enjoy our friendly banter and inspirational creativity.