Hi creative friends,
This week our fabulous design team have embarked on a whimsical journey with my new Teapot Fairies digital kit.
It has resulted in a collection of projects that are nothing short of magical.
From whimsy and wonder to pretty and shabby, the Teapot Fairies kit has allowed their creativity to take flight, resulting in stunning pieces that transport us to a world of enchantment.
Nicola ~ My Shabby Craft Corner
The heart of the Teapot Fairies digital kit lies in its ability to evoke a sense of whimsy.
Nicola has skillfully utilized this aspect to create projects that exude a playful and light-hearted vibe.
Teapot Fairy Flip Book
Delicate teacups adorned with ethereal fairy silhouettes dance across pages, telling tales of secret tea parties in enchanted gardens in this beautiful flip book.
Click the YouTube link below to watch Nicola's flip through of her magical fairy book.
The whimsical imagery, enhanced by soft pastel hues, invites the little girl in us to escape into a world where the ordinary transforms into the extraordinary.
Nicola created this gorgeous fairy flip book in a Facebook live in her Facebook group, Shabby Journals, Crafts and More.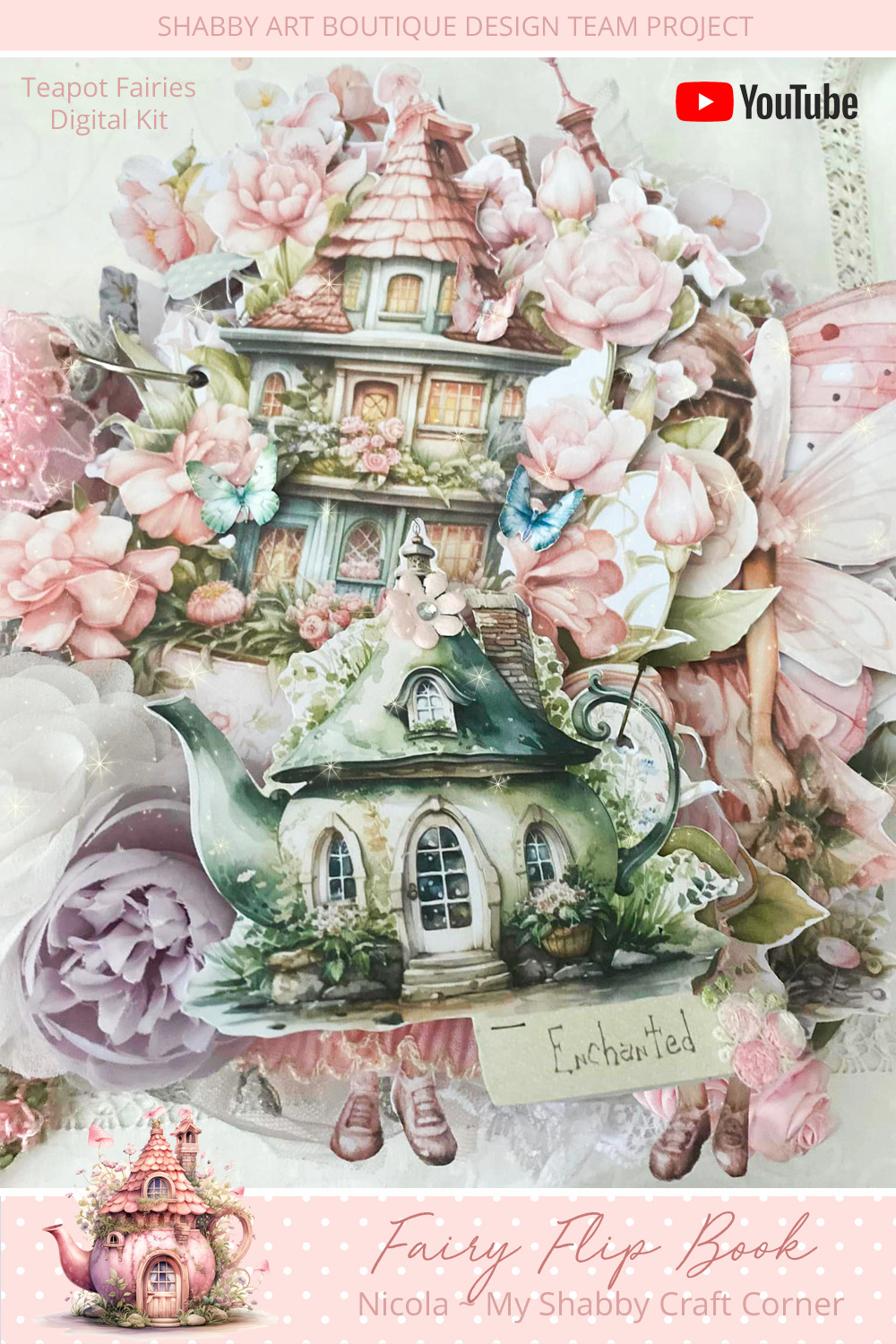 It's really such an easy project that is playful and light hearted.
There's no need to worry about placements or making a mistake with a fun project like this!
Whimsical Fabric Lavender Sachet
The magic of the Teapot Fairies digital kit lies not only in its charming imagery but also in the creative freedom it offers.
For her second project, Nicola printed some of the Teapot Fairies kit elements onto fabric and used it to make these delightful lavender sachets.
Wouldn't these lavender sachets look amazing in your décor vignettes or given as a gift to a friend!!
Fairy Storage
In her final project, Nicola has used papers and elements from the Teapot Fairies digital kit t0 decorate a MDF storage unit.
By keeping the colour palette restricted to the softer pink and ivory items, they really pop against the black painted trim.
Nicola's whimsical, pretty, and shabby creations pay homage to the enchanting world of fairies and the timeless elegance of teapots.
I hope they have inspired you to try different techniques and mediums.
Thanks Nicola, we are enamoured by all of your projects ♥
You can connect with Nicola on her 'My Shabby Craft Corner' accounts: Instagram and YouTube
Be sure to subscribe to her YouTube channel, so you can keep up with all of her fun tutorials.
Join Nicola's Shabby Journals Craft & More Facebook group.
Rosangela Miqueletto
Altered Fairy Embroidery Hoop
Embroidery hoops have transcended their traditional role to become a canvas for artistic expression, and when infused with the enchantment of fairies, they take on a whole new level of whimsy.
By applying layer upon layer, upon layer in her sweet and whimsical altered embroidery hoop project, Rosangela has managed to capture the essence of a world where fairies coexist with teapot houses, and where imagination knows no bounds.
Rosangela has merged the tactile allure of paper crafts with digital elements to produce an inspiring project that is nothing short of stunning!
Thank you Rosangela for delighting us with your whimsy ♥
You can view Rosangela's gorgeous designs on Instagram, Facebook, Pinterest and YouTube.
Dianne ~ Shabby Reflections
Fairy Door Embroidery Hoop
Dianne has also used an embroidery hoop as her base in this sweet and petite fairy door art.
Using one of the fairy door elements as her background, Dianne built it up with an assortment of pearls, flowers and bling until the hoop was completely covered and oozing gorgeousness!!
These enchanting pieces invite us to believe in the magic that lies just beyond our perception and to embrace the joy of crafting with a touch of fairy whimsy.
Thank you for inspiring us with your beautiful projects this week Dianne ♥
Craft Room members can connect with Dianne inside the Craft Room membership and on her Instagram account, Shabby Reflections.
Teapot Fairies Digital Kit
Click here –> to see what is in the teapot Fairies digital kit.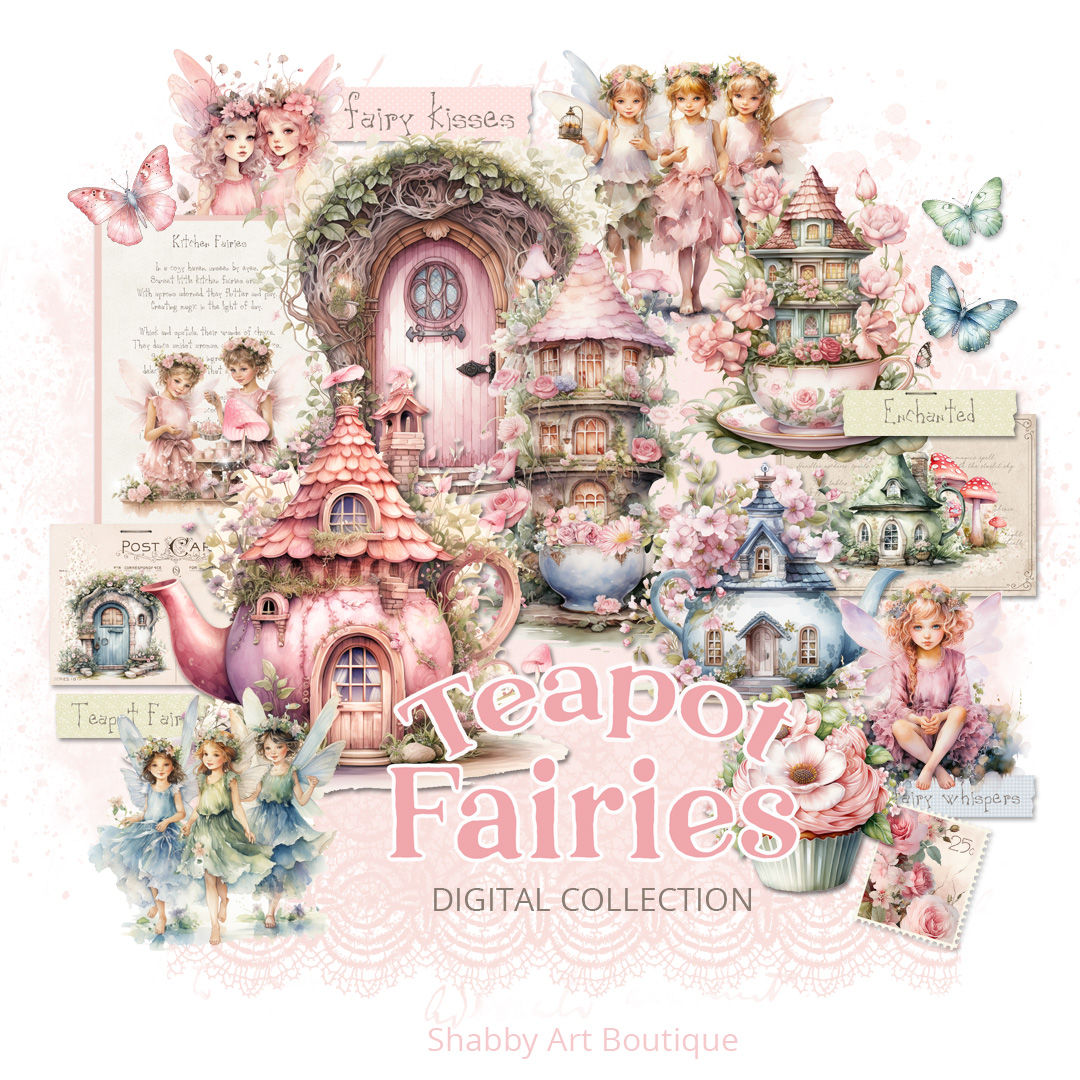 Etsy Discount Codes
Don't forget to use my discount codes for my Etsy store.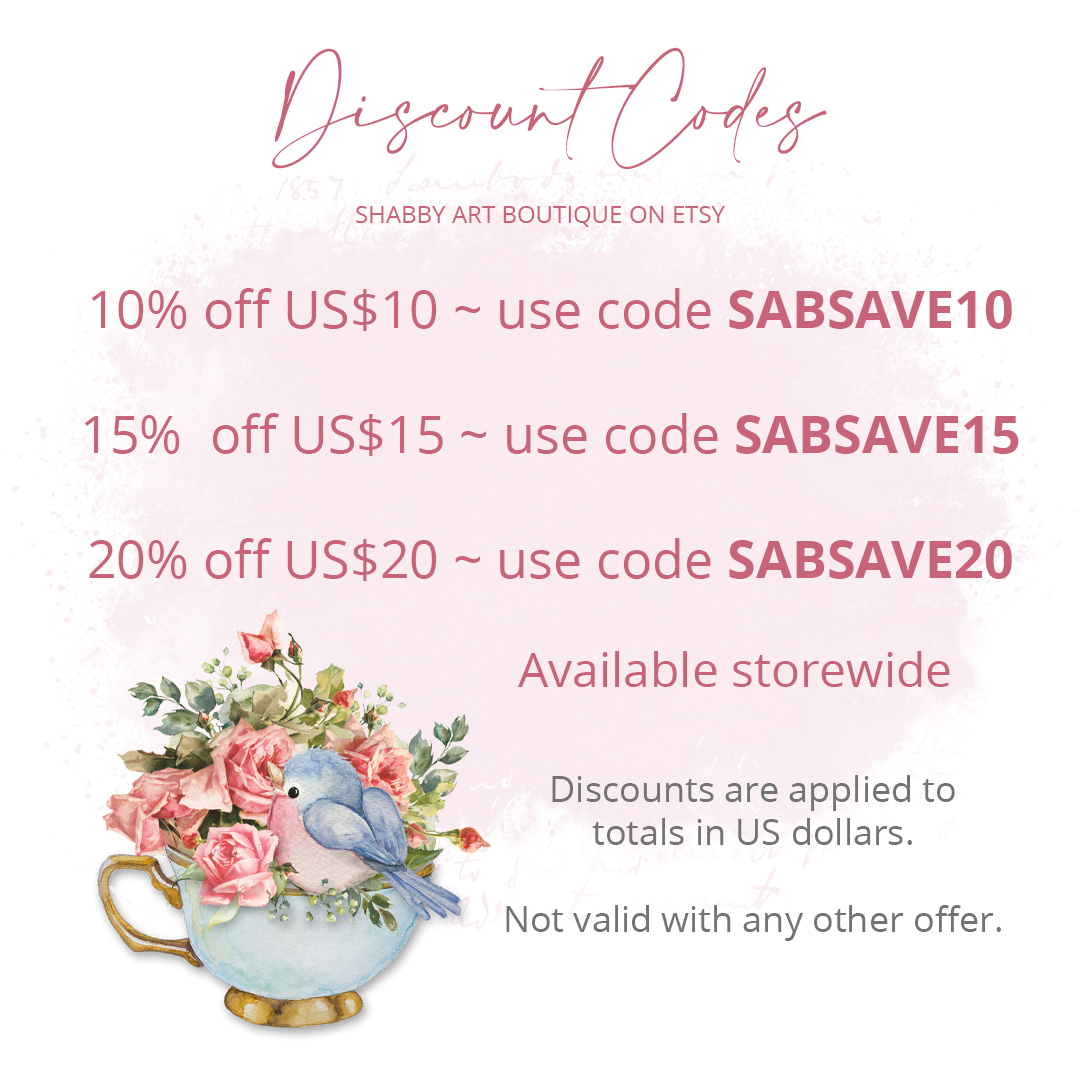 Happy crafting,
♥
Kerryanne
Let's be friends on….
Get instant access to the free printables in my Newsletter Printables
Library by joining my email newsletter subscriber's list.
I send out a weekly newsletters with updates on all things
'shabbilicious' at Shabby Art Boutique.