If you sew, embroider, have visions of one day being able to sew….. or even just pretend to sew, then you probably have a pincushion!
Pincushions just kind of go with needles and thread.
Which brings me to an important question… how many pincushions are too many?
The answer is…. you can never have too many pincushions!!
That's like saying you have too much fabric… and us crafters NEVER say that.
So why all this chatter about pincushions today?
I accidentally stood on a pin in my craft room yesterday and that blighter pieced my skin and went in deep… yowser that hurt.
I actually have multiply pincushions and even a magnetic dish, but that one stray pin got away on me. Trust me to find it with my foot.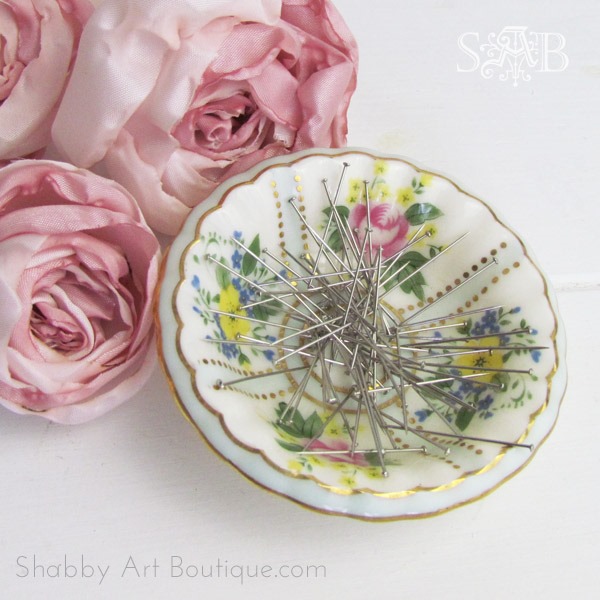 See how I made my magnetic pin dish HERE.
So today I'm still smarting and thinking about pincushions and stray pins, so thought I'd gather a few pincushion tutorials from my blogging friends… just in case you need to make some more pincushions.
Just remember my motto…. you can never have too many pincushions!!
[PIN for later]
[This post contains affiliate links]
Thank you to the following ladies for their fabulous free pincushion tutorials.
The hidden pincushion that's safe for little ones and pets
from Sadie Seasongoods.
Christine's pincushion jar from The DIY Dreamer
Mary Beth's vintage creamer pincushion at Cupcakes and Crinoline
A cute little hedgehog from Maker Land
Hand embroidered pincushion from Make It Handmade
Framed desktop pincushion from Dream A Little Bigger
Little Birdie pincushion by Deonn at Quiltscapes
Anthropology inspired pincushion and sewing kit
made from a mason jar at Duct Tape and Denim
Or this mason jar one from Linda at Mason Jar Crafts Love
And this incredibly clever chair pincushion made from tuna cans from Re-do It Yourself Inspirations
Although my sweet Pincushion Angel is not a free tutorial, for anyone who is interested in her, I do have an E-pattern with step-by-step photo instructions and a full sized template in my Boutique HERE.
You may also like my post for 10 tips for organising a craft room
Happy crafting,
Hugs – Kerryanne
I'd love for you to connect with me at:
Follow on Bloglovin
or if you'd like my posts delivered directly to your Inbox
Subscribe to Shabby Art Boutique by Email
If you'd like a private pass to all things 'shabbilicious, sign up today for my fortnightly newsletter. It contains personal stories, sneak peeks, recommendations, discounts and freebies.
Plus, you will also get a free copy of my eBook, 5 Tips for creating a Shabbilicious Home. Sign up for my newsletter HERE and don't forget to confirm the sign up email.