Welcome to Shabbilicious Sunday….
Each week in this series I share with you a visit to a home of one of our shabbilicious friends. What could be better than to take a tour around their home, have a chat and get to know a little more about them.
Today we are off to visit the always delightful Kris at Junk Chic Cottage in Chicago, Illinois in the United States.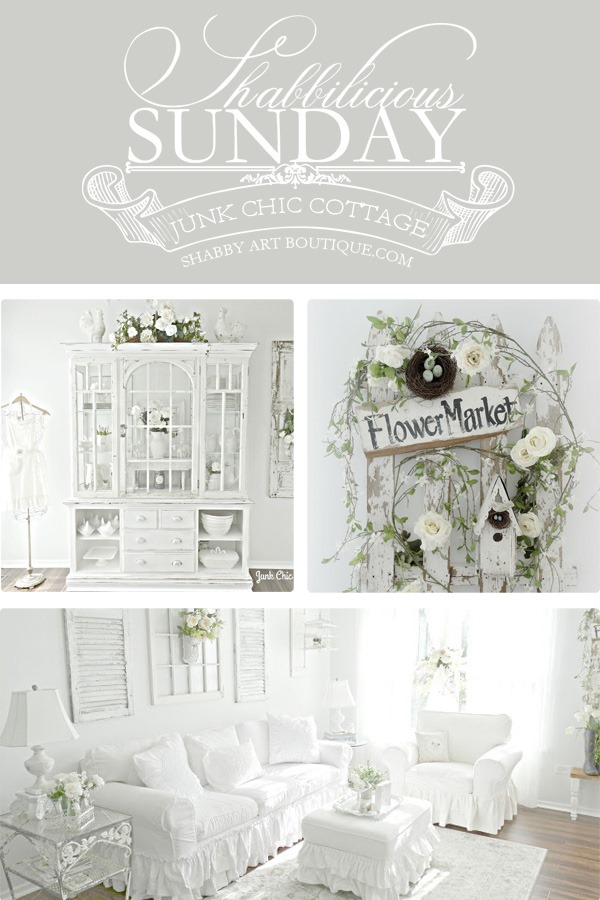 Kris and her husband Terry took possession of their new cottage just 3 months ago and immediately set to work transforming it into a new Junk Chic Cottage.
I strongly urge you to pop over to visit Kris' blog to see the before and after photos of their whole cottage makeover…. you will be amazed.
Let's start our tour in the living room. It's a beautiful light filled room with a colour palette of light gray, cream and white.
Asked how she would describe her decorating style, Kris replied "white cottage with a little French farmhouse and some chippy shabby. My style is serene whites and creams with a touch color here and there".
Terry has repainted the whole house and Kris shares the colours they used on her blog.
Kris is pleased that they could re-use most of her chippy architectural pieces throughout the cottage.
In the corner of her living room, Terry turned a TV armoire (above) from their old house into a home office for Kris, complete with small chandelier and essential vintage storage pieces. Read more about it here.
On to the kitchen and dining room…
Kris started with a larger table, but had Terry cut it down to fit better with the dimensions of the room. How lucky she is to have such a handyman husband!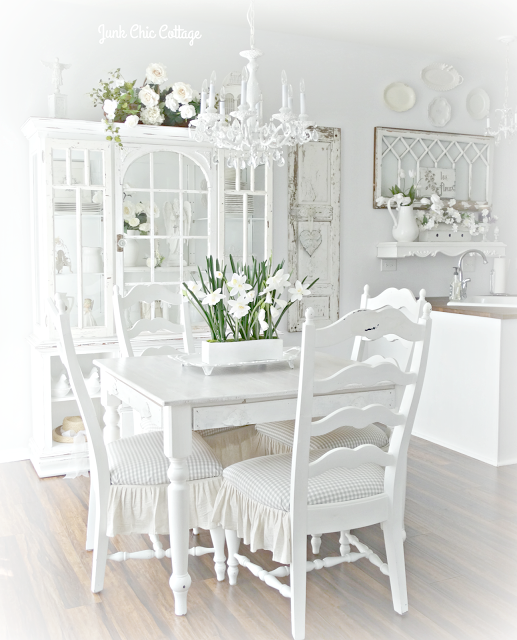 I'll give you a sneak peak of the original kitchen, so you can see just how amazing the transformation has been. The before…
And after…
You'll notice that a few things have already been changed around in the kitchen, as Kris finds places for all her things and works out what functions best.
There are several posts about the make-over of the kitchen on Junk Chic Cottage blog.
Kris says "I really do not have one favorite piece of furniture but if I had to pick one it would be my china cabinet re love. We took a very traditional oak cabinet and re purposed old vintage windows for new cabinet doors and painted it white with some chippy accents. I am so happy with the re love of this piece".
"Another piece would be my headboard made out of old vintage doors. They were tearing down a 100 year old farmhouse and I rescued 4 doors from this tear down and repurposed them into my headboard. Love the character and vintage sweetness this headboard gives to my bedroom. I am a big believer that pieces with history and craftsmanship should not be discarded in our modern world. We should repurpose and re love these pieces into our décor".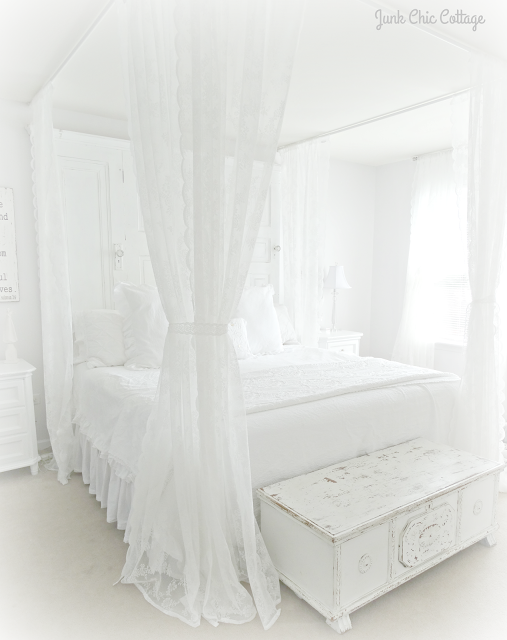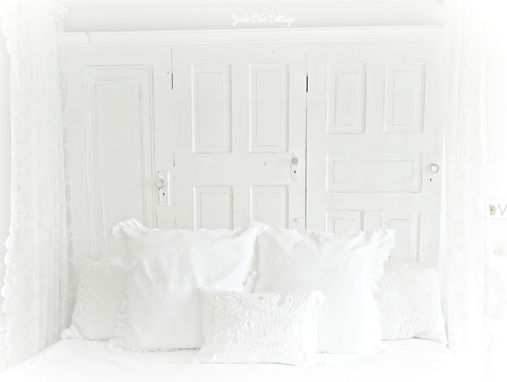 Next stop is the master bedroom and bathroom. Lots more chippy vintage architectural pieces used in here to create rooms filled with character, while retaining the beautiful serene neutral white palette.
As we stroll along to the guest bedroom and bathroom, you'll notice they have a similar colour palette. You really need to see the before photos on these to see how different they look after the make-over.
The vintage mirror in the guest bathroom is actually off of Kris' great grandmother's dressing table.
Even the walls in the hallway display Kris' enviable style!
I asked Kris if she could share her decorating tips, to which she replied "My thoughts on decorating are if you surround yourself with things you love you will never be unhappy with your decor. I do not follow trends and stick to what I truly love. I love using vintage salvage pieces in my decor. Rescuing an old summer cottage door and re purposing it into my home and giving it new purpose just makes me happy. Our homes should be our sanctuary's, so we should surround ourselves with decor that makes us feel comfy and cozy".
Thank you Kris for showing us around your beautiful new cottage.
I'm sure everyone would love to see more of this gorgeous home transformation, so head over to Kris' blog, Junk Chic Cottage, or connect with Kris on Pinterest.
If you enjoyed this edition of Shabbilicious Sunday,
you may like to check our the previous home tours on my
Happy Sunday my friends,
Hugs ~ Kerryanne
I'd love for you to connect with me at:
Follow on Bloglovin
or if you'd like my posts delivered directly to your Inbox
Subscribe to Shabby Art Boutique by Email
If you'd like a private pass to all things 'shabbilicious, sign up today for my fortnightlynewsletter. It contains personal stories, sneak peeks, recommendations, discounts and freebies.
Plus, you will also get a free copy of my eBook, 5 Tips for creating a Shabbilicious Home.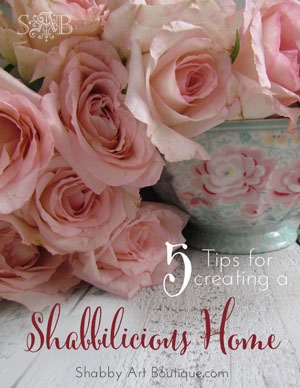 Sign up for my newsletter HERE and don't forget to confirm the sign up email.