Hi creative friends,
With 2024 right around the corner, it's the perfect time to introduce you to my new release on Etsy… a delightful collection of 2024 Printable Calendars.
I'm delighted to share these five enchanting designs with you, each carefully crafted to bring beauty and organization to your life.
2024 Printable Calendars
Versatile Sizes and Formats:
I understand that everyone has unique planning needs, which is why I've provided my 2024 calendars in three sizes:
Full Page: For a comprehensive overview.
Journal 5″ x 7″: Perfect for on-the-go planning.
Mini 3 1/2″ x 4 7/8″: Ideal for those who like things compact and for inserting into journals and planners.
Each calendar is provided as a ready-to-print PDF file and a zip file containing individual JPEG images.
Plus, I've also included in the one listing, both A4 and Letter (USA & Canada) paper size options for your convenience.
2024 "May Happy Place" Printable Calendar
Step into the world of creative bliss with this 'My Happy Place' calendar.
It's a visual treat, showcasing a shabby, vintage craft room overflowing with pretty craft supplies and vases of gorgeous pink floral bouquets.
The soft muted pink and neutral color palette exudes relaxed romanticism.
There are 12 individual artworks… one for each month of the year.
Click here –> to view the 2024'My Happy Place' Calendar.
The 'My Happy Place' Calendar makes every month feel like a tranquil escape.
2024 Field of Flowers Printable Calendar
My 'Field of Flowers' calendar is a true ode to nature's beauty.
Adorned with soft pink and white flowers, enveloped in fresh greens, it's like having a piece of a serene garden in your projects.
Click here –> to view the 2024 Field of Flowers Calendar on Etsy.
It's as if spring has blossomed on each page, making every day feel like a walk through a serene garden.
2024 Cottage Garden Printable Calendar
For lovers of shabby and cottage decor, the 'Cottage Garden' calendar is a dream come true.
Pastel pink, blue, and white blooms create a bouquet that will transport you to the quaintest of gardens.
Click here –> to view the 2024 Cottage Garden Calendar on Etsy.
Cottage Garden will create a cozy atmosphere in any space.
2024 Rosey Delights Printable Calendar
'Rosey Delights' captures the timeless elegance of a rose garden in full bloom.
With shades of muted pinks, this calendar celebrates the delicate charm of these beloved flowers.
Click here –> to view the 2024 Rosey Delights Calendar on Etsy.
2024 Rosey Delights Landscape Printable Calendar
If you prefer your calendar in landscape orientation, I've got you covered with the same 'Rosey Delights' design, ensuring flexibility to suit your preferences.
Click here –> to view the landscape 2024 Rosey Delights Calendar.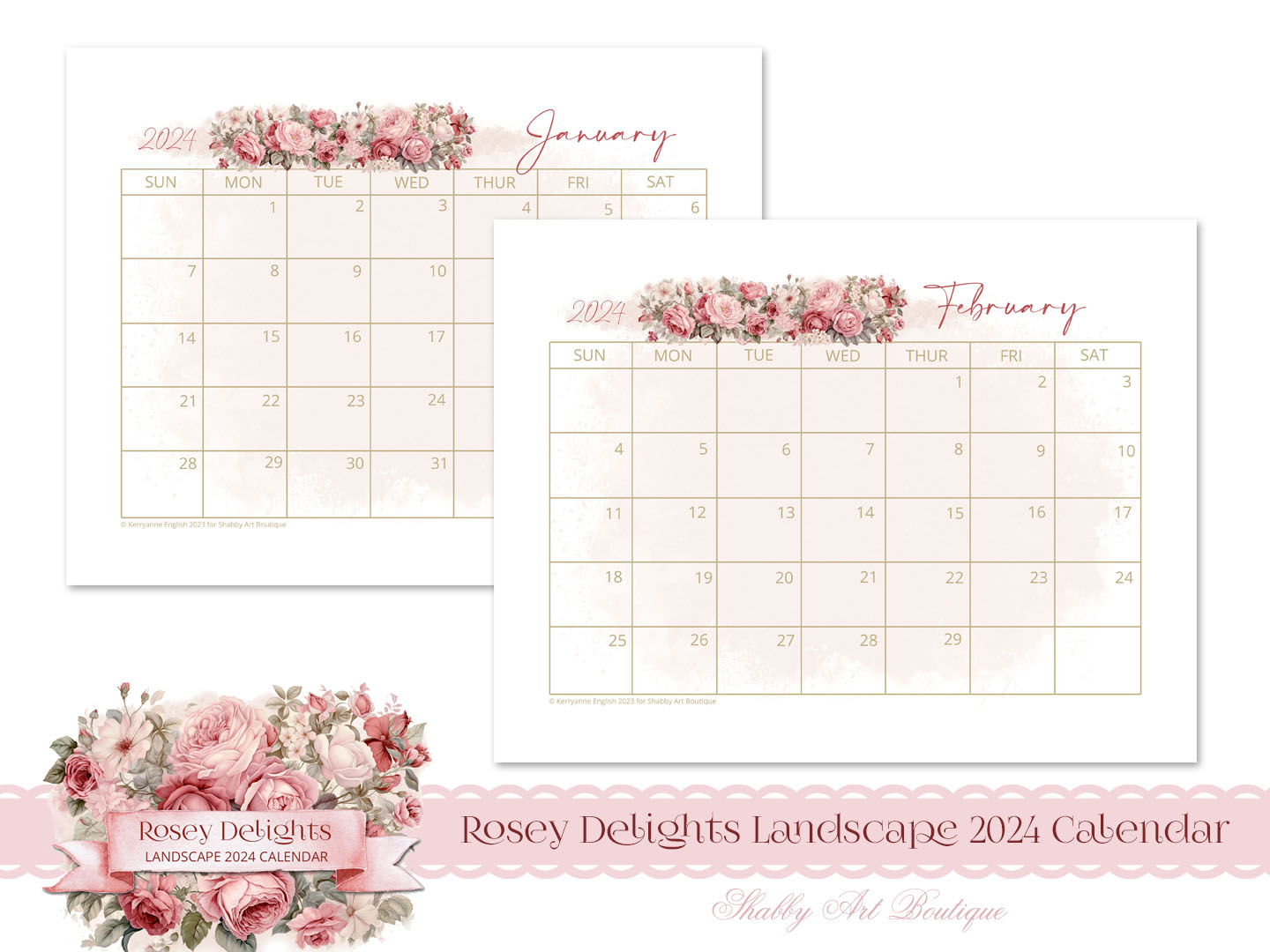 Terms of Use
Please remember that these calendars are intended for personal use only and do not come with a commercial license for selling or sharing.
Embrace the beauty of 2024 and organize your year in style with one of my Printable 2024 Calendars.
Whether adorning your workspace, hanging in your home, or gifting to loved ones, these calendars are a perfect way to infuse every day with a touch of elegance.
Etsy Discount Codes
Don't forget to use my discount codes for my Etsy store.
The codes are calculated in US$ dollars, so if you are buying from outside the US, you may need to check the currency conversion to be sure to qualify.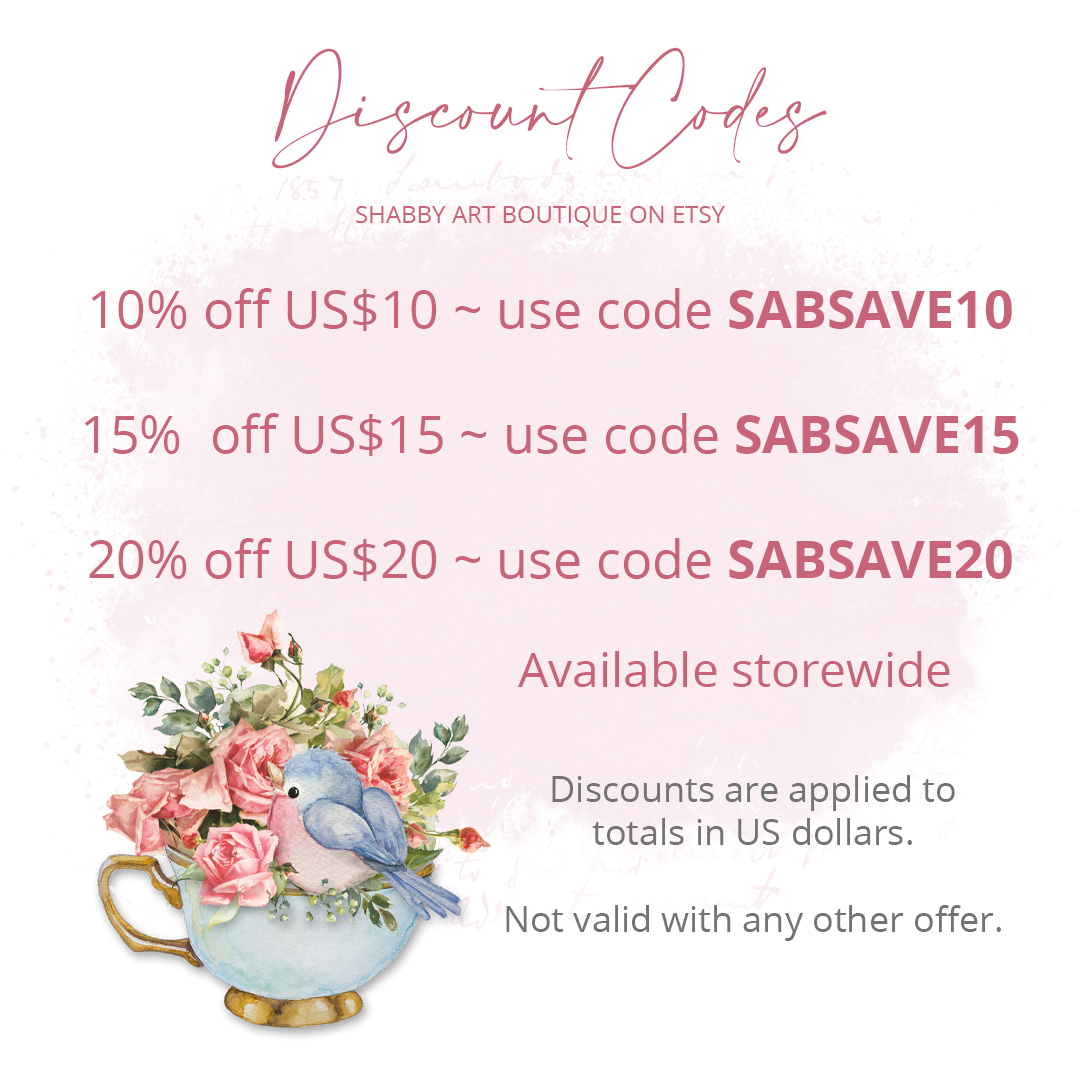 Head over to my Etsy shop now to explore these designs and choose the one that resonates with your style and vision for the upcoming year.
Here's to a fantastic 2024 filled with inspiration and beauty!
Happy crafting,
♥
Kerryanne
Let's be friends on….
Get instant access to the free printables in my Newsletter Printables
Library by joining my email newsletter subscriber's list.
I send out a weekly newsletters with updates on all things
'shabbilicious' at Shabby Art Boutique.