Hi creative friends,
We've had a fabulous week of inspiration delivered to us this week from our very talented Design Team ladies.
Today I'm sharing several projects from Sandy of Septeria 18 using my new Etsy listing, Linen, Lace & Paper digital kit.
Sandy ~ Septeria18
Sandy really takes shabby to a new level with her pretty and tattered projects…
And I think you'll enjoy the tips and techniques in her YouTube videos.
Needle & Trim File Folder, Pocket, Tags and Embellishments
Sandy's first project using the Linen, Lace & Paper kit is a combination of useful embellishments for journal making.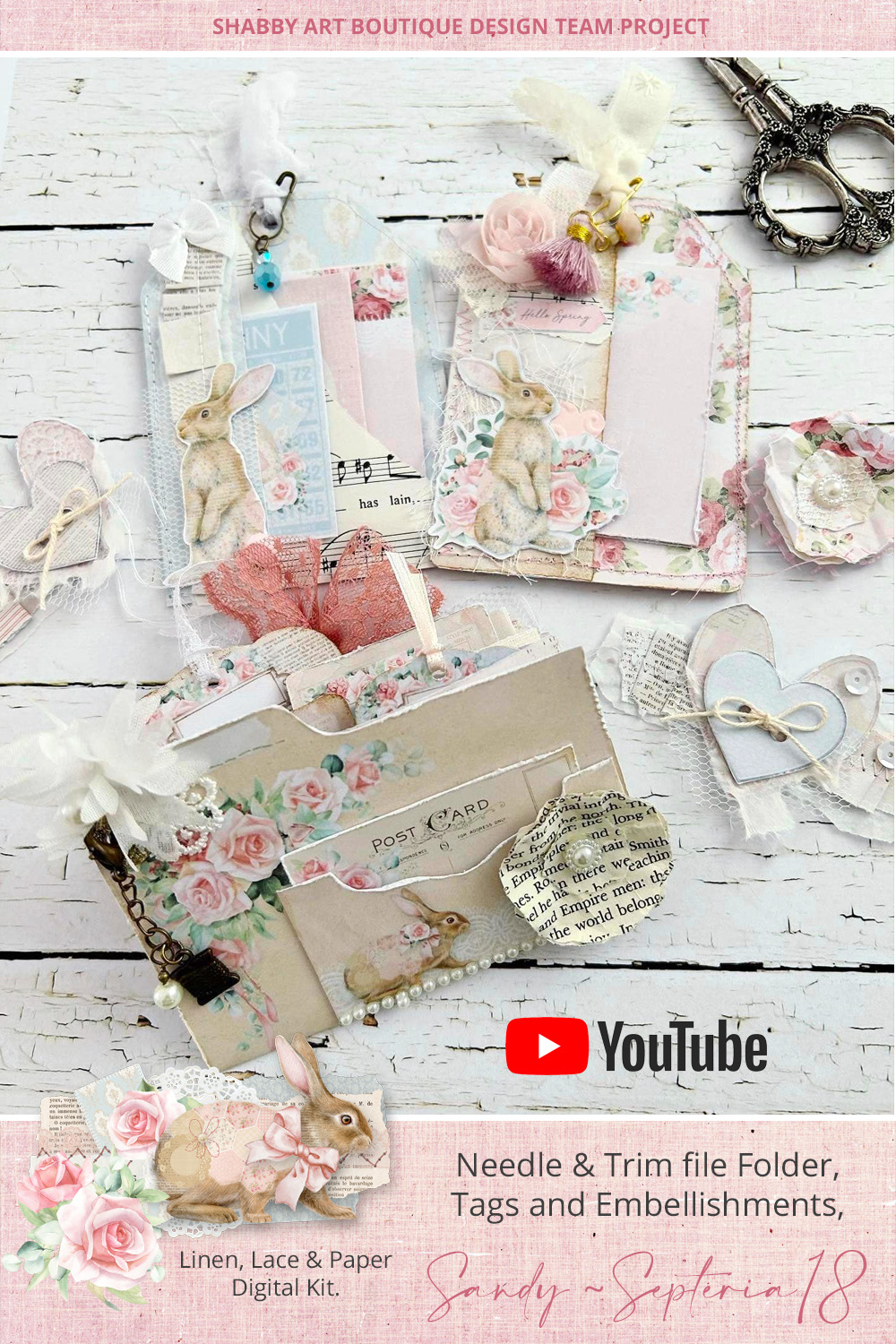 To see all of the gorgeousness in this project, click the image below to watch Sandy's video.
Sandy made the cutest file folder projects, including a file folder ephemera holder and a needle and sewing pocket.
Along with the file folders, Sandy also created paper ruffle embellishments, side pocket tags, flip-up notebooks and the cutest circle flowers.
Sweet & Shabby Tattered Mini Journal
Sandy's second project that she's been working on for the past week or two is this stunning, sweet and shabby tattered mini journal.
This really is a gorgeous shabby journal with layer upon layer of pretty tucks, pockets and places to write.
Sandy found ways to use almost every embellishment in the kit and has a very unique way to bind the journal together.
Photos just don't do this project justice….
You'll need to watch Sandy's YouTube video below to see how gorgeous this journal is.
Don't forget to subscribe to Sandy's Septeria18 YouTube channel!
I love how Sandy has tattered all of the edges for a shabby look without using the ink technique… that truly speaks to my shabby heart.
And, the sewn edges add such a fun texture to the pages and embellishments!
We all love Sandy's projects, so be sure to subscribe to her Septeria18 YouTube Channel so you don't miss any of her upcoming tutorials and follow Septeria18 on Instagram.
You'll find Sandy's gorgeous embellishments in her Septeria's Room Etsy Store.
Thanks for inspiring us with these beautiful projects, Sandy ♥
Linen, Lace & Paper Digital Kit
Sandy used my Linen, Lace & Paper kit for all of these projects.
This kit is multi faceted, so that you may use it for spring, Easter or general shabby crafting. It also coordinates with many of my other shabby kits.
Here's a closer look at what's in the Linen, Lace & Paper kit.
This kit is available in my Shabby Art Boutique Etsy store.
Click here –> for the Letter (USA) size Linen, Lace & Paper kit.
Click here –> for the A4 size Linen, Lace & Paper kit.
You may also be interested in the free mini kit for Linen, Lace and Paper collection.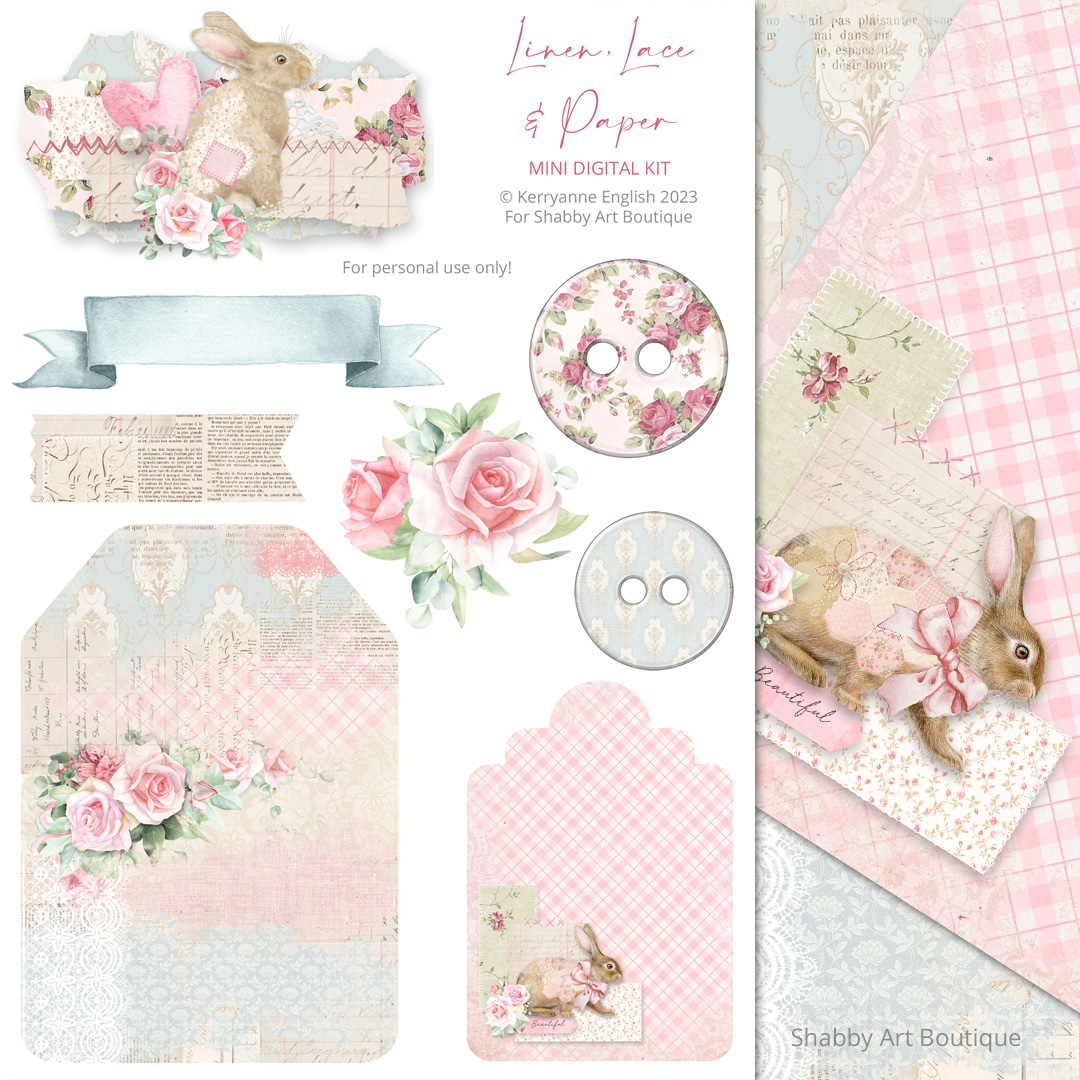 Happy crafting,
♥
Kerryanne
Let's be friends on….
Get instant access to the free printables in my Newsletter Printables
Library by joining my email newsletter subscriber's list.
I send out a weekly newsletters with updates on all things
'shabbilicious' at Shabby Art Boutique.
Jennifer ~ Crafting Sweetness
Nicola ~ My Shabby Craft Corner