Hello creative friends,
You never know when inspiration is going to strike… take today for example…
I was working on a new project for Simply Christmas, when I looked across at a few of the items I had out ready for Christmas decorating and suddenly my mind is off wandering in another direction.
Mason jar… tick
Glass drawer knob… tick
Santa Snow…. hmm, that could be a stumbling block!
I quickly gathered my supplies and lo and behold, I even found a can of faux Santa Snow in the Christmas storage cupboard.
In my mind I had created a pretty candle or fairy light jar…. (I can never have too many candles or twinkling lights at Christmas)… but this one is super pretty and features those sweet little elves from the Handmade Club October kit, Sweet & Shabby Christmas.
How to make a Christmas Candle Jar
Materials:
Sweet & Shabby Christmas bonus 'Print & Make' PDF file
Mason jar – circumference is 12″
Small glass drawer knob
Extra strong glue and stick glue
Can Santa Snow – optional
Faux snow or Epsom Salts
Normal paper crafting supplies – scalpel/craft knife, scissors, cutting mat, score board and bone folder,
Accessories – ribbon, bell, candle or lights etc.
Instructions:
If using a Mason or preserves jar, be sure to use strong glue to secure the centre part of the lid.
Apply a coat of white Gesso to clean lid.
3. When dry, add several coats of a light aqua acrylic paint. I mixed my own colour. Using strong glue, position the glass drawer knob in the centre of the lid and set aside to dry thoroughly.
4. Mask the top of the jar with painters or masking tape.
5. If you are a Handmade Club member, you'll find the bonus printable in the October 2021 download folder.
Cut the printable down to a manageable size. There is a white line between the mirror images where you need to score. Fold the image in half along the score line and strengthen the crease with your bone folder. You should now have the two images back to back on two elf strips.
Apply a thin, even layer of stick glue on the back of the image and press the two halves firmly together. Repeat with the second elf print.
Cut around the perimeter of the image using a sharp scalpel knife, remembering to keep checking that the two images are aligned correctly. You will now have the two halves of the base design.
6. Santa snow – lightly dust the top third of the outside of the mason jar with Santa Snow and leave to dry. Remove the masking tape.
7. Apply a bead of strong clear glue to the back side of the first elf strip and position on the lower edge of the mason jar. You may need to add a rubber band to hold in place. Add glue to the second elf strip and place on the other side of the jar, with the gift boxes slightly overlapping those on the first elf strip.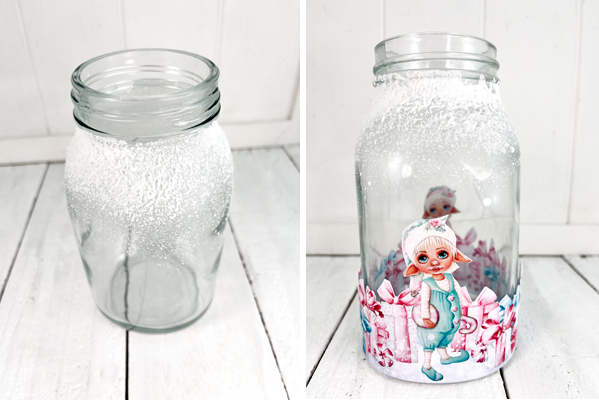 8. Fill the lower third of the mason jar with either faux snow or Epsom salts.
Now it is ready to place a flameless tea light candle of string of battery operated fairy lights in the jar. I even tried a small bottle brush tree in mine.
9. Decorate the lid of the jar with ribbon, bells, fussy-cuts or flowers.
There are endless ways to use this pretty candle jar…. I think it would be lovely in the centre of a dining table while entertaining or on a hall table.
I'm sure there'd be lots of little girls that would love this special Christmas jar beside their bed at night.
How would you use it?
How to get the Sweet & Shabby Christmas Kit
The limited edition October club kit will be available for one month from the 15th October and will be archived on the 15th November (Australian Eastern Standard time).
To find out more about the Handmade Club and how to subscribe, please visit the Handmade Club page.
Happy crafting friends!
Hugs
♥
Kerryanne
Let's be friends on….
Get instant access to the free printables in my Newsletter Printables
Library by joining my email newsletter subscriber's list.
I send out a weekly newsletters with updates on all things
'shabbilicious' at Shabby Art Boutique.
I invite you to join our fabulous and friendly
Facebook group – Simply Shabbilicious
where you'll enjoy our friendly banter and inspirational creativity