Hi creative friends,
Welcome to my 14th Annual Simply Christmas event!
For those of you who are new here, this is the Christmas event that I run every year from the 1st of November until Christmas Eve.
What began as a one-off event to evoke the simple joys of an old-fashioned 'homemade' Christmas has now become a cherished tradition here at Shabby Art Boutique.
Over the next 8 weeks, leading up to Christmas Eve, I will be sharing a treasure trove of free crafting projects, printables, recipes, Christmas decorating tips, and gift ideas.
It's all about putting the homemade and home-baked back into Christmas, so you can create a holiday season filled with warmth and nostalgia.
2023 Christmas Planner
As a tradition, I always kick off this event with a free printable Christmas Planner, and this year is no different.
I'm thrilled to present to you my 2023 free printable Christmas Planner and flip out folio…. with YouTube tutorial.
My hand painted gingers were so popular last Christmas, I've brought them back for this year's Christmas planner.
The planner pages are designed to help you organize your holiday season, from tracking your gift lists and shopping to planning your festive menus and decorating ideas.
It's a practical tool to keep you on track during the busy but wonderful time of year.
The printable file is ready for you to download today… and tomorrow I hope you'll join me as I share a tutorial for how to make the 2023 Christmas Planner.
The planner pages measure 4.5″ x 6'5″ and fit nicely into this 5″ x 7″ flip out folio.
A folio template is provided, along with the papers to create the folio. There are 19 pages in all.
For optimal results, the pages should be printed on matte photo paper card weight or presentation card on the highest print setting.
DOWNLOAD the 2023 Free Christmas Planner
In order to protect this file, I have added it to my password protected printable library.
The free printable Christmas Planner file is ready to download now in the Newsletter Subscribers Printable Library – the password to this page is on the bottom of your latest newsletter.
Not yet a member?
No problem, simply sign up for the Shabby Art Boutique newsletter with an email address and get instant access to all of the free printables in the library.
How to make the Christmas Planner
Click the video below to watch on YouTube.
Please subscribe to my channel for more Christmas treats.
Pin for later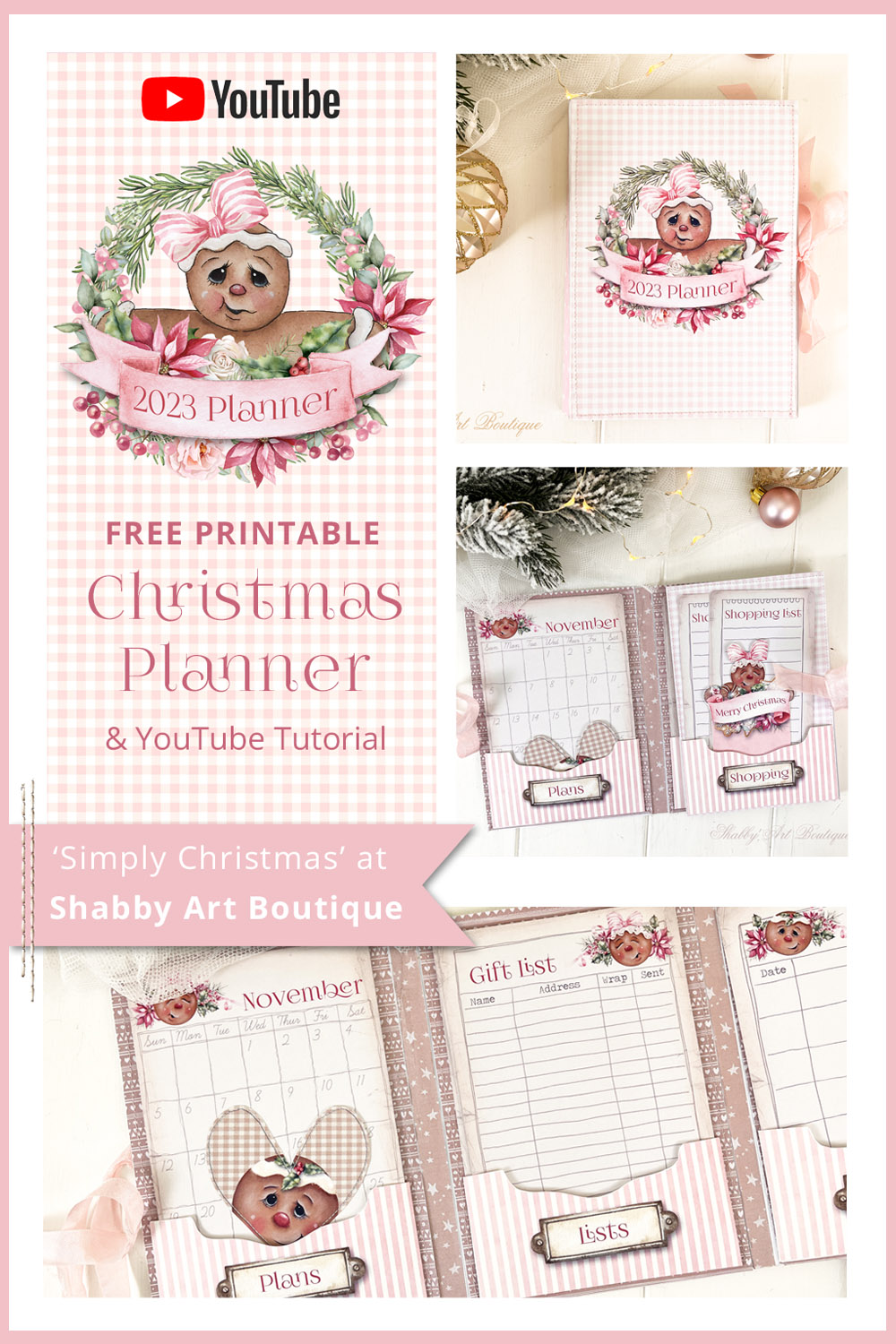 Add these free printables to your 2023 Christmas Planner…
Printable sweet treat gingerbread tags
Free Gingers mini sampler kit.
Happy crafting!
Hugs
♥
Kerryanne
Let's be friends on….
Get instant access to the free printables in my Newsletter Printables
Library by joining my email newsletter subscriber's list.
I send out a weekly newsletters with updates on all things
'shabbilicious' at Shabby Art Boutique.
I invite you to join our fabulous and friendly
Facebook group – Simply Shabbilicious
where you'll enjoy our friendly banter and inspirational creativity.