Welcome to Shabbilicious Sunday….
Each week in this series I share with you a visit to a home of one of our 'shabbilicious' friends. What could be better than to take a tour around their home, have a chat and get to know a little more about them.
Today we are visiting Ann at On Sutton Place.
It's a sad but true fact that full time bloggers often don't get a lot of time to read the blogs of fellow bloggers. I honestly wish I had more time to devote to reading all the fabulous blogs out there, but there just aren't enough hours in the day, so I have a few favourites that I frequent.
Today's guest is the author of one of my favourite blogs… On Sutton Place.
Let's start the tour at Ann's front door… this gorgeous door painted in Naval blue is I suspect, quite well known already. As seen on Pinterest!
Come on through. It was Ann's blue front door that first brought me to On Sutton Place and I'm glad I discovered her beautiful blog.
Ann is the kind of lady who I'd want to be real life friends with if we lived in the same town, but alas, Ann lives in Findlay,Ohio (USA) and I in Australia.
We love all the same things….. Ann crafts, sews, decorates, bakes and has made her house on Sutton Place into a beautiful home.
Ann is an all seasons girl and shares fabulous tutorials on how to decorate, bake and create for each new season and holiday. I just know you will love her style!
I love that Ann uses everyday supplies that won't break the bank and her tutorials are so easy to follow… even her recipes are basic family favourites.
Ann's a girl after my own heart… pillows (or as we say in Australia, cushions) are her 'thing'.
Asked how she describes her decorating style, Ann said "My style is traditional with farmhouse touches. I'd love to go full farmhouse but I have quite a bit of inherited furniture that my husband is very attached to. My favourite piece is the marble top antique dresser in my living room. I recently had it restored and it's amazing beautiful now".
Ann loves baking and there is a dedicated section on her blog just for recipes.
See her recipe selection here.
Back in 2012, Ann opened an Etsy shop specialising in handmade textiles and home furnishings made from vintage fabrics, antique grain sacks and 100% linen.
Then in 2014 she took the next step and opened her own online shop, Sutton Place Designs. You can check out all her goodies HERE.
Ann's best decorating advice is to follow your heart and decorate with things you love.
Don't worry about trends and make your home a reflection of your family. Include collections and family heirlooms along with items that reflect your personal style.
Anne says "If you walk into a room in your home and smile, then you are on the right track".
To keep up with everything happening at On Sutton Place, I subscribed to Ann's updates by email.
It's completely free and contains new posts, occasional newsletters and shop news. You can even choose what topics your receive!
You can Subscribe Here and when you do, Ann has 3 freebies for you too. I downloaded the recipes, but you can download everything if you want to.
Visit Ann at On Sutton Place, where she decorates, bakes and creates… and shares DIY ideas that anyone can do.
Also connect with Ann on Facebook, Pinterest, Instagram, Google+ and Twitter.
Pop into the shop at Sutton Place Designs.
Thank you Ann for so generously letting us take a wander around your beautiful home on Sutton Place.
If you enjoyed this edition of Shabbilicious Sunday,
you may like to check our the previous home tours on my
Happy Sunday my friends,
Hugs ~ Kerryanne
I'd love for you to connect with me at:
Follow on Bloglovin
or if you'd like my posts delivered directly to your Inbox
Subscribe to Shabby Art Boutique by Email
If you'd like a private pass to all things 'shabbilicious, sign up today for my fortnightly newsletter. It contains personal stories, sneak peeks, recommendations, discounts and freebies.
Plus, you will also get a free copy of my eBook, 5 Tips for creating a Shabbilicious Home.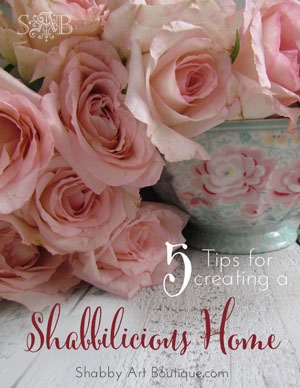 Sign up for my newsletter HERE and don't forget to confirm the sign up email.