Welcome to Shabbilicious Sunday.
It's the day we take a relaxing stroll through one of our shabbilicious friends homes.
Today we are visiting Shannon at Fox Hollow Cottage in the Pacific Northwest, US, so grab a coffee and let's wander over…
Shannon describes herself as a regular everyday girl who creates and decorates on an everyday girl budget…. and we all love that, right!
Her home is a sweet 1920's cottage style bungalow, that she has lovingly renovated with her husband and son. Let's start our tour in the entry…
One of the things I love about Shannon and her blog, Fox Hollow Cottage, is the constant evolution of her home. Like me, Shannon loves to change things around in her home…. always adding seasonal changes, swapping and moving furniture around and adding lots of DIY and craft projects. There is honestly something for everyone on Fox Hollow Cottage and Shannon is such a sweetie too.
Shannon says "I love too many styles to be locked into just one look".
This is Shannon's current living room… a recent coffee table make-over led to a neutral navy living room refresh.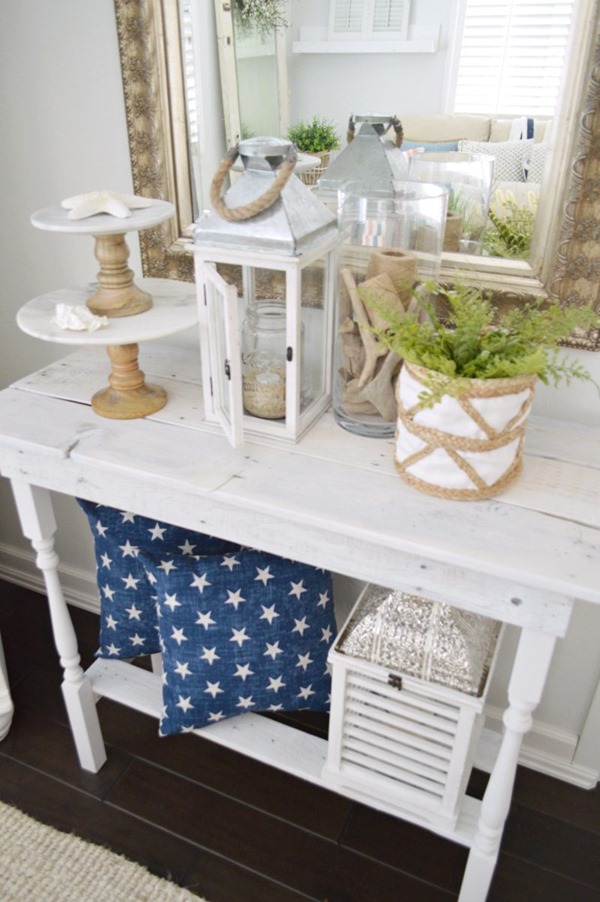 But had you called by in the Spring, Shannon had lightened up her décor with pretty coral accent pillows, plants and fresh flowers.
Shannon offers this decorating tip: Shifting small furnishing and changing out accessories, especially pillows makes for easy changes with little effort and most of the time, little to no budget.
While the living room probably see's the most changes, Shannon's kitchen is no stranger to change either.
Having had this gorgeous French drying rack in the kitchen for a long time, Shannon removed it to make way for a kitchen make-over. I wish that rack would come and live at my house!!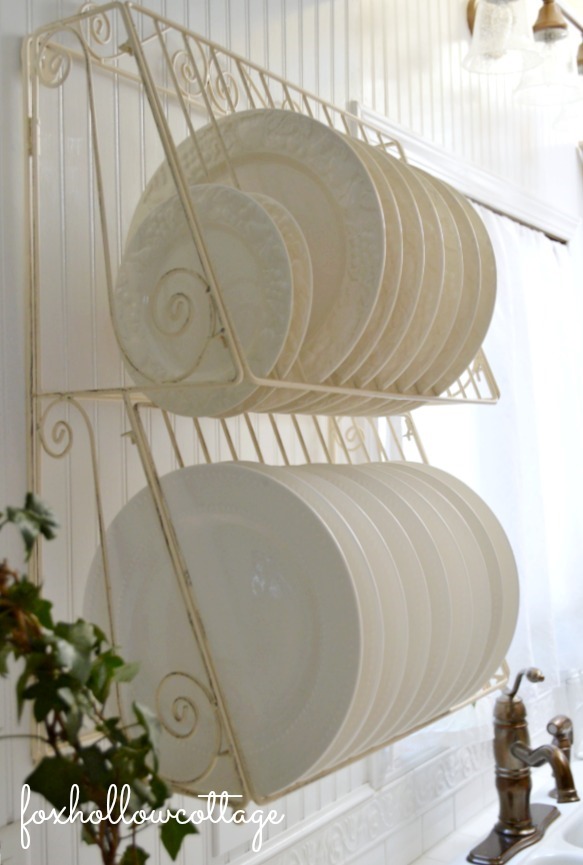 Let's now make our way to the beautiful shabby, vintage, cottage bedroom.
Isn't this divine! The quilt ties all the colours together and adds that gorgeous cottage charm.
You seriously have to admire anyone that finds a way to add a beautiful mantel to a budget bathroom make-over. This is so lovely… read all the details on the bathroom make-over here.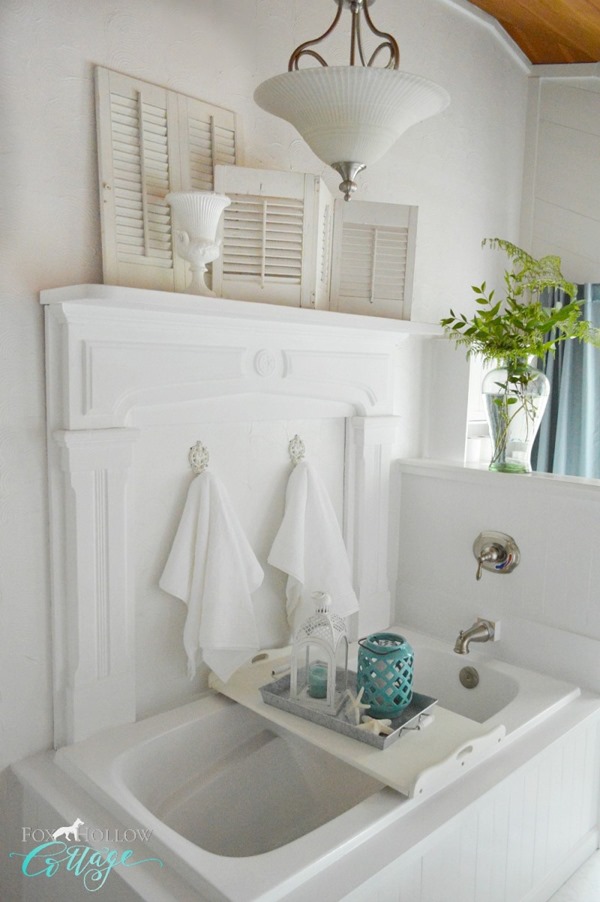 That's just a snippet of what awaits you at Fox Hollow Cottage.
You can also connect with Shannon on Instagram, Facebook, Pinterest, Twitter.
Every Sunday we pop in and visit one of our 'shabbilicious' friends. If you enjoyed this tour, visit my Shabbilicious Sunday page for more guest tour links.
Hope your Sunday is relaxed and enjoyable!
Hugs – Kerryanne
I'd love for you to connect with me at:
Follow on Bloglovin
If you'd like a private pass to all things 'shabbilicious, sign up today for my fortnightly newsletter. It contains personal stories, sneak peeks, recommendations, discounts and freebies.
Plus, you will also get a free copy of my eBook, 5 Tips for creating a Shabbilicious Home. Sign up for my newsletter HERE and don't forget to confirm the sign up email.