Welcome to Shabbilicious Sunday!
Today we are heading to Denmark, where my friend Susi Rydahl has invited us in for a tour of her beautiful pastel cottage home.
Susi's popular blog, Sommerhusliv Hele Aaret, translates in English to Cottage Life Throughout the Year and her home certainly is full of cottage charm.
It is decorated using the gorgeous products of GreenGate, Maileg, ib laursen, Walter & Co and Cath Kidston. Together they form a mix and match style of pretty pastels, florals, stripes and checks, which embody the cottage decorating style.
Susi crafts and sews many of the items seen in her home, plus she often makes over thrifted furniture finds.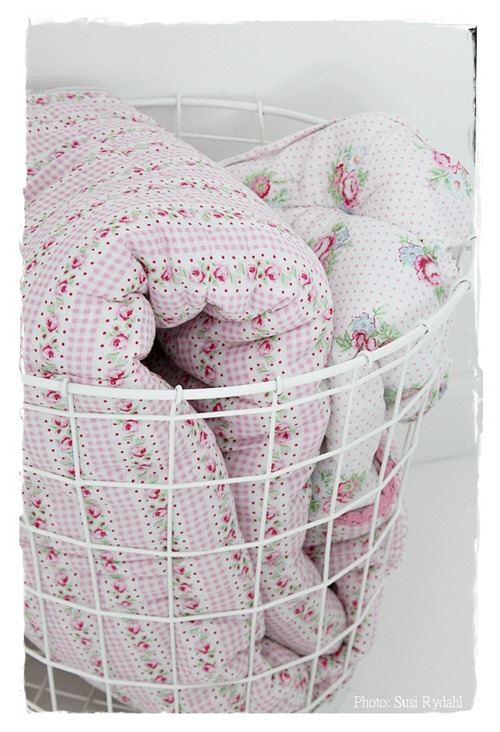 Susi's husband made over this lovely vintage cot, which they use when their grandchildren stay over.

Even the veranda is decorated in pretty cottage style!
A netted canopy and a cluster of GreenGate floral throw pillows and quilts create a cozy spot to relax on the daybed.
If you'd like to see more of Susi's gorgeous home, you can visit her blog HERE.
Susi also has a very popular Instagram account filled with more inspiring images like those shown here.
Connect with Susi on Pinterest, Instagram and Google+
Thank you to Susi for being a guest on Shabbilicious Sunday.
Get the Look: Do you love Susi's mix and match cottage style?
See her favourite store catalogues at: GreenGate, Maileg, ib laursen, and Cath Kidston.
Not all of these products are available worldwide, but can often be purchased from online shops.
If you enjoyed this edition of Shabbilicious Sunday,
you may like to check out previous editions on my Shabbilicious Sunday page.
Happy Sunday my friends,
Hugs
♥
Kerryanne
Let's be friends on….
Get instant access to the free printables in my Newsletter Printables
Library by joining my email newsletter subscriber's list.
I send out a weekly newsletters with updates on all things
'shabbilicious' at Shabby Art Boutique.
I invite you to join our fabulous and friendly
Facebook group – Simply Shabbilicious
where you'll enjoy our friendly banter and inspirational creativity.