Hi creative friends,
I'm delighted this week to introduce you to one of my fabulous guest designers who joins us this month to create two gorgeous, shabbilicious Christmas projects.
Anna from Serenity Creations in the USA, shares her creative paper projects on her Serenity Creations YouTube channel and Instagram account.
Anna chose to use the Jingle Christmas digital kit to create two stunning projects.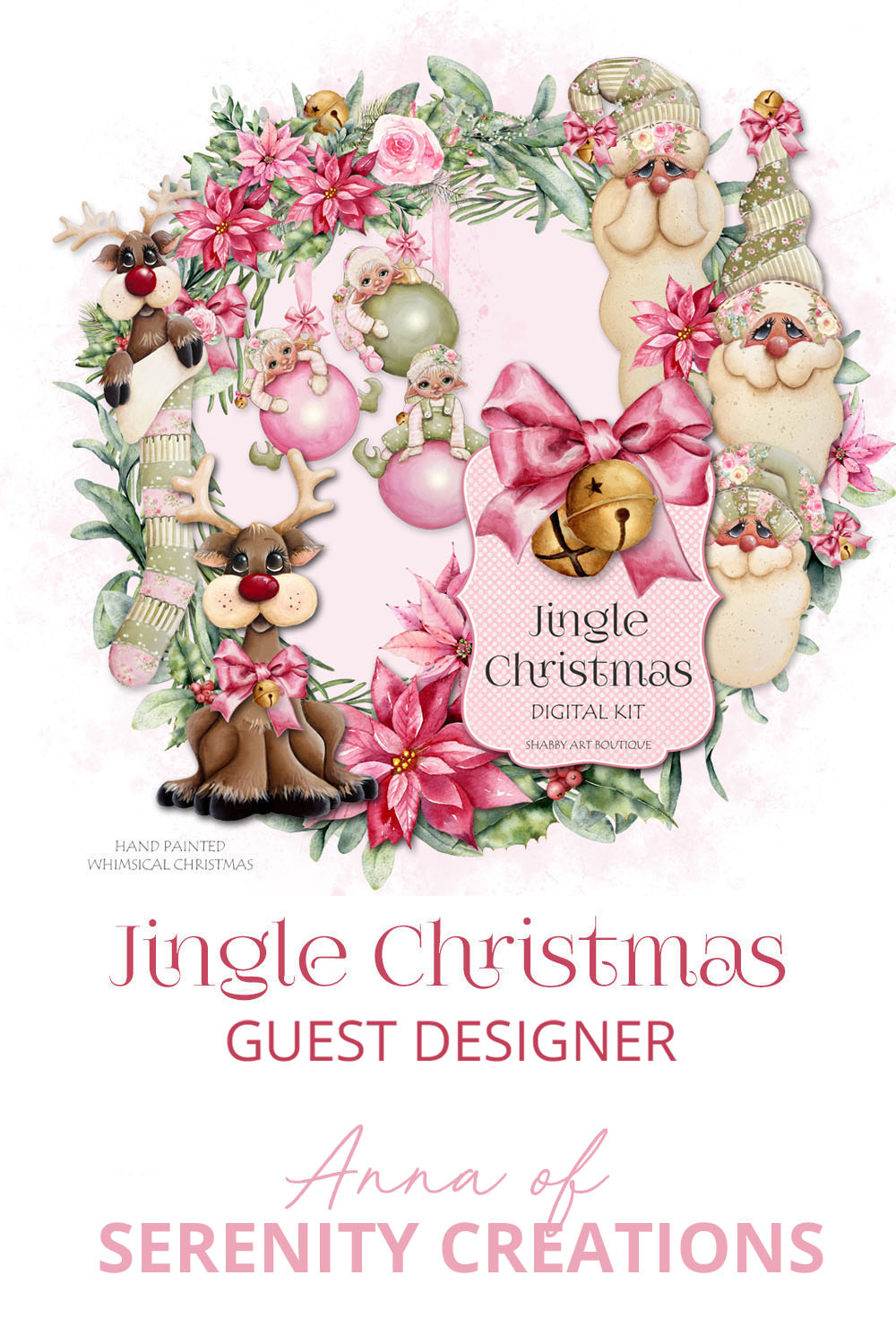 Shabby Bow Card
This hexagonal shaped Christmas greeting card has a large paper bow as its central design.
Shabby Santa's and sweet fussy cut elements are tucked into the layers of the bow and then decorated with an array of gorgeous laces and appliques, a resin frame, glitter, rhinestones, and a paper flower.
All of the paper elements have been hand cut and given dimension with foam tape.
This shabby bow card is exquisite and you really need to watch the short video to appreciate all of the detail and dimension in this beautiful card.
Click the image below to watch Anna's video on YouTube… and be sure to subscribe!
The top of the card lifts up to reveal the hexagonal base card inside.
That's such a little gem waiting there to be written on.
This is definitely a card that deserves to be utilised as part of the Christmas decorating and left on show for others to enjoy…. it's a gift in its own right!
Shabby Clothespins
Anna's second creation could have multiple functions.
Large wooden clothespins form the base of this project and once you attach the glittery snowflake to the pin, you have a background in which to layer all of the pretties…. like fussy cut Santas, reindeers, laces and glittered flowers etc.
For a closer look at the deliciousness of these shabby clothespins, be sure to click the image below to watch Anna's YouTube video.
For an extra 'shabbilicious' layer, Anna has inserted a small selection of laces and fabrics into the pin, to hang down from behind the decorated snowflake.
It's the optional extra that lifts this project to extraordinary.
Oh my… wouldn't theses be spectacular attached to a Christmas gift or a napkin at the Christmas table!!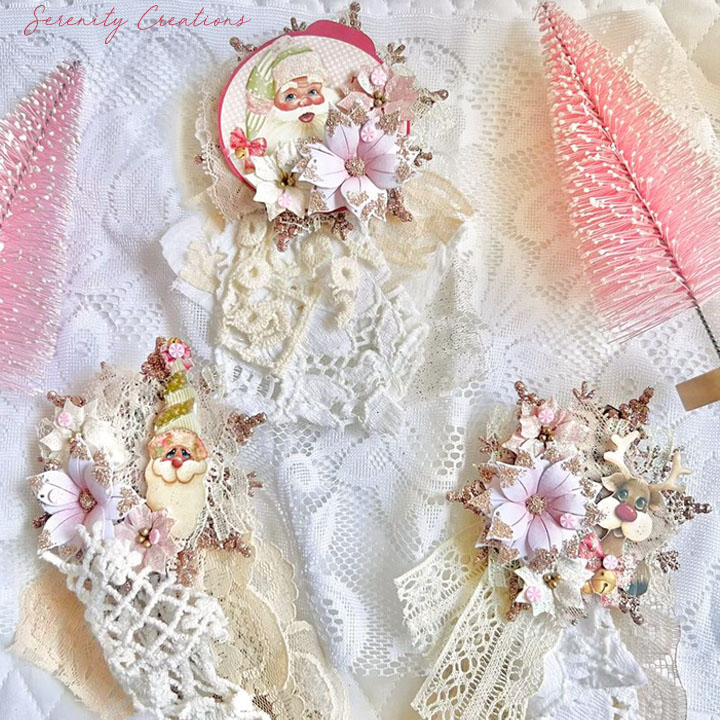 I'm so honoured to have Anna guest design for us this month.
Her projects are very easily achievable with a small selection of paper crafting supplies, so I hope she's inspired you to make something new with the Jingle Christmas kit.
Thank you so much Anna… we LOVE these projects ♥
You can connect with Anna at Serenity Creations on her YouTube channel and on Instagram.
Jingle Christmas Digital Kit
See what's in the kit here.
This kit is now available in my Etsy store under the Christmas tab.
Click here –> for the letter (USA) Jingle Christmas kit.
Click here –> for the A4 Jingle Christmas kit.
Coupon Codes
Please enjoy these new storewide coupon codes for sales of US$10, US$15 and US$20.
Don't forget to enter the discount codes at checkout!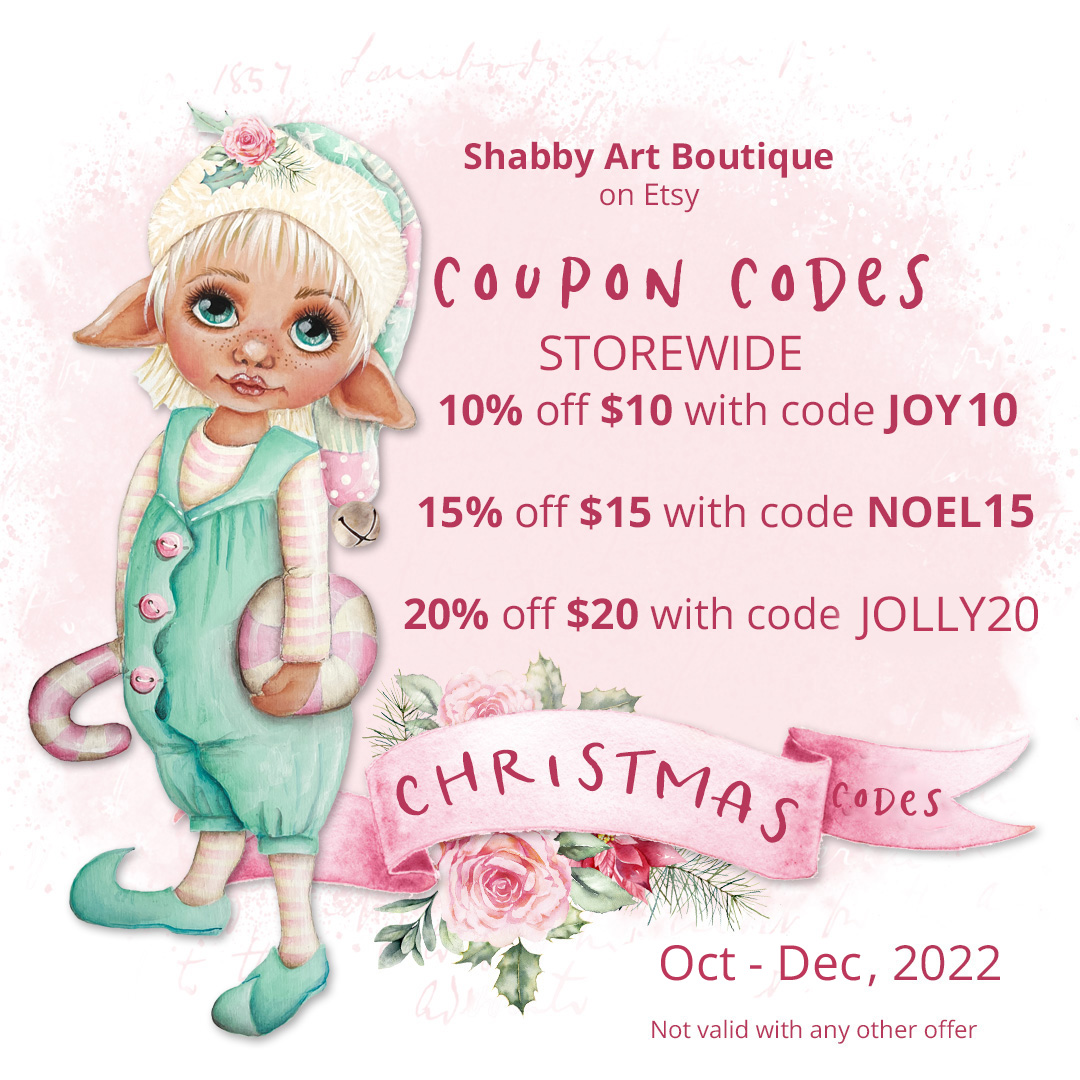 Happy crafting!
Hugs
♥
Kerryanne
Let's be friends on….
Get instant access to the free printables in my Newsletter Printables
Library by joining my email newsletter subscriber's list.
I send out a weekly newsletters with updates on all things
'shabbilicious' at Shabby Art Boutique.
I invite you to join our fabulous and friendly
Facebook group – Simply Shabbilicious
where you'll enjoy our friendly banter and inspirational creativity.