Hi creative friends,
As we embark on December I think everyone is fully into Christmas mode now.
Have you put up your tree and decorated your home?
The darling Gingers from the new Ginger Kisses kit are proving to be very popular… and why not! Who can resist their sweet little faces?
The design team are busy creating gorgeous festive projects to inspire you and I will be sharing them throughout the week.
Nicola ~ My Shabby Craft Corner
Today I have a stunning project from Nicola of My Shabby Craft Corner.
She has used the Ginger Kisses kit to create a beautiful lace cake book and matching box.
For anyone who loves crafting with laces and pretty haberdasheries, you'll adore this beauty.
There are so many wonderful pages combining the kit papers, embellishments, doilies and laces.
YouTube Tutorial
Nicola has provided a flip through of her cake book and a short tutorial on how she creates the cake book pages on her YouTube channel, My Shabby Craft Corner.
Click image below to watch on YouTube.
I love how Nicola makes it a complete project by decorating an actual cake box to store her lace cake book in .
The box is a gift in its own right and is a perfect way to present the cake book.
Nicola's cake book has plenty of gorgeous embellishments, pockets to store ephemera and places for photos.
I believe this is a project almost any crafter could accomplish…. especially with Nicola's 'craft with me' video above.
You can connect with Nicola on her 'My Shabby Craft Corner' accounts: Instagram and YouTube
Be sure to subscribe to her YouTube channel, so you can keep up with all of her fun tutorials.
Thanks for sharing such a stunning project Nicola ♥
Ginger Kisses Collection
The Ginger Kisses digital kit is so sweet and perfect for adding a touch of joy to your Christmas crafting.
Click here to see what is in the Ginger Kisses kit.
Click here –> for the Ginger Kisses letter (USA) paper size kit.
Click here –> for the Ginger Kisses A4 paper size kit.
Coupon Codes
Please enjoy these new storewide coupon codes for sales of US$10, US$15 and US$20.
Don't forget to enter the discount codes at checkout!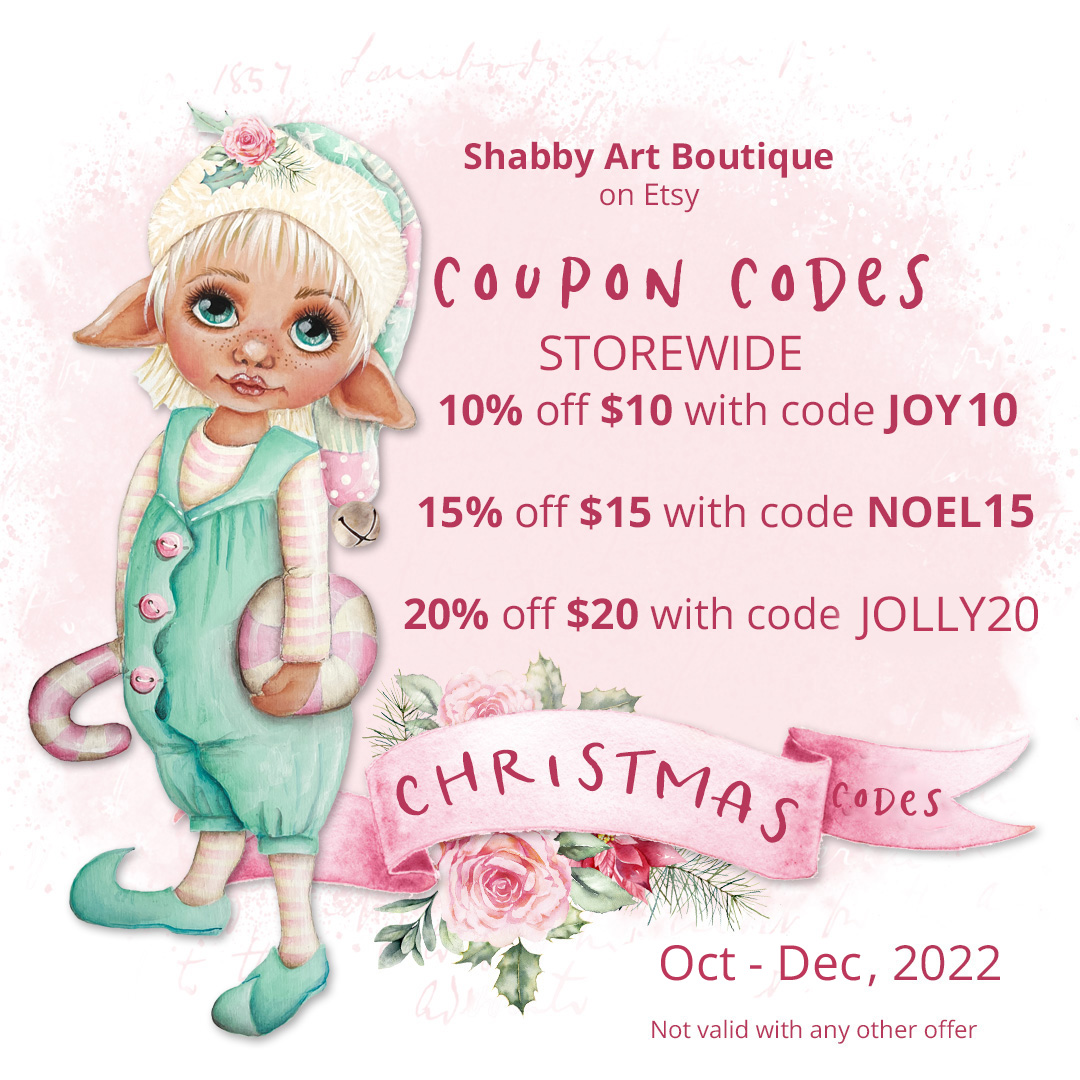 I'd love to see what you create with this kit. Please feel welcome to join our Facebook group, Simply Shabbilicious, where we share our creative makes.
Happy crafting,
♥
Kerryanne
Let's be friends on….
Get instant access to the free printables in my Newsletter Printables
Library by joining my email newsletter subscriber's list.
I send out a weekly newsletters with updates on all things
'shabbilicious' at Shabby Art Boutique.
I invite you to join our fabulous and friendly
Facebook group – Simply Shabbilicious
where you'll enjoy our friendly banter and inspirational creativity.