Hello Monday!!
How was your weekend?
Mine was truly fabulous… I had a 'self care' weekend and I'm facing up to the new week with renewed enthusiasm, vitality and a zest for creativity.
Do you remember to pamper… 'YOU'?
Everyone needs some special 'me' time, but I believe it is particularly vital for creatives. We need to be kind to ourselves to not only retain, but also feed our creative flow.
So…. my weekend was a little self indulgent. It included walks on the beach and meditation, (which I do every day anyway), scented baths while listening to music, reading, playful art time in my craft room, an early night and a sleep in, and a date with my hubby.
By Sunday evening I was feeling completely relaxed and refreshed.
Now that I'm in a peaceful place, I can concentrate and focus on my current projects. My intuitive clarity has returned and I definitely feel energized and passionate about my creativity.
It's important when we feel stressed, exhausted or creatively drained to step back and re-group, so today I'm sharing some ideas with you for self care.
Pin Me!
Self care for mind, body and soul
Taking a 'mental health day' occasionally has amazing benefits for your mind, body and soul…. and let's not forget that all important boost for your creativity.
As we are all different, our self care days will also differ. You need to find what works best for you.
Your self care pampering can be as little as one hour or a whole day…. or if you are completely run down as I was, you may enjoy a full weekend of special 'me' time.
Let's be practical though, if you are a busy working mum, you are unlikely to swing a whole day or weekend for yourself. You will need to make smaller commitments to 'me' time… maybe changing your schedule to get up an hour earlier or utilizing a lunch break etc. It might be several small allotments of time per week or a whole day every few weeks. Find what works best for you and schedule it in your diary. Plan for your self care time and ditch the guilt!!
Self Care Ideas
Take a relaxing walk.
Have some cuddle time with someone you love – animal or human.
Read a book or magazine.
Catch up with a friend for coffee or a phone chat.
Experiment with a new craft/art.
Have a massage or spa treatment.
Listen to music… or dance.
Watch a sunrise or sunset.
Go on a picnic.
Soak in a hot bath.
Meditate or try yoga.
Explore your spirituality – attend church or a faith based activity.
Visit a museum, art gallery or cultural centre.
Create a new art journal or gratitude book.
Take an afternoon granny nap.
Watch a movie.
Lay out in the sun and get a dose of feel good vitamin D.
Reminisce with old photo albums.
Make your favourite meal.
Treat yourself to a coffee and cake date.
Just be… relax, enjoy the quiet and listen to your soul talk.
Breathe!!
I hope these ideas spark your imagination for planning a self care day. I'd love to hear your suggestions too, so please don't be shy… pop them in the comments.
Hugs ~ Kerryanne
I'd love for you to connect with me at:
Follow on Bloglovin
or if you'd like my posts delivered directly to your Inbox
Subscribe to Shabby Art Boutique by Email
If you'd like a private pass to all things 'shabbilicious, sign up today for my fortnightly newsletter. It contains personal stories, sneak peeks, recommendations, discounts and freebies.
Plus, you will also get a free copy of my eBook, 5 Tips for creating a Shabbilicious Home.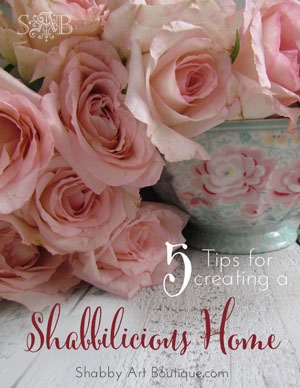 Sign up for my newsletter HERE and don't forget to confirm the sign up email.