Do you enjoy life at the beach?
Obviously I do. . . I live at the beach. . . but I think most people enjoy the relaxed atmosphere of a day at the beach or coastal living.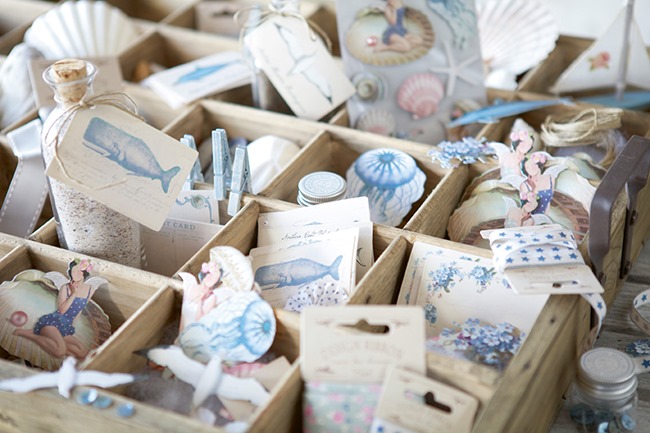 Norwegian designer Tone Finnanger has breathed some invigorating creative air into the coastal theme with her latest book Tilda's Seaside Ideas.
From maritime to playful whales. . . jellyfish, sea urchins and a doll with rubber boots and a sailing jacket . . . life at the beach never looked so good.
I'm right into whales at the moment as the Humpbacks are migrating north right past our coastline. I've been lucky enough to spot them on many an occasion as I walk along the beach. . . and every time they fill me with awe and wonder at their sheer size.
No surprises then that I'm so totally in love with the Tilda whales incorporated into the decor items in this gorgeous book. It's a theme that carries on through several projects too. I like that when decorating.
The first half of this book provides lots of lovely ideas for spring and summer decorating; all inspired by life by the sea. . . while the second half is filled with pretty projects inspired by holidays at the beach and beachfront living.
How adorable are these Tilda summertime girls with their little knitted cardigans. The pattern for the cardigan is in the book and even I have been inspired to get the knitting needles out. Let me just say. . . knitting is my least enjoyed craft, but these tiny cardigans are just too cute not to make them!
I've already made lots of cards and paper-crafts from the beautiful papers from the two ranges featured in this book. The Country Escape Collection has a nostalgic summer feel incorporating soft pinks and pale aqua, while the Seaside Life Collection with its blues and greens is perfect for adding a nautical touch to your summer decorating projects.
I'm still totally in love with the Country Escape paper collection even after a multitude of projects. I guess it is just one of those ones you don't tire of. It has the prettiest petite floral prints and vintage postcards, roses and graphics. Maybe it's the muted tones. . . or the nostalgia. . . or maybe it is just because I'm a vintage kind of gal and this collection makes my heart sing.
I've re-opened the Tilda shop in the Boutique today and with stock very low at present I'll be placing a substantial order this week. . . please let me know if you'd like to order some Tilda gorgeousness.
The lovely people at Tilda are getting ready to release beautiful new ranges to join The Seaside Life, Country Escape, Winter Memories, Sewingbird and Gardenparty Collections. To make way for these new products, many of Tilda's earlier releases will no longer be available. I have a few items left in stock from the discontinues lines, which you can see on my Tilda home page.
Sharing these inspiring coastal projects at these fabulous parties:
Inspiration Exchange, Live Laugh Rowe, The DIY Dreamer, Tutorials, Tips & Tidbits, Blissful White Wednesday, Transformation Thursday, French Country Cottage, The Vintage Farmhouse, 36th Avenue, Be Inspired Friday at Common Ground.
I'd be thrilled if you'd like to connect with me at the following places. . .
or if you'd like my posts delivered directly to your Inbox