Hello creative friends,
There are so many wonderful vintage era's to draw inspiration from and this month in the Handmade Club I embraced an era that is very close to my own heart… the iconic 50's & 60's.
Although I was a child of the 60's, I've always dreamed of being a fashion savvy young lady of the late 1950's, with the choice of beautiful full skirts and layers of netted petticoats, through to the silhouette of slim fitting pencil or wiggle skirts….. add in gloves, hats, handbags and of course, red lippy. What an era!
But the 50's weren't just iconic for the fashion… there was the pop culture of fabulous music, television, movies and of course the cars.
It is such a lovely era to look back on and I was delighted to use it as inspiration to give you the Retro Shabby kit for July in the Handmade Club.
Oh my…. what fun I had collecting 50's and 60's ephemera this past month to use as inspiration for this kit.
I have created, adapted and redesigned most of the graphic items in this kit, because a lot of what is around from this era is still covered by copyright and it is important to recreate the look without doing the wrong thing by other artists and copyright owners.
The five vintage sewing patterns shown below that are included in the Retro Shabby kit, may look authentic 50's, but they are in fact brand new and made to look old. This means you can safely use these vintage patterns with the certainty that you are not going to be breeching any copyrights, which will allow you to use them in your finished paper crafts that you sell (not for digital re-sale).
The Retro Shabby Kit
The Retro Shabby kit features all the things we love about mid century vintage, from vintage wallpapers to paper dolls, sewing packets and heaps of fun retro ephemera. This is certainly a collection that you can mix and match to create lots of shabby, vintage projects.
What's in the Kit
The retro Shabby kit contains:
12 vintage inspired pastel wallpapers provided as both A4 and letter sized paper

A collection of illustrated fashion ladies and children with transparent backgrounds

Vintage inspired sewing patterns

A large collection of 50+ retro ephemera items, which includes mid century favourites like flash cards, tags, labels, price tickets and advertising.
Paper dolls were a popular pastime for little girls of this era, so I have included four paper doll printables.
Bonus Project
This month I have included a bonus sewing project for printing your own fabric and making this adorable 6″ x 8″ zipped pouch.
This project is provided as a PDF file with the printable graphic and step-by-step instructions for sewing the pouch.
What to make with this kit
Over the next week, I'll be sharing some of the projects I've made using the graphics from the Retro Shabby kit, like this adorable button doll that you may have already seen in previous posts.
</a >
The first few projects I made with the kit were mixed media, like this large hat box and the clip board below…. and now I'm working on the cutest paper doll journal.
With over 95 pieces of retro ephemera in this kit, there are certainly lots of items to use in your paper crafting projects.
I've been having so much fun creating with this kit for the past few weeks and I truly hope that it will speak to your heart in the same way, so that you too will enjoy creating with it as much as I have.
Find the tutorials for making the hat box and clipboard here.
I've added a tutorial post this week for making these adorable retro crafting quotes.
….and this sweet retro note or list pad holder.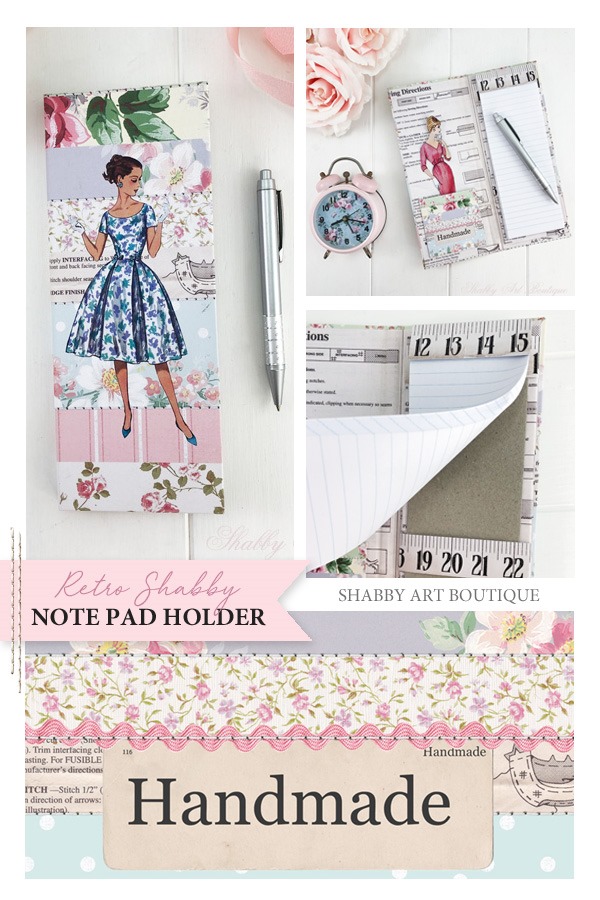 And my whimsical and sweet Betty Buttons
The retro shabby banner for my craft room.
Members of the Handmade Club will have now received their July kit.
If you are not a member and would like to purchase the Retro Shabby kit, please read more about the Handmade Club HERE.
The July Retro Shabby kit will be available for new members who subscribe between the 15th July and the 7th August.
However, Club members have a whole month to download their kit prior to the next kit release on 15th August.
PIN for later
Happy crafting my friends!
Hugs
♥
Kerryanne
I'd love for you to connect with me at:
Get instant access to the free printables in our Member's Only
library by joining my email newsletter subscriber's list.
I send out two newsletters a month with updates on all things
'shabbilicious' at Shabby Art Boutique.
I invite you to join our fabulous and friendly
Facebook group – Simply Shabbilicious
where you'll enjoy our friendly banter and inspirational creativity.