Hi creative friends,
This week I'm excited to list the Teatime Friends collection that was originally released in the Handmade Club in January 2021… and a fun Print & Make teacup card.
The beautiful 'Teatime Friends' collection is themed around friendship, tea and roses.
The colour palette for this kit ranges from blush pinks through to russet red, combined with a bright pop of aqua.
The elements include delicate teacups and teapots, vintage cats and pretty ladies… and they are all tied together with a bouquet of pretty roses.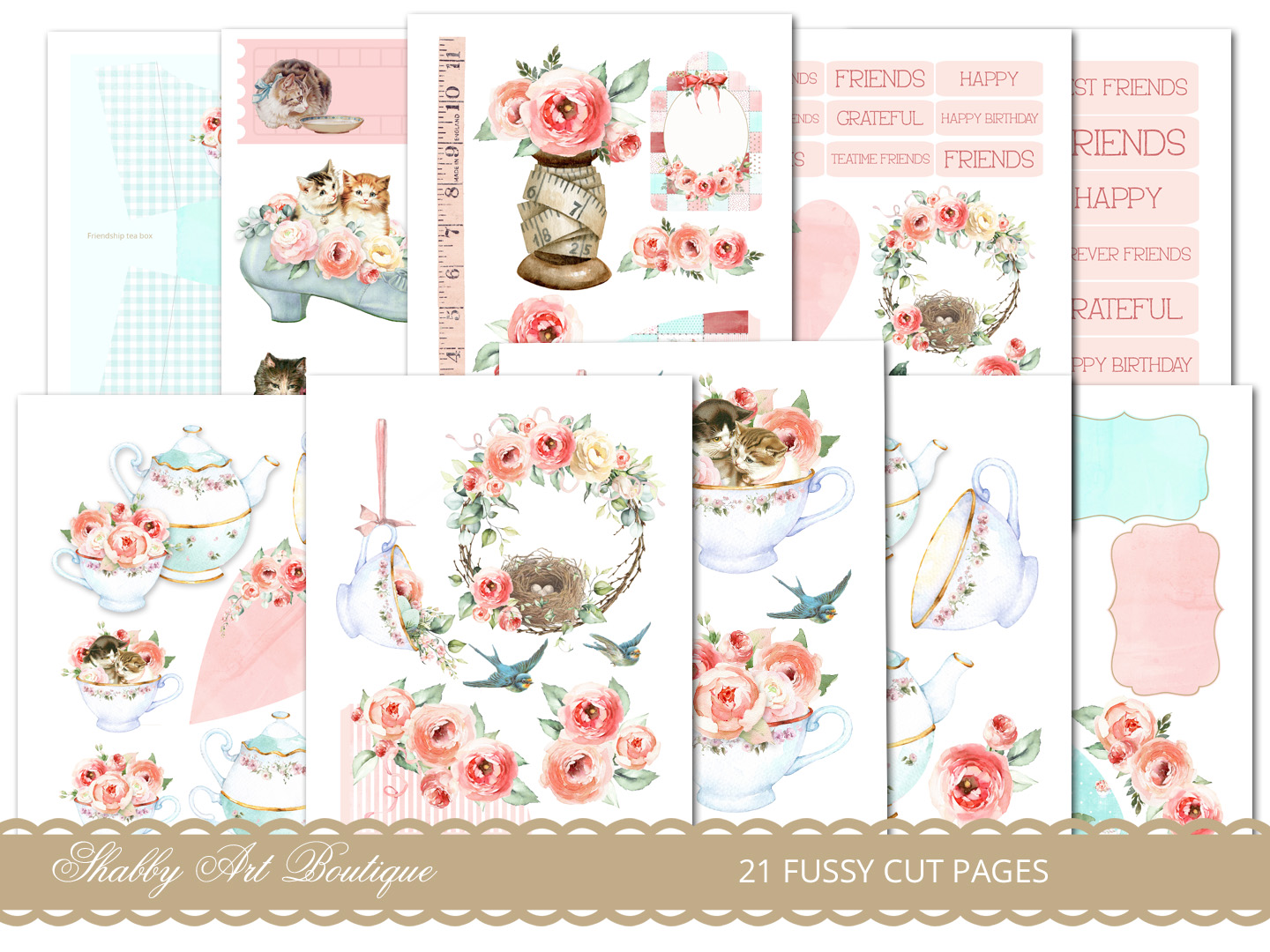 There are 60+ individual graphics that will be suitable for making journals, planners, cards, tags and mixed media projects.
This includes: 19 individual friendship tags & journal cards, 4 pockets, printed words, graphic elements and beautiful roses.
These are provided in a 21 page PDF of fussy cuts and also in 3 zip files of individual png graphics.
I've created 18 coordinating papers, which means you can choose between just using a pink palette, an aqua palette or combine the two colour themes together.
All of the papers are provided in both full page size and in journal size (5″ x 7″), and contained in a ready to print PDF file.
The Teatime Favours box printable is also included in the kit and the free tutorial post is HERE.
As well as the printables for the Teatime Friends notepad holders… see tutorial HERE.
How to purchase:
The Teatime Friends kit was first released for the January 2021 kit for the Handmade Club.
It has been adapted for listing on Etsy – cost US$6.50
Click here —> to see the Teatime Friends listing for Letter (USA) paper size,
Click here —> to see the Teatime Friends listing for A4 size.
You'll find gorgeous Design Team projects using the Teatime Friends kit HERE and on YouTube below….
Thank you to the lovely and talented Jenifer of A Trace of Sparkle.
Be sure to subscribe to her fabulous channel.
Pop-up Teacup Card
Using the teatime Friends Collection, I designed this sweet pop-up teacup card 'Print & Make' project.
This card folds flat to fit inside of a 5" x 7" envelope.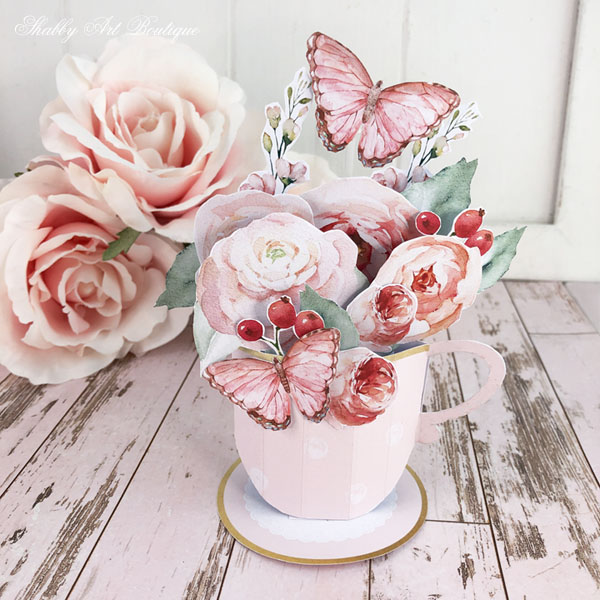 The Print & Make Pop up Teacup Card listing is a PDF printable file that contains the printable graphics and a step-by-step photo tutorial. It costs US$3.00
Click here —> to see the Print & Make Pop-up Teacup Card listing for both A4 and Letter size paper.
I hope you enjoy these gorgeous Teatime Friends projects.
Happy crafting my friends!
Hugs
♥
Kerryanne
Let's be friends on….
Get instant access to the free printables in my Newsletter Printables
Library by joining my email newsletter subscriber's list.
I send out a weekly newsletters with updates on all things
'shabbilicious' at Shabby Art Boutique.
I invite you to join our fabulous and friendly
Facebook group – Simply Shabbilicious
where you'll enjoy our friendly banter and inspirational creativity.