Hello creative friends.
Today I'd like to invite you in to my new creative space…
Sadly, it's a rare overcast and dreary day here as we feel the effects of ex-tropical Cyclone Trevor, but at least we are getting some much needed rain. Although it's a little dull, I'm sure you'll still get the general vibe of my craft room.
So… you wouldn't believe how excited I was to find pretty French doors at the entrance.
You can't have a creative space without a 'studio buddy'. My little black toy poodle with her old greying face has made herself quite at home in this room now.
For the colour palette, I decided to go with an old favourite, Sea Foam on the walls. I previously had this colour in the craft room at the Resort and I always felt so relaxed in that room.
I teamed it up with all new white furniture. I'd had my previous furniture for over 20 years…. it was time!!
I used two Kallax units from IKEA for storage, combined with the Drona boxes.
The crafty labels are from my March kit for the Handmade Club. On one wall I have my sewing and craft unit filled with fabrics,laces, ribbons etc. and on the other wall it holds my art supplies, paint and paper crafting.
It's just a little thing, but another reason why I love these Kallax units is that they stand 147 cm tall (58″).  As I'm only 5′ tall, everything is always out of my reach, but these units are absolutely perfect for short people. If you are taller, you can always add another row of cubes on top.
I now have a dedicated sewing table in the corner… right in front of the window. I know that by having my sewing machine permanently set up it will get used more. Well, that's the plan.
In the centre of the room I've used two 150 cm wide Linnmon tables from IKEA for my work table. I went with this option because they are easy to move around, plus I can dismantle them easily if I want more space. There's also the option to make an 'L' shaped or long table instead of a square if need be.
Under the tables I have two IKEA Helmer drawer units on castors.
I can't tell you how much I LOVE all the drawers. They are actually quite deep (48 cm / 19"), so they hold  a lot. These drawers were perfect for my paper crafts and are filled with things like ink pads, punches, stamps etc. Another bonus is that they are very handy being under the desk where I can just lean over and open a drawer and retrieve an item while crafting. Also, the units are on castors, so I can wheel them out from under the bench for even easier access.
I chose the IKEA Raskog Trolley to store paint bottles and once again, having castors on the trolley means I can wheel it over to my easel or work bench when I need it.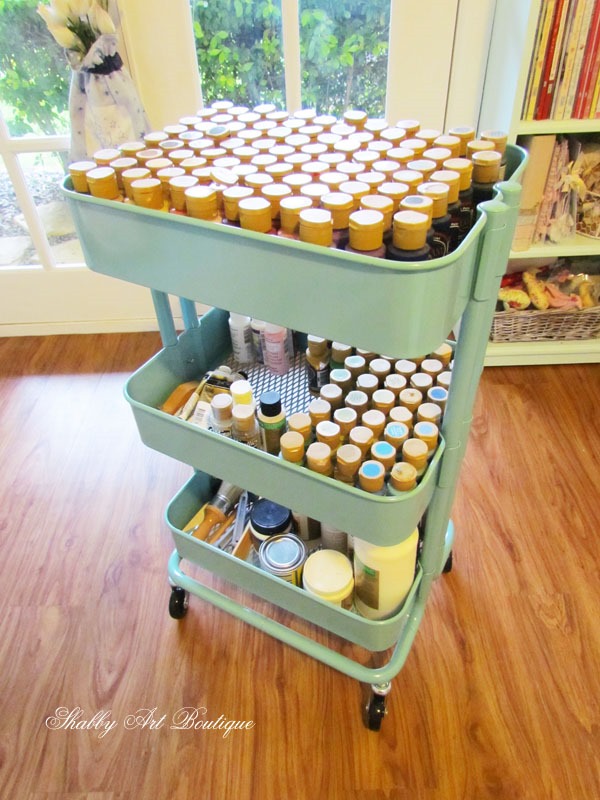 At the rear of the room there's another French door that leads into the house…. and then there's the two big doors at the back of the room. These doors open up into another room measuring 5 m x 4.5 m. This room is eventually going to be my studio space…. just for painting! My daughter is currently making use of this room, but when she is finished it will be the other half of my studio. Right now though, I'm quite content with my pretty crafting room.
Thanks for visiting and having a look around my new creative space.
I look forward to taking some brighter photos when the sun comes back out.
Happy crafting sweet friends!!
Hugs
♥
Kerryanne
I'd love for you to connect with me at:
Follow on Bloglovin
or if you'd like my posts delivered directly to your Inbox
Subscribe to Shabby Art Boutique by Email
If you'd like a private pass to all things 'shabbilicious, sign up today for my fortnightly newsletter.
It contains personal stories, sneak peeks, recommendations, discounts and freebies.