Have you ever received a love letter or note?
Have you ever written one?
The humble love letter has been a romantic way to express feelings throughout history.
LOVE….
pure, old-fashioned, never goes out of style LOVE…
will put a smile on anyone's face.
My husband began leaving me 'love notes' early in our courtship.
They popped up unexpectedly in all sorts of places…
under my pillow, taped to my steering wheel…
in my purse, the pantry, hidden in a pocket…
all over the place and usually when I least expected them.
They weren't one thousand word sonnets filled with breathtaking romanticism… umm, he was no Shakespeare, let me tell you!
Just a sentence of honest heartfelt words that reminded me that he loved me… and in turn, why I loved him.
Twenty eight years later, he still surprises me now and then with a love note.
Not a text or Facebook message…..
A real handwritten note…
folded up and left to put a smile on my face.
You are never too young or too old to have your heart filled with love.
This project is quick and easy to make and is a fun way to make someone's day.
Materials:
One sheet of double sided scrapbooking paper, (paper shown is from the Tilda Collection)
Ruler,
pencil,
scissors (or craft knife),
Stylus to score lines,
Glue,
Foil coved chocolate heart.
Instructions:
1. Cut a square measuring 4 1/2" x 41/2" from the scrapbooking paper.
2. Measure and mark the edge of each side at 2" and 21/2".
3. Score the lines as pictured below. Photo of scored paper
4. Cut out the little triangles created around the edge of your square.
5. Fold along your score lines to create your little envelope.
6. Cut a strip of coordinating paper measuring 12" x 1 1/2".
7. Concertina fold your strip at ½" intervals.
8. Glue the two ends together to form a circle.
9. Adhere the concertina circle to the front of your envelope with a dot of glue.
10. Attach the chocolate love heart with a small amount of glue or piece of double sided tape.
Note: On this one shown I also added a pretty little Tilda cut-out flower.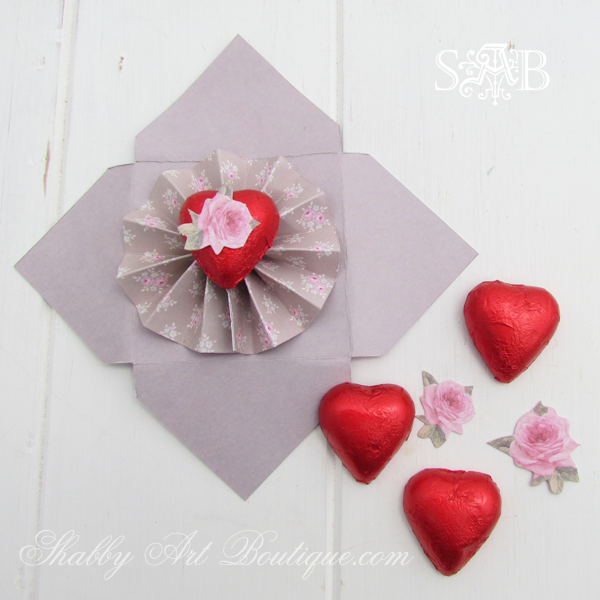 All that's left to do is place a love note inside and seal the back of your envelope.
This project is perfect for a whole lot of uses: a love note for a Valentine, a sweet lunch box note for the kids, a thank you to a teacher or friend… or maybe just a simple anonymous 'Hello' left to surprise someone special.
I'm sharing my Mini Love Notes with these friends:
Inspiration Exchange, The DIY Dreamer, The Scoop, Project Inspired Transformation Thursday,  French Country Cottage, The Vintage Farmhouse, Be Inspired Friday at Common Ground
I'd be thrilled if you'd like to connect with me at the following places. . .
Follow on Bloglovin
or if you'd like my posts delivered directly to your Inbox