Hi creative friends,
The latest addition to my Etsy store is the enchanting Teapot Fairies digital kit…
And this magical collection has sparked a wave of creativity among our talented design team, resulting in an array of whimsical, pretty, and shabby paper craft projects this week.
Rosangela Miqueletto
Rosangela used a sweet heart shaped canvas and paint techniques to create the base of this adorable layered fairy project.
All of the fussy-cuts are from my new Teapot Fairies digital kit on Etsy.
Click the YouTube image below to see how Rosangela made this beautiful project.
Be sure to click the 'subscribe' button while you are there!
Rosangela, this sweet and pretty heart canvas is simply gorgeous and what little girl wouldn't love to have it hanging on their bedroom wall.
Thank you Rosangela for delighting us with your whimsy ♥
You can view Rosangela's gorgeous designs on Instagram, Facebook, Pinterest and YouTube.
Carolyn ~ Carolyn's Paper Therapy
Carolyn's whimsical, pretty, and shabby creations pay homage to the enchanting world of fairies and the timeless elegance of teapots.
Hidden paper clip fairy teabag holder
These three little teabag holders are actually hidden paper clips which hold a teabag enclosed in a glassine bag.
Click the image below to watch Caroline's tutorial for making the hidden paper clip fairy teabag holder.
These little teabag holders make perfect token gifts to slip inside a greeting card, clipped on a journal page, or as a stand alone gift.
Fairy Rose Journal
From dainty fairy illustrations to ornate teapot and teacup houses, the collection offers a myriad of possibilities for crafting exquisite paper projects.
Carolyn's second project is the sweetest 'Fairy Rose' journal.
Carolyn has shared 3 detailed videos of the making of her journal.
Click the YouTube images below to watch each stage of construction.
Fairy Rose Journal ~ Introduction and making the cover
Fairy Rose Journal – part 1 of creating the pages.
So many gorgeous pages filled with fairy doors that open, hidden fairies and beautiful embellishments.
Fairy Rose Journal ~ final flip through.
What an absolutely magical journal with amazing pockets, tab spots, hidden elements and so many beautiful lace and floral embellishments.
Thank you for inspiring us this week with your beautiful projects, Carolyn ♥
You can connect with Carolyn on her YouTube channel, Carolyn's Paper Therapy.
Lauren ~ Shabby Chic Sundae
Inspired by her previous 'Tea Party' journal, Lauren has continued the story with her next fabulous journal, created with the Teapot Fairies kit.
Fairy Forest Teapot Junk Journal
Lauren created a charming journal that narrates a whimsical story of a secret fairy forest.
Each page features a blend of digital fairy illustrations, teapot motifs, and carefully chosen shabby embellishments.
From the 3D light up teapot fairy house journal topper to the flip our pages and tuck spots…. the result is a keepsake that transports readers to a magical world.
Click on the YouTube image below to watch this very enchanting flip through of this stunning fairy journal.
PIN for later
Thank you Lauren for inspiring us with this simply gorgeous journal ♥
Please support Lauren's incredible talent by subscribing to her YouTube channel, Shabby Chic Sundae and engaging with her on her Instagram account of the same name.
Teapot Fairies Digital Kit
Click here –> to see what is in the teapot Fairies digital kit.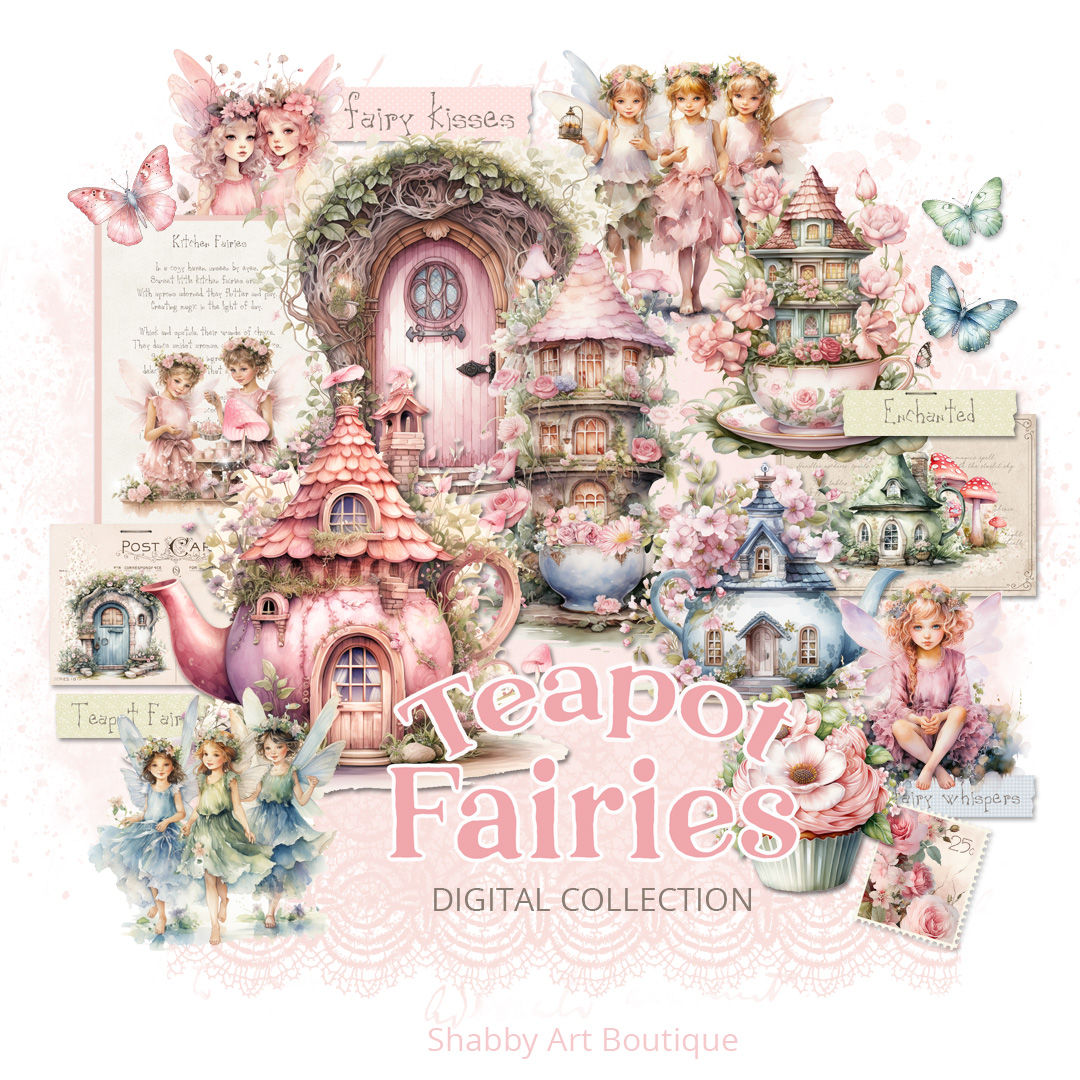 Etsy Discount Codes
Don't forget to use my discount codes for my Etsy store.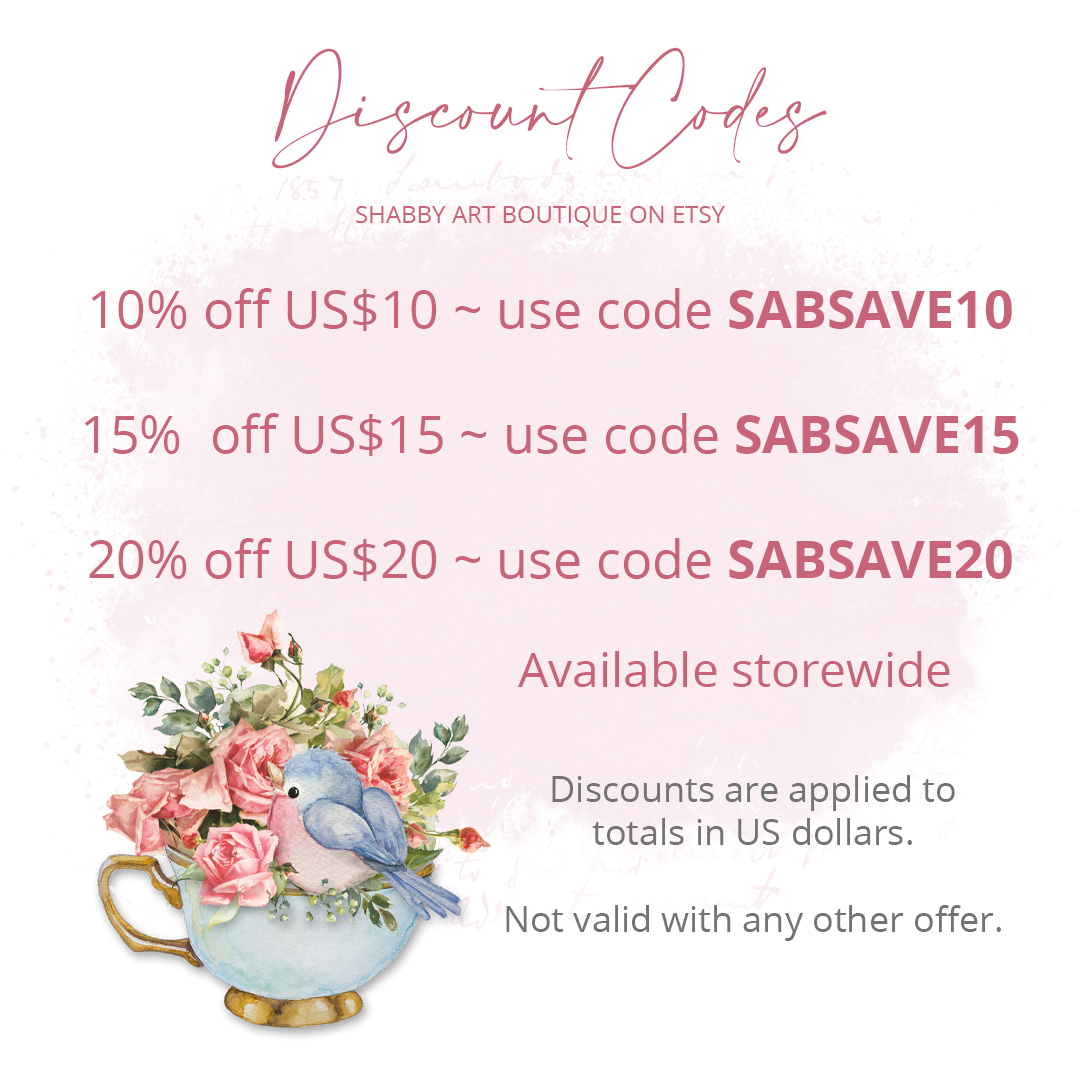 Happy crafting,
♥
Kerryanne
Let's be friends on….
Get instant access to the free printables in my Newsletter Printables
Library by joining my email newsletter subscriber's list.
I send out a weekly newsletters with updates on all things
'shabbilicious' at Shabby Art Boutique.