Hi creative friends,
Shh… come a little closer… I'm going to share with you a trade secret.
It's something that a couple of big companies don't want me to tell you.
As you know, I've worked in the art industry for 30+ years.
I've worked in large art departments… small art boutiques… and had my own studio for 20+ years.
What I'm going to tell you is based on more than 30 years experience of working with glues.
I've used a large variety of glues in that time; on all kinds of surfaces.
Thirty years ago, we didn't have the variety of glues that exist now. Glue wasn't fancy back then… it was just glue. But it worked!
It didn't come in gloss, matt, sparkly or iridescent…. it was just common old glue. It stuck things together and it was inexpensive!
These days we have a large variety of glues on the market, for all different kinds of applications and all different price points.
Almost all glues used for paper crafts e.g. decoupage, mixed media, altered art etc, are Polyvinyl acetates.
That's PVA glue, or in the US it's also known as Elmer's glue.
It's also sold in other guises as specialty and decoupage glues and sealers… although some companies will tell you that theirs is better or does extra special things.
So I'm going to share with you my opinion on glue, which is based on my 30 years working in the art industry.
I've tried many types of glue, but always come back to white glue (PVA). It covers most of my gluing needs.
Here's why:
White glue (PVA) is inexpensive.
It's also non-toxic, as long as you don't eat it.
PVA doesn't omit any harmful fumes or terrible odour.
You can handle it without gloves.
It dries clear.
It has a neutral PH, so is perfect for acid-free archival work.
Best of all, it can be adapted to be used in other adhesive applications like decoupage, sealing or as a crackle medium.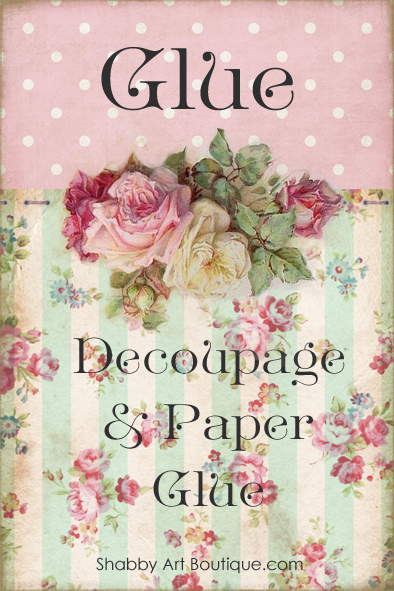 This is how I adapt PVA to be a decoupage medium.
Materials:
PVA, water, small bottle or jar.
I dilute the PVA with water in a ratio 3:1 – that's 3 parts PVA to 1 part water.
Simply pour the 3 parts PVA into your container, stir the one part water in until mixed thoroughly.
Tip: I find keeping glue in smaller containers is more practical and easier to use. You can still make up a large quantity in a bigger container, but I do find it easier to decanter off smaller quantities for my daily use.
Decoupage and paper glues need to have a runnier consistency than normal PVA, which is quite thick.
Disclaimer: If you over dilute your PVA glue you will make the glue less effective. I've seen others recommending to dilute 1:1. I'd be surprised if that actually adhered anything together.
Here's something you may not know…
PVA can be used as a crackle medium.
1. Start by painting the base coat with an acrylic (latex) paint.
2. Cover the area to be crackled with a coat of PVA glue.
3. While the glue is still wet, paint another coat of acrylic paint (in a different colour), over the top. The paint will begin to crack as it dries.
4. When the project is completed, paint a top coat of PVA as a sealer – see note about sealer below.
PVA is also used as a sealer, but I usually like to dilute the consistency with water. Depending on what the project is, I find that the PVA can be applied easier when it is a little runnier than normal, so I add water and stir after each addition until I feel the glue flows well.
Always wash brushes or sponges with soap and water after using glue.
Okay, so you want a fancier glue like gloss or glitter glue!
Too easy, add a small amount of gloss varnish to your PVA for a glossier finish and if your thing is glitter, just stir some glitter into your PVA glue. Yes, it really is that easy.
So… let me dispel some myths for you that circulate around the internet.
Specialty brands are better quality and produce better results.
I dispute that if you are comparing a good quality PVA to the specialty brand. There are many versions of PVA and I'd always go for the best quality one. It's still heaps cheaper than those 'specialty' glues and does the exact same job.
Using PVA will make your project peel or go yellow with time.
Umm… how much time are we talking here. I have several pieces in my original portfolio from art school that are more than 30 years old and I'm happy to tell you they are not yellow, discoloured or peeling. I'll get back to you in another 30 years and let you know how they have faired over time.
Specialty glues have sealer in them and PVA is not a sealer!
Wrong. PVA was invented to be a high performance sealer, primer, bonding agent and dust proofer. It's quick drying with a very high bond strength.
The 'specialty' glues are better because they have different ingredients to PVA glue.
Really… where are they hiding those extra ingredients.
I'll let you be the judge. All you have to do is compare the ingredients written on the bottles.
You'll want to keep this for later
so be sure to PIN this image.
You don't have to agree with me on this topic.
I'm giving you MY viewpoint, based on my experiences over a very long period.
I feel qualified to pass judgment because I've tried all of the contenders and I'm not a fly-by-night crafter who's thrown together a few craft projects recently. I have been working with adhesives for almost 4 decades. Which glue do you think big companies and art departments use?
I get pretty miffed when I see bloggers commenting on the inferior quality of PVA, when they have made their own glue and over diluted it. It was doomed before they even started.
I'm not affiliated with any company selling glue and have nothing to gain from telling you my findings. So please don't get me wrong… I like those specialty brand glues, but I prefer PVA and believe that it is an equivalent product at a much cheaper price.
If you like the cute little glue labels, you are welcome to —-> DOWNLOAD THEM HERE.
Hugs
♥
Kerryanne
Let's be friends on….
Get instant access to the free printables in my Newsletter Printables
Library by joining my email newsletter subscriber's list.
I send out a weekly newsletters with updates on all things
'shabbilicious' at Shabby Art Boutique.
I invite you to join our fabulous and friendly
Facebook group – Simply Shabbilicious
where you'll enjoy our friendly banter and inspirational creativity