When I think of Mother's Day I'm taken back to a time long ago….. I was just a little girl and I was given money to buy a gift for my mum from the Mother's Day stall at school.
It's hard to believe that was nearly 50 years ago!
Then one day when I had grown up, I had my own children and they too set off to school with money in their pockets to buy a gift at the Mother's Day stall.
And do you know what…. those simple gifts and the cards that were lovingly handmade by the children were absolutely the sweetest gifts ever.
They weren't expensive, they may not have been perfect…. but they were made and given with such pure love.
Right from the time I was a young child, giving something handmade for Mother's Day just felt right for me.
Perhaps my mother fostered that thought early on… I'm not sure, but I still try to make my mum a handmade gift and I encourage the same from my own girls.
This year I'll be wrapping a little something up and gifting it in this sweet shabby box.
You might recall that last month I shared a quick and easy tutorial on making mini milk cartons.
It was a very popular tutorial and I understand why…. they really are quite cute!!
With Mother's Day just around the corner I decided to design another mini milk carton box that would be perfect for our lovely mums…. a gift box that is both pretty and feminine…. and I think these blush watercolour roses are just that!
How to make a Shabby Gift Box
1. Download the printable PDF file to your own computer (see download below tutorial).
2. Print the file onto card or use 250 gram matte photo paper.
3. Using a sharp craft knife and a metal ruler, cut out the design.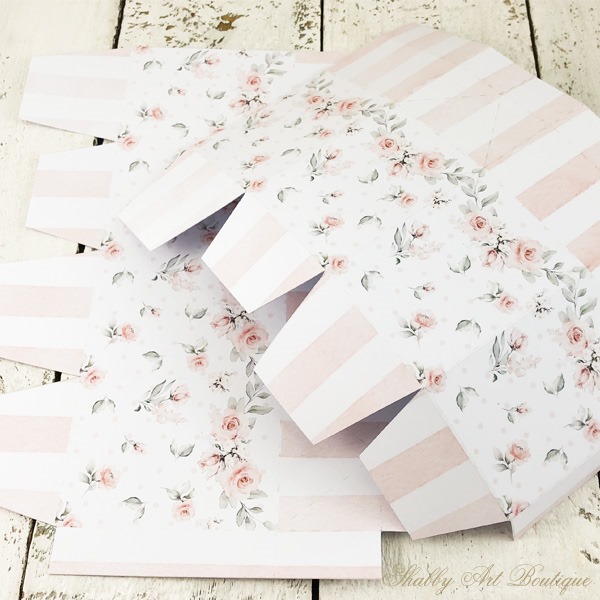 4. Score the dotted lines with a scoring tool or bone folder by placing your metal ruler where you want your fold to be, and run the bone folder along this straight edge to make a clean score line, then fold.
5. Using white glue or a glue stick, apply glue to the side tab to close the box. Next, apply glue to the tabs at the bottom of the box and fold in to close the bottom of the box.
6. Fold your creases at the top of the box to form the carton top. I used my hole punch to make two holes in the top and threaded a length of ribbon through to tie a bow to secure the top of the box closed.
Note: there are essentially 4 layers of folded card in that top section of the box, which may be too thick to get your hole punch through. I placed my hole punch where I wanted my hole to be and squeezed the hole punch quite firmly to indent the card, then I opened the top out slightly and punched a hole through 2 pieces of card first and then the other two pieces of card. Repeat for the hole on the other side of the carton top.
Now all that's left is to fill the box with something special.
If you are blessed to still have your mum, what will you be gifting her with this Mother's Day?
Download the Gift Box Printable
Click here —> to download the A4 size gift box printable.
Click here —> to download the letter size gift box printable.
[Thank you for PINNING ♥]
If you enjoy this project, you may also like my Mother's Day card printable.
If you are looking for a handmade project to give for Mother's Day, there are over 350+ free tutorials and printables here on Shabby Art Boutique. Just head on over to my Tutorials page for a plethora of sewing and paper crafting projects.
During this time of social distancing , I know I've taken great pleasure from the positive crafting community we have in my Facebook group, Simply Shabbilicious. If you've not joined yet, please do and I promise we'll lift your spirits with our inspiring shares and crafty chatter.
Happy crafting my friends!
Hugs
♥
Kerryanne
I'd love for you to connect with me at:
Get instant access to the free printables in our Member's Only
library by joining my email newsletter subscriber's list.
I send out two newsletters a month with updates on all things
'shabbilicious' at Shabby Art Boutique.