Thank you for your lovely comments yesterday on the release of The Romantic Collection, the May kit for the Handmade Club.
Who doesn't love a little romance… especially when it is vintage inspired!!
I love seeing the many varied ways member's use the monthly graphics they receive from the Handmade Club. The options truly are endless and is only limited by their creativity.
Over the next week, I thought I'd share a few ways I've used this month's package as inspiration, starting with this wedding themed junk journal.
I've made a Bride's Diary, but it could easily be a wedding planner, wedding memories book or a journal for your own art or thoughts.
It's been almost 30 years since I was planning my own wedding, but I know I would have loved one of these journals back then to record all the things a bride has to organise in the busy pre-wedding period.
My journal is 5" wide by 7" high. I actually used a pre-cut chipboard journal cover from Which Craft Do You Do shop here in Australia.
I adore lashings of layers and used various graphics and embellishments from this months kit to create the cover.
The journal cover is held closed using seam binding and the spine also sports some beautiful ivory coloured reclaimed sari silk ribbon (also from Which Craft Do You Do) and handmade journal jewellery. I'll share with you next week just how quick and easy it is to make pretty jewellery for your journals.
Inside the journal I used hand dyed papers made using avocado dye for the blush pink pages and coffee dye for the antiqued pages. I also dyed doilies, laces and ribbons at the same time for use in my paper crafting projects.
These dyed pages mixed so well with the various printable pages provided in the kit; there's 17 pages to choose from.
There are two signatures in the journal and 24 pages in all.
I made several feature pages with pretty graphics and embellishments and lots of other pages with pockets for storing journaling cards, receipts and memorabilia.
I love how theses bridal dressmaker pages turned out. There's plenty of room to write notes about the bride's gown or even tuck a photo in. I added some hand dyed lace and a bridal tulle train to the mannequin…. and you know how much I love making button cards.
This page with the vintage graphic for ladies gloves is another favourite.
The hanging jewel was made from a thrifted vintage necklace that I've had for years…. I was just waiting for the perfect project to utilize it.
There are lots of printed tags, journal cards and vintage postcards in the kit to decorate a journal with.
Below are a few more pages from this journal. As you can see, I've used a variety of pages including sheets of ledger paper, dyed paper doilies that have been folded to make pockets, as well as envelope pockets.
And it wouldn't be a shabby bridal journal without lots of laces and ribbons!
The Romantic Collection kit will be available exclusively in the Handmade Club for one month from 15th May until 14th June.
Members receive access to 3 Zip files that they can download to their own computer. Graphics are all 300 dpi, png (transparent background) graphics.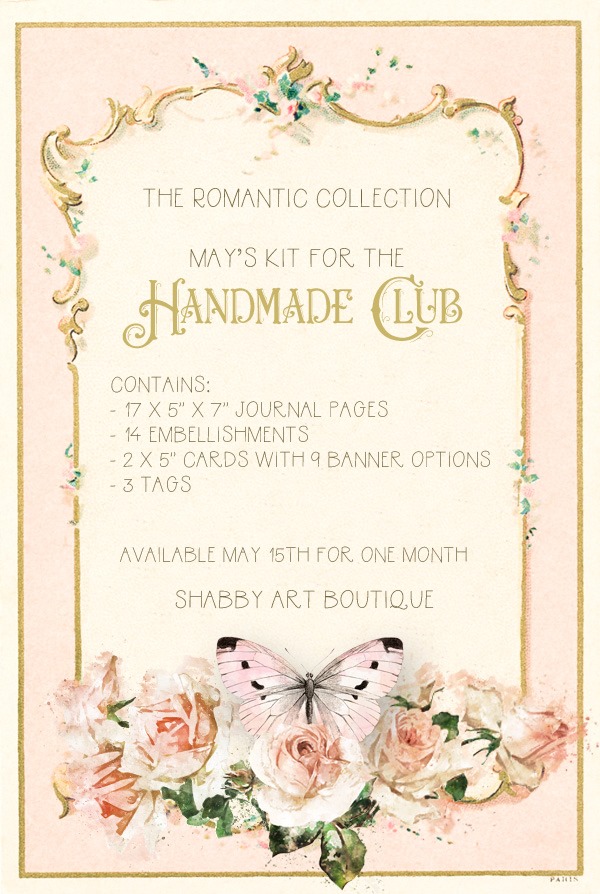 In the next post I'll be sharing a different look at the Romantic Collection, with handmade cards and tags.
If you'd like to know more about this monthly subscription club, please visit my page for The Handmade Club.
Happy crafting my friends!!
Hugs
♥
Kerryanne
I'd love for you to connect with me at:
Follow on Bloglovin
or if you'd like my posts delivered directly to your Inbox
Subscribe to Shabby Art Boutique by Email
If you'd like a private pass to all things 'shabbilicious, sign up today for my fortnightly newsletter.
It contains personal stories, sneak peeks, recommendations, discounts and freebies.