You know all those tiny scraps and off-cuts of pretty papers you have left over from craft projects…
Don't throw them out!!
I have storage bags specifically for scraps… both paper and fabric.
It's amazing what you can make using pretty leftovers.
When I store the scraps I don't always have a project in mind, but I do love being able to rummage through my scraps bag when I need a teeny tiny piece of scrap paper or fabric.
This lovely banner garland was made entirely with off cuts and small left overs from my scrap bags.
Initially I just wanted a small banner for a birthday card I was making…
But then I started sorting papers… mixing and matching…
And before I knew it, I had a long shabbilicious garland!
This was so easy to put together… let me explain how I made mine.
After gathering my small pieces of paper off-cuts, I used a variety of paper punches to cut out small shapes.
I also used a craft knife and cut triangles and rectangles etc. Not all the shapes are the same size, as I was limited by the size of the scrap paper pieces.
Next, I found other pretties from around my studio that would compliment the garland; mini doilies, scraps of lace and ribbon, buttons etc.
I'm not sure if there is a right or wrong way to make these paper garlands… this is just how I make mine.
I set my sewing machine to the largest stitch and make sure the feed dogs were up.
Simply begin by feeding the paper pieces under the foot. I overlapped some of the individual elements to add more bulk to my garland.
You may want to practice your layout on your craft table before beginning the sewing stage, so as to balance the overall look of your garland.
When you have reached the end, knot the cotton and trim excess ends off.
There you have it… a simple, yet totally gorgeous length of pretty banner garland to use in craft projects.
It's perfect for wrapping around presents, gift cards, birthday cakes, across a doorway, in a scrapbook layout… and on a birthday card.
Happy crafting,
Kerryanne
I'd love for you to connect with me at:
Follow on Bloglovin
or if you'd like my posts delivered directly to your Inbox
Subscribe to Shabby Art Boutique by Email
If you'd like a private pass to all things 'shabbilicious, sign up today for my fortnightly newsletter. It contains personal stories, sneak peeks, recommendations, discounts and freebies.
Plus, you will also get a free copy of my eBook 5 Tips for creating a Shabbilicious Home.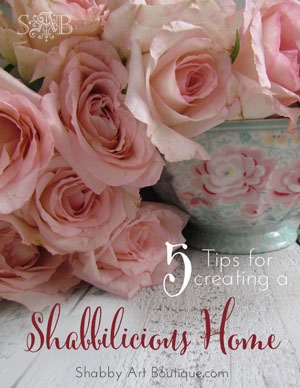 Sign up for my newsletter HERE and don't forget to confirm the sign up email.