Hi creative friends,
I hope you're all doing well and enjoying your creative projects as much as we are.
It's that time of the week when we get to share all the fabulous creations our amazing Design Team has been working on.
So grab a drink and get ready to be inspired!
Carolyn ~ Carolyn's Paper Therapy
Carolyn has been on fire this week with three incredible projects using the Craft Room October kit, The Christmas Village.
First up, she transformed a Dollar Tree tray into a Christmas wonderland using papers and fussy cuts from The Christmas Village kit.
It's amazing how a simple Dollar Tree find can turn into something so magical!
Click the video below to see how she transformed the tray.
Carolyn also crafted some lovely Gift Card Holders using the same kit.
She used tags printed from the collection and doubled them up to create pockets.
These pockets are so versatile; you can use them for tags, gift cards, tea bags, bookmarks… the possibilities are endless!
Click below to watch Carolyn's tutorial for making the gift card holders.
Last but not least, Carolyn created a beautiful 'Mistletoe Ave Scenic Card' using the Christmas Village Collection digital kit.
This free-standing card features a row of charming Christmas shops and little girls shopping for gifts.
You won't believe how perfect it looks as part of a Christmas display.
Check out Carolyn's YouTube video to see it in action.
Thank you for inspiring us with your gorgeousness this week Carolyn ♥
You can connect with Carolyn on her YouTube channel, Carolyn's Paper Therapy.
Dianne ~ Shabby Reflections
Our friend Dianne from Shabby Reflections has taken the 'Christmas Village' kit to a whole new level.
She's built the most adorable snowy Christmas Village that looks absolutely fantastic displayed on a shelf in her craft room.
It's a snowy wonderland that'll make you feel like you're right in the heart of a charming holiday village.
Craft Room members can connect with Dianne inside the Craft Room membership.
And also on her Instagram account, Shabby Reflections and her new YouTube Channel, Shabby Reflections.
Nicola ~ My Shabby Craft Corner
Nicola has had a busy week with not one, not two, but four amazing projects!
Her creativity knows no bounds, and she's been exploring a wide range of themes.
Using the rose and music papers from the Christmas Village kit, Nicola created a stunning shabby Christmas drum.
It's elegant and oh-so-festive.
For the "A Year of Self-Love" project, Nicola used the new free printable October card to upcycle a wood plaque into a beautiful shabby sign.
It's a perfect reminder to love yourself!
Now, Nicola might not typically craft with Halloween themes, but she totally rocked it with two fabulous shabby, pink Halloween projects using the 'Shabby Halloween' kit.
Look at that adorable light-up dome with pink pumpkins and a sweet little witch – it's the perfect mix of spooky and shabby!
And if you're not into scary Halloween decor, Nicola's cute and lacy haunted birdcage is sure to catch your eye.
It may not be terrifying, but it's definitely a feast for the eyes!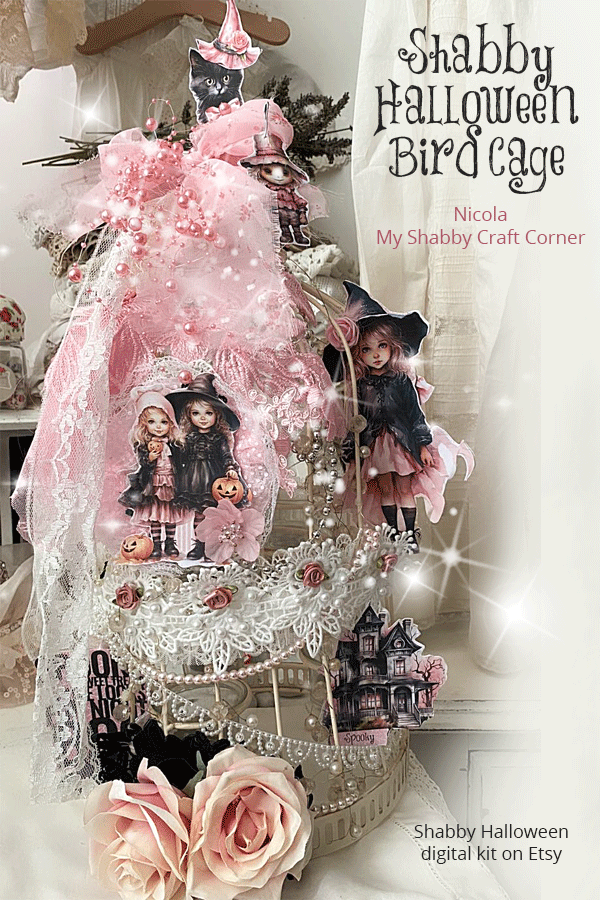 You can connect with Nicola on her 'My Shabby Craft Corner' accounts: Instagram and YouTube
Be sure to subscribe to her YouTube channel, so you can keep up with all of her fun tutorials.
Join Nicola's Shabby Journals Craft & More Facebook group.
I'm so impressed with the amazing creativity and diversity of projects our Design Team has been working on this week.
Thanks for stopping by and checking out their wonderful creations. We hope you're feeling inspired and ready to tackle your next crafting project.
Happy crafting,
♥
Kerryanne
Let's be friends on….
Get instant access to the free printables in my Newsletter Printables
Library by joining my email newsletter subscriber's list.
I send out a weekly newsletters with updates on all things
'shabbilicious' at Shabby Art Boutique.