Spring is just around the corner here in Australia.
Already our weather is warming up and the spring wattles are flowering throughout our neighbourhood.
At the same time, our friends in the northern hemisphere are seeing the early signs of fall creeping in.
It was fall that I was actually thinking of today while walking through the rainforest to the beach.
The forest floor is always littered with leaves, nuts and berries…. depending on the season.
I liked the colour and mottled appearance of these leaves, so brought a bunch of them home with me. Their faded natural colours make them perfect for a fall project.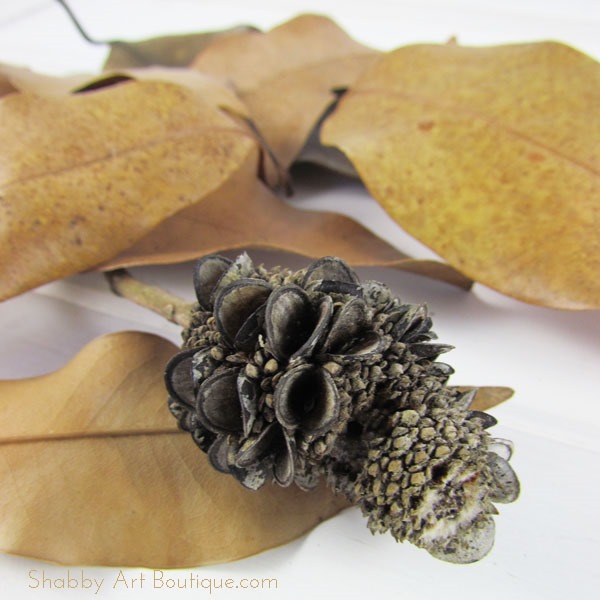 The leaves were dry, yet still pliable. I thought they would make nice tags for a vintage look gift wrap… but could I write on them?
I started by carefully washing and drying them to remove any dirt and debris.
Then I punched a hole at the top of the leaf and added an eyelet, so the tag could hang on a string cord.
I used a 3mm black Sharpie pen to freehand write the word 'Enjoy'.
It was easier than I thought to write on the leaf.
Next came the second leaf with the remainder of the saying…
'Enjoy… the little things'.
This fun repurpose duo could be used as a gift tag or even hung on a ribbon or cord.
I even like them tucked into this vintage book grouping.
Imagine the possibilities… tags personalized with a name or a special message!
Do you ever use natures bounty in your crafting?
Maybe next time you go for a walk you can stop… look around… and 'enjoy the little things' that sometimes go unnoticed.
Whether it is spring or fall in your part of the world,
I hope you have a fabulous day.
Hugs ~ Kerryanne
I'd love for you to connect with me at:
Follow on Bloglovin
or if you'd like my posts delivered directly to your Inbox
Subscribe to Shabby Art Boutique by Email
If you'd like a private pass to all things 'shabbilicious, sign up today for my fortnightly newsletter. it contains personal stories, sneak peeks, recommendations, discounts and freebies.
Sign up for my newsletter HERE and don't forget to confirm the sign up email.