I'm preparing today for our Easter celebrations by making some of our family favourites.
For one of the dishes I require raspberry jam and I've made my own using this super quick and easy recipe.
It only required 3 ingredients and is made in the microwave, which makes cleaning up a breeze.
Homemade Raspberry Jam
Ingredients:
300grams frozen raspberries
1 cup brown sugar
1/3 cup lime juice (approx. 2 limes)
Method:
1.Combine raspberries, sugar and lime juice in a large heatproof and microwave-safe bowl. Stir well before microwaving uncovered, on high (100%) for 4 minutes, stirring after every minute or until sugar dissolves.
2. Microwave on high (100%) for a further 20 minutes or until thick and pulpy.
3. Spoon hot jam into a hot sterilised jar. Seal. Turn jar upside down for 2 minutes. Then turn upright and allow to cool. (see my tips for sterilising jars below).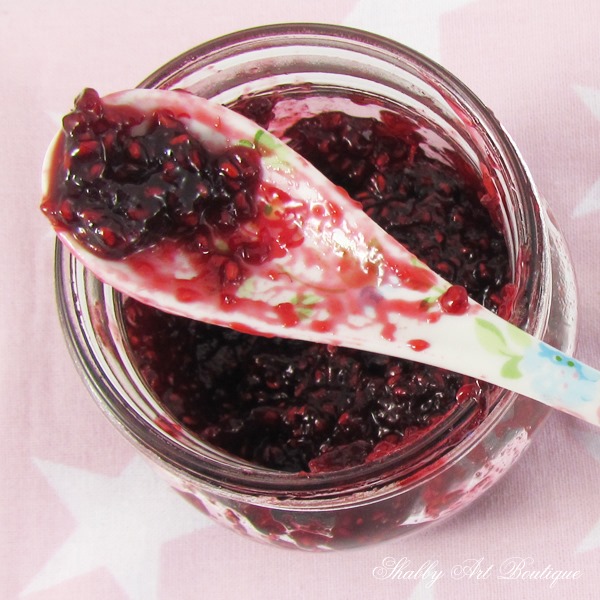 How to sterilise jars and bottles
It's important to sterilise jars to prevent contamination and to lengthen the shelf life of homemade jams and preserves.
This is how I sterilise mine….
1. Preheat oven to 110°C. Wash jars and lids in hot soapy water. Rinse well.
2. Place jars and lids in a deep saucepan and cover with cold water.
3. Bring water to the boil over high heat. Cover saucepan and reduce heat to medium and boil gently for 10 minutes. Line a baking tray with a clean towel.
4. using metal tongs, remove jars and lids from boiling water and place upside down on tray. Place in oven and heat for 15 minutes.
Tip: bottle hot jam into hot jars and cooled jam into cold jars.
This is one of the easiest jam recipes I've ever made and will be delicious on fresh homemade scones tomorrow….
But that's not what I've actually made it for. I'll be back next week to share another delicious family recipe using my Easiest Homemade Raspberry Jam.
Happy Easter my friends,
♥
Kerryanne
I'd love for you to connect with me at:
Follow on Bloglovin
or if you'd like my posts delivered directly to your Inbox
Subscribe to Shabby Art Boutique by Email
If you'd like a private pass to all things 'shabbilicious, sign up today for my fortnightly newsletter. It contains personal stories, sneak peeks, recommendations, discounts and freebies.